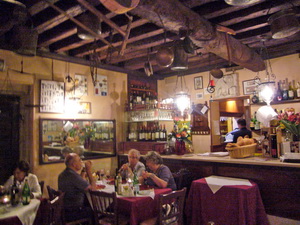 For two centuries the fritolini were Venice's fast food joints where you were served a generous portion of deep fried local fish, seafood and polenta on a big square of absorbent paper. Now, we are told, there's only one left, and it's moved decidedly up market. Nick Lander steered us there with the advice that "Irina at Il Vecio Fritolin knows everything and everybody". Indeed, their website reveals that she has also taken over the Café Palazzo Grassi, attached to Venice's most with-it art gallery.
Mary's antipasto [l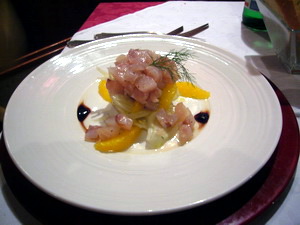 eft] was equally with-it – cubes of raw gurnard and fresh orange. Mine [right] was a plate of cold seafood: a tiny octopus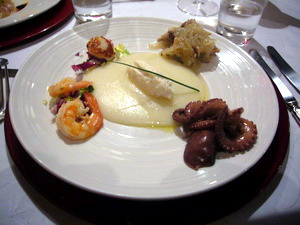 , a couple of shrimp, a scallop, and a dollop of caramelized onion, surrounding a pool of creamy semolina, all with distinctive individual flavours that called for careful, attentive savoring.
The basket of bread was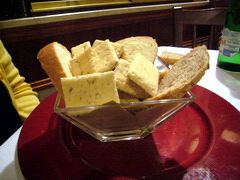 notably the best we encountered in Venice – according to their website it is all made fresh in house every day.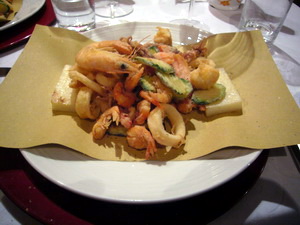 We both chose the restaurant's eponymous main course, the deep fried seafood and polenta. It came on a square of paper, a nod to its humble origins. It was generous with expensive shellfish, a greater proportion than at our Ca' D'Oro luncheon for half the price, but there was no difference in the frying, which was, in both instances, flawless.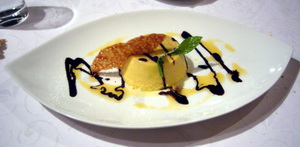 Desserts were to the same high standard – bavarian cream [left] and orange créme brulé [right]. If we were formally judging, Mary woul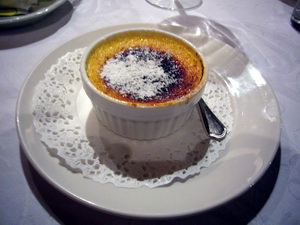 d have marked down the latter for an absence of the promised orange flavour. It was excellent, but compared to the same dish with pieces of fresh peach at Alle Testiere, it lacked that touch of genius. Good coffee at the end, and as satisfying and smooth a grappa as I've had.
It was an excellent meal in homey surroundings with unobtrusive service. Looking back on it three weeks later from a wider perspective, I'm struck by the fact that, in this last survivor of what had onc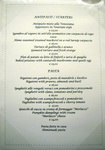 e b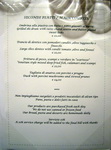 e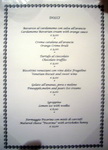 en the equivalent of a fish-and-chip shop, the bill for three courses, coffee, a half bottle of the house Suave and a grappa had come to a hefty 134€. In Paris, 108€ got us two five-course menus degustation, together with their flight of three wines, in one of the hottest bistros in town. What price history?
Osteria Vecio Fritolin Rialto, Calle della Regina 2262, Tel: 041 522 2881
---