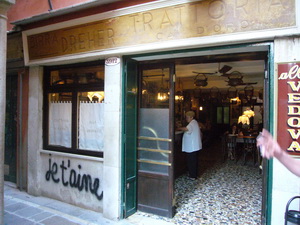 Byronic echoes
Trattoria Ca' D'Oro "Alla Vendova"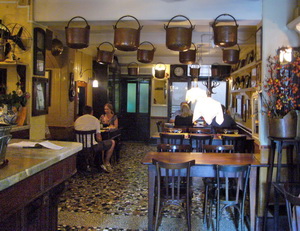 At the end of a morning's sight-seeing we found ourselves near the Ca Doro vaporetto stop on a street lined with uninviting tables. Following our previous success with Osteria Carla we started looking down the side alleys and were soon met by the promising facade of the Trattoria Ca' D'Oro. Someone had air-sprayed je t'aime on the white wall under the window – whether a restaurant review or a love letter was unspecified.
Standing outside in a cloud of smoke was a voluble Englishman who had known the place for years. He proved to be a ex war correspondent and journalist who had written, inter alia, for the Guardian.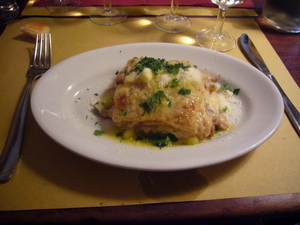 He had a Byronic air about him. If he had been getting a percentage as a shill, he would have been worth every euro. In the event, his recommendation was spot on. The antipasti in the glass case looked so inviting that I might have gone for the full Monty but, this being lunchtime, we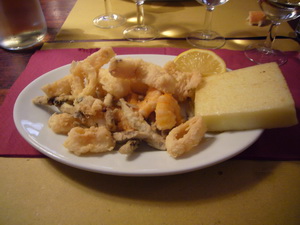 settled again for single courses. Mary's lasagne [left] was, she said, scrumptuous and my deep fried fish [right] with a square of polenta on the side was flawless. That evening I would have this Venetian specialty with more expensive ingredients at twice the price, but the quality would be no better.
If I lived in Venice, this is where I'd come for a regular meal out that wouldn't break the bank. A room full of natives seemed to feel the same – aside from our self-appointed host at the door (and us), I didn't hear any English being spoken. Later I would be reminded that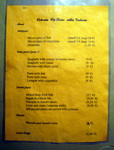 this trattoria h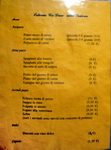 ad been especially recommended in an email from Roberta Muir, who had also written about our other luncheon place, Osteria Carla. She commented that Ca' D'Oro was "far enough off the tourist trail that few visitors find their way there". That's how to discover the Venice that still exists in spite of the millions who have followed in the footsteps of Byron's Childe Harold of two centuries ago. (He proudly claimed that he had 200 different Venetian women on consecutive evenings – apparently not counting the boys) .
Trattoria Ca' D'Oro "Alla Vendova" Cannaregio 3912, Tel: 041 528 5324
---