Back at the turn of the century, Edward Behr devoted an entire issue of his exemplary periodical, The Art of Eating, to Venice. Deserting the tourist-trodden streets of the Rialto and San Marco, he took a vaparetto half an hour north to the city's fringes at Tre Archi, where he ate at a canal-side osteria so unprepossessing that the casual passer-by wouldn't give it a second glance. Behr was sufficiently impressed to devote much of the issue to it.
Five years later Robert Brown, another discerning eater, followed in his footsteps and came to a similar conclusion. He must have dined on a Thursday (their fish day) because his experience so closely paralleled ours after another four years that I quote from it verbatim: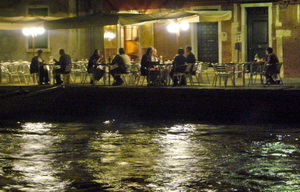 When we dismounted at the Tre Archi sto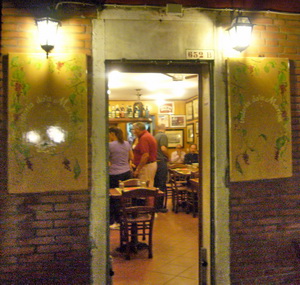 p on the Canareggio canal, we saw on the other side an array of parasols alongside the water, one of which had the logo of a commercial ice cream maker. Not knowing if this was della Marisa or a run-of-the-mill café, we crossed the bridge to the other side of the Canareggio. A decorated wood plaque announced the restaurant where a waitress seated us at the far end of the rather long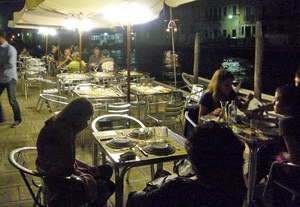 row of those ubiquitous cheap, industrial tab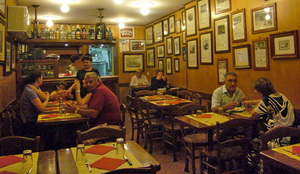 les of brushed aluminum and matching chairs. People from the neighborhood passed by, as did a few tourists who asked about a table and were turned away. Most of the clients were regulars.
Every client was having the same meal. To begin, our waitress brought five small plates of appetizers, each of which (except for perfectly-executed polenta, shiny and appropriately rubbery on the outside and soft inside) was surely made with seafood from the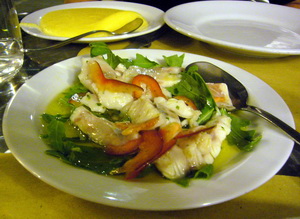 lagoon.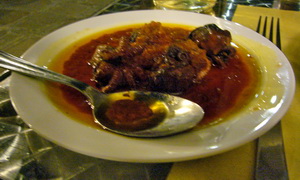 These were mussels with breadcrumbs, cheese and herbs; bacala with mayonnaise; arugula, olive oil and red peppers with cold, marinated branzino; and baby octopus in an intensely-flavored tomato sauce.
These were almost exactly the antipasti that Mary and I were served. (The photos are mine.) They we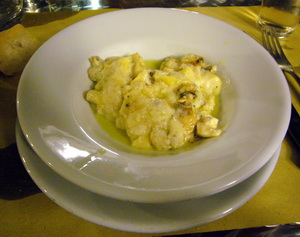 re followed by an utterly delicious creamy pasta dish, liberally flavoured with parmesan, and then a perfectly prepared main course of fritto misto with squid, shrimp and a baby sole. It was so generous that a si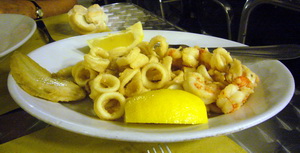 ngle serving amply fed us both. The squid, being the cheapest, was the most plentiful – a restaurant that primarily serves working natives rather than tourists can't afford to pile on the exotic crustacea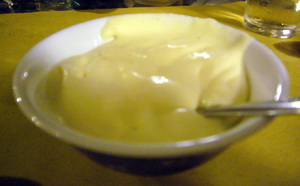 ns. Finally, there was a delicious dessert of whipped mascarpone discreetly flavoured with brandy and rum. Near the end of the evening a passing guitarist entertained us with Latin American music and passed around the sombrero.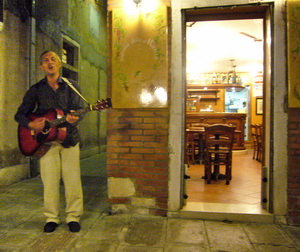 At the end of his meal Robert Brown had conversation with the owner/chef:
Just before dessert, Marisa, rather plump with short-cropped hair and wearing a cheap green floral dress, came out to talk with our neighbors, the gondoliera and his wife. We joined in as best we could and found out that she is 69 years old and, fortunately, has a daughter who works with her in the kitchen. It was clear to us that she loves her work, doesn't care about money and probably is the recipient of the best and most desirable seafood in the city. At 35 euros a person with a carafe of serviceable wine included, della Marisa is a gift and just may provide the most dining pleasure in Venice.
The bill for Mary's and my dinners, with two carafes of wine (I'm greedy!), came to a modest 75€ – more or less what Robert had paid five years earlier.This was extraordinarily good food for a simple osteria serving meals to working-class diners. But perhaps it's too high a standard to maintain for every meal – when Robert returned off-season, his lunchtime experience was of a different order:
Once again we took the 35-minute vaporetto ride from San Zaccheria to Ponte Tre Arche to visit Marisa, the First Lady of Venetian Cuisine. We did it with the hope of recapturing one of our favorite dining experiences of this past summer, a meal at dalle Marisa. We had no inkling, and no guidebook or report ever mentioned it, but at midday out of season, the place is akin to a canteen for laborers. With a fixed meal without dessert for 15 euros, (h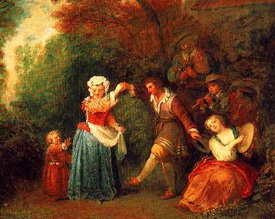 alf the price of dinner) the trip out there and back was a total loss. Two preparations of commercial penne (a ragu sauce and zucchini, cream and Parmesan) and thin, bone-dry slices of roasted meat with very overcooked vegetables were barely edible.
Which should remind us that it's unrealistic to judge a working-class eatery by gourmet standards, even if it often happens to meet them. If we choose to don shepherd costumes and prance about with the peasants, we shouldn't expect them always to behave like the figures in a Watteau landscape.
---