---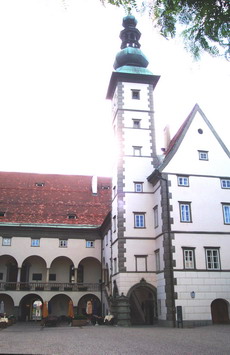 This indoor/outdoor restaurant is housed in a building as imposing as that of the Arkadenhof, its neighbor across the square, but the ambience is more laid back—one of our fellow diners was wearing a football strip and didn't seem at all out of place. Our r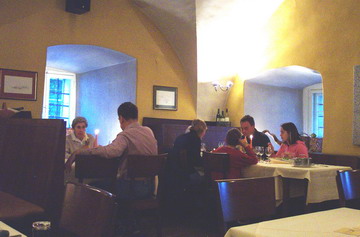 eception at the door was breezy and informal; I felt that I could have come in shorts and a T-shirt without raising an eyebrow. Families seemed to be a regular feature; there was a group with parents, two children and a grandmother.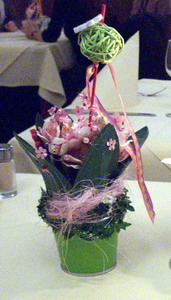 May decorations were in evidence, though not so monumental as in the Arkadenhof—our table had a miniature Maypole. The background music was a diplomatic compromise: pop, but quiet and unobtrusive, so that we soon stopped noticing it.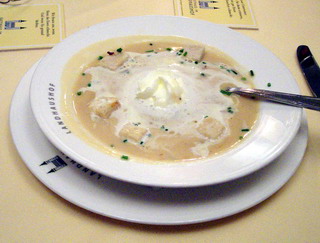 To start, as part of my continuing research (!), I ordered garlic cream soup with croutons, chives and bacon. The garlic was uncompromisingly in evidence and made me determined that I would seek out a recipe. In fact, we would experience garlic soups all over Carinthia that would equal it if not excel it.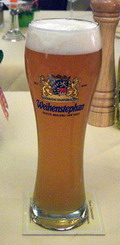 Not in the mood for wine, I glanced at the beer list. A name leapt out at me that I hadn't seen for years—Weihenstephan, the great Bavarian brewery, now operated by the state, that has been in continuous production since 1040A.D! The list offered their Hefe-Weissbier, a yeasty wheat beer that I had drunk so often and so joyously in Darmstadt. It is not unlike the English sedimented ale, Worthington White Label, but the manner of serving is amusingly different. An English publican exhibits his expertise by slowly pouring the beer into a glass held at an angle and stopping just as the sediment is reached, so that it remains crystal clear.
Germans and Belgians, on the other hand, empty the bottle down to the last couple of inches, then put their thumb over the top and shake it vigorously so that all the yeast goes into the cloudy foaming top-up. But even Bavarians appear to be growing effete. Weihenstephan now makes a Kristallweissbier in which the sediment is painstakingly removed before bottling, thus smoothing (i.e. emasculating) both appearance and flavor.
§
I had looked at the menu earlier in the day, and so I knew that their specialty was locally bred beef served in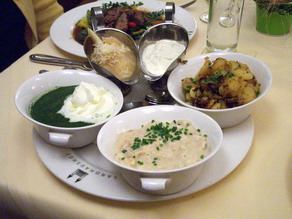 a variety of ways. The one that appealed to me, because it was so unlike the anonymous international norm, was simmering it in a soup with root vegetables, wie zu Kaisers Zeiten (as in the Emperor's time). There was a tray of accompaniments that would have been a meal in itself: creamed spinach, roasted potatoes, grated apple and horseradish, and a creamy chive sauce. "For the gourmet," fresh horseradish and bread sauce were available on request. (I forgot to order them, but I seem to have sent out the requisite vibes.)
Who could resist it? I opted for three of the available cuts served together in a copper pot: salted ox tonque, lean silverside and lightly marbled shoulder. They were a salutary reminder that good beef takes as happily to the pot as to the grill or the oven. The Speisekarte encouraged me to polish off the soup with a spoon, "like our Emperor". I thought of Mirabelle Osler's experiences in Normandy, which she documented so memorably in A Spoon with Every Course. But it was too much, even for this greedy glutton. The dish would easily have satisfied two normal diners; I was forced to leave behind the heavenly nectar that I would rather have carried away in a bottle.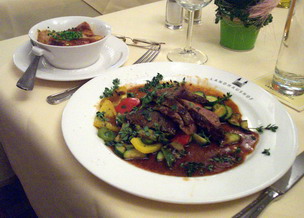 Mary's roast saddle of lamb, though less extravagant, was no less distinguished. It was swimming in real gravy and came with a side dish of excellent pommes Anna, as the French would call it. Alas, in accordance with prevailing international fashion, the peppers and courgettes were semi-raw; but the meat was perfectly well done, just as she had ordered it—not an instruction that waiters or kitchens always seem able to understand.
§
Dessert? After all this, impossible! We waddled out to an ice cream shop where we shared a takeaway cup of superb panna cotta at the ludicrously low cost of .80€. If this wicked shop were in the Market Place in Hampstead Garden Suburb, we would have to widen all our doors.


©2006 John Whiting
---