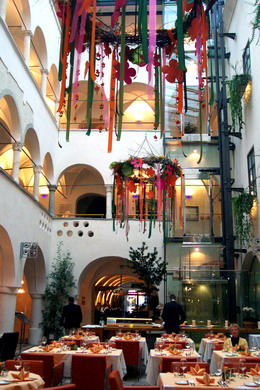 The central arcade, once open to the sky, has been elegantly glassed over to provide a dining area of tastefully monumental grandeur. When we arrived, it was still decorated from the May celebrations and we found ourselves in exclusive possession, except for a party of five sitting around a low table off to one side. We would later learn that it was the Mayor and a few friends, who regularly come here for drinks at the remains of the day. The previous hours might well have been spent in a similar fashion; that's the way that the world's most important business is transacted.
The maitre d' was as impressive as the dining room—not from hauteur, but because he was one of that rare breed who succeed in making you welcome in just the way that a wealthy but gracious stranger might accomplish in his own mansion. We were soon talking as if we were indeed his private guests; our conversation had none of the subtle ranking and manoeuvring that usually characterizes such exchanges in the habitats of the wealthy.
We both started with soup, which Austria eats a lot of and does very well: a cream of basil soup for Mary and for me a strong beef bouillon with Milzschnitten, which the bilingual menu translated unappetisingly as Spleencake. It proved to be a high point of the meal, a rich meaty sandwich of juicy sliced spleen between two solid but delectable pastry sheets that made me wish the chef would try his hand at pork pies.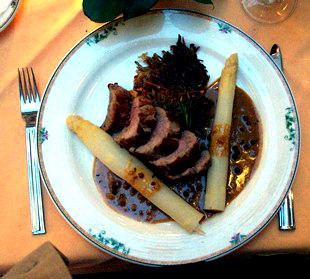 My main course was a generous fillet of pork, roasted and thickly sliced, served with an intensely flavored pepper sauce of the sort I welcome with a steak au poivre. It came with two phallic spears of white asparagus, which Europe goes mad over at this time of year. The obligatory Teutonic calories were provided by a Kartoffelpuffer (literally, Potato Buffer, as on a railway carriage), a crunchy pancake of shredded potato. It would make the acquisition of an Austro-Hungarian paunch a positive pleasure.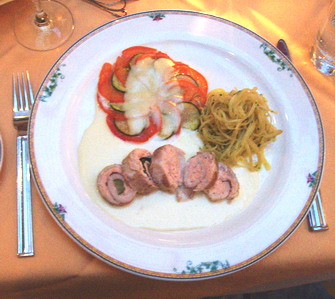 Mary opted for hot "rollmops" of local Wörthersee trout with champagne sauce, accompanied by homemade noodles and a tomato-courgette gratin. In the prevailing international style, the latter was virtually raw, with the cheese topping melted but unbrowned. I hope I live long enough for the cooking of vegetables past the al dente bounce-off-the-floor stage to come back into fashion.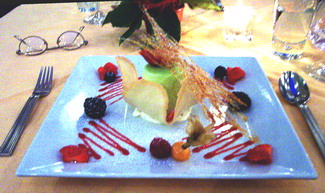 We had one dessert between us—for Mary to eat and for me to photograph. It was an exquisite structure made up of a truncated cone of peppermint ice cream set in tuile petals, flanked by a couple of deconstructed strawberries, two giant brambles, three blueberries and a raspberry and zigzagged with raspberry purée—sorry, I mean coulis. It was jauntily topped with a lacy sheet of spun sugar set at a rakish angle, like a beret. Mary could have done with more strawberries and we found the tile not exactly melt-in-the-mouth. Good flavors, if a trifle bland, and pretty to look at, but I grow weary of eye candy. Give me a meal that would satisfy a hungry blind man.
By now we were on very friendly terms with the maitre d', not difficult in an empty restaurant. To accompany the dessert he suggested an Eiswein, a local Neustifter made from Welsch-Riesling grapes at the end of the hot summer of 2003. They were, he assured us, harvested in the proper manner and not subjected to artificial freezing. It proved to be remarkably mature and complex for such a recent vintage, and a bargain at 5€ a glass.
I ventured a rude jest that it didn't taste at all of antifreeze. "That scandal was the best thing that ever happened to us!" he replied, not taking offense. "Ever since then, Austrian wines have been made under very strict controls. We know that another incident like that would take us out of the market forever!"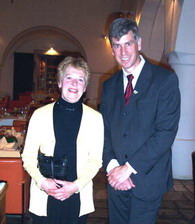 "You are a very good waiter!" Mary said enthusiastically as we were about to leave. "You could give lessons."
"It is my profession," he replied. It was a proud declaration that we would hear again from our hotel breakfast waitress.
The evening came to its necessary but unwelcome conclusion and I photographed our new friend (with Mary, at his suggestion), as a happy memento. It was a good meal transformed into a fairytale occasion by having such luxury and cordiality all to ourselves. If I were the Mayor of Klagenfurt, I too would be here every evening!
Restaurant Arkadenhof, Palais Hotel Landhaushof, Landhaushof 3, Klagenfurt, Tel 590 959. 75,90€, including four glasses of wine.
©2006 John Whiting
---