---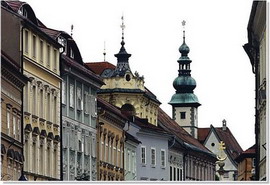 Klagenfurt, the second largest city in Austria, is the capitol of Carinthia. This ancient duchy is now split in two, the southern half having been made a part of neighboring Slovenia after WWII. It's easy to imagine the tensions that still exist between these Siamese twins, surgically separated and forced into opposing economic and political camps.
Prior to our latest Barrie Singleton mediaeval tour I had never heard of either the city or the region. This is not just a further proof of my ignorance; since our return, friends who are both educated and honest have admitted the same. The author Robert Musil, born in Klagenfurt, would later comment that its obscurity had in a sense helped to determine his future. The influence must have been virtually subliminal, for within a year his family had moved away.
Anton Webern, another native son who is rather more widely known (at least among avant-garde musicians) moved there in 1894 at the age of nine with his parents, remaining until he graduated from the Gymnasium and went to Vienna to study with Arnold Schönberg. The family connection must have remained strong, for his father would return in his retirement, living in a fine Klagenfurt villa until his death in 1919.
§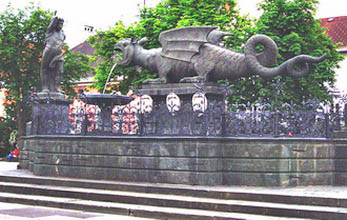 Entering by coach, we found Klagenfurt pleasant but undistinguished until we discovered the old city, a pedestrianised area a couple of blocks north of our hotel. Neuerplatz, the town's central square, is dominated by the Lindwurm, a massive fountain depicting a contorted dragon about to be dispatched by a local hero. Klagenfurt may be translated "Ford of Lament": there were many deaths from floods here at the crossing of the river Glan, and there was an ancient belief that a dragon was responsible. The Lindwurm, which is the town's emblem, also shows strong Slovenian links. Dragons were plentiful in southern legend, and an early version of Klagenfurt's symbol closely resembles that of Ljubljana. This impressive dragon was sculpted by Ulrich Vogelsang in 1590 and its nemesis added by Michel Hönel in 1636. (In order to photograph it I had to wait fifteen minutes while a busload of Italian tourists snapped each other posed beneath the dragon's spewing jaws.)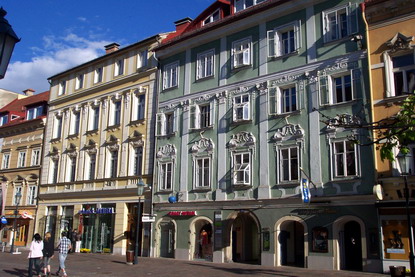 Alterplatz just to the north is more a short, wide street than a square and is lined on both sides with fine buildings of variable but compatible design and soft pastel colors. Many of these survive from the city's rebuilding in the 17th century. There was some bomb damage during WWII, but any rebuilding is not obvious.
These old streets have the feel of a working city rather than a tourist hot spot. There's a wide range of shops, from the tastefully luxurious to the modestly functional, and they happily coexist, announcing their presence with understated frontages that do not attempt to outshout their neighbors. There are no gifte shoppes and relatively few of the multinational chain stores that so often make it impossible to tell what country you're in. This is not a place to come for a top ten tourist experience, but for a feel of what it might be like to live in Carinthia. In short, I'd call it quietly civilized.
§
Klagenfurt is not a city of memorable restaurants. The only one with a Michelin star is the jauntily named La Dolce Vita, which, we discovered too late, is closed at weekends. It's Italian of course, as are many of the town's eateries—Friuli-Venezia is less than forty motorway miles distant. The two best exponents of Austrian food face each other in handsome 17th century buildings in the Landhaushof, a distinguished square also fronted by the eponymous palace housing the provincial government headquarters. The Restaurant Arkadenhof and the Gasthaus im Landhaushof are reviewed enthusiastically on separate pages.
§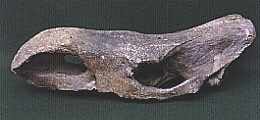 The Landesmuseum, founded in 1844, has 60 full time employees, growing to 120 in the summer. One reason for such a large staff is the remarkable fact that until the 1970s Carinthia had no university. A featured exhibit is the cranium of an ice age wooly rhinoceros found in a nearby gravel pit in 1335. It was instantly declared to be the head of a dragon and served as model for the Lindwurm fountain in Neuplatz. ("The legend must be true—here is the very skull!")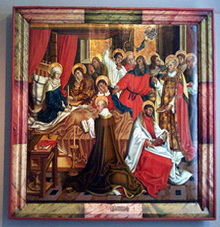 There is a remarkable Marientod (Death of the Virgin) from the Stadtskirche in nearby Ossiach, based on a print by the prolific North German engraver (and counterfeiter) Israhel van Meckenem. The work is contemporaneous with Hieronymus Bosch and the faces show a similar ironic contortion of feature. Could the Austrian gift for sardonic parody be making an early appearance? (Compare the modern master Manfred Deix)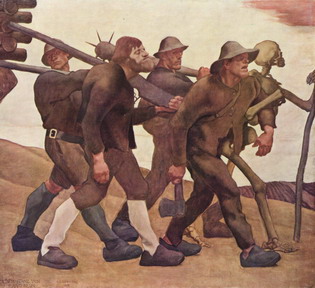 Nearby is the laconic Todentanz (Dance of Death) by Albin Egger-Lienz. This is his third version, painted in 1914 at the beginning of the first world war, but it requires no updating to be a devastating foretaste of the modern American peasants who have been seduced into fighting George W. Bush's obscene wars.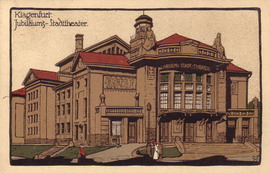 Finally, Klagenfurt is a rich repository of Jugendstil architecture, of which the finest is the Stadttheater. Built by Ferdinand Fellner & Hermann Helmer, it opened in 1910 with Friedrich Schiller's Wilhelm Tell. Subsequent alterations have given it a large and versatile backstage technical area, while preserving its original aspect. It's a small house of 996 seats, which keeps productions on a human scale.
©2006 John Whiting
---