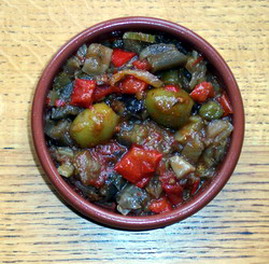 One of the most liberating experiences for a cook is to eat a peasant dish prepared in several different kitchens in its native habitat. They will differ so much among themselves that you may well conclude that authenticity resides not so much in precision of ingredients as in overall method and, above all, attitude.
Such was our experience in Palermo with Caponata alla Siciliana, a classic aubergine-based dish that we had somehow not encountered until it was served to us just a few weeks before. It began our lunch in the home of Jean Langdon, an old friend and professional caterer whose services I would gladly engage for my funeral feast, inasmuch as the blissful odors would surely bring me back from the other side for one last orgy of the senses.
But I digress. Jean's caponata was a revelation: it was a sort of cold ratatouille, but so concentrated in richness and flavor that it could be served as a condiment rather than a course in itself. Jean puts it up in glass jars that may be brought out like a chutney or a relish.
In its country of origin, it would prove to be rather more of an everyday affair. In Palermo it was often served to us as a starter, in generous quantities that heaped the plate. It was less concentrated than Jean's but not lacking in flavor, and was served with the nonchalance and abundance of nectar and ambrosia in the Elysian fields.
Searching for a recipe on our return, I went to Waverley Root's The Best of Italian Cooking. Root's two monumental classics, The Food of Italy and The Food of France, were ground-breaking works of culinary exploration. Their accuracy is sometimes questioned by modern food historians, but an old (in both senses) friend tells me that he had followed in some of Root's footsteps shortly after his books came out and found them to be remarkably accurate guides. (These days nobody stays the same, particularly peasants—if you can still find any.)
When I read Root's recipe, what leapt off the page was that it included a liberal quantity of diced bell [sweet] peppers. We hadn't encountered them in the Sicilian versions, or in any other recipes, but they are common in the region and I'm prepared to believe that they were served to Root. Friends of his assure me that he did not make things up and pass them off as authentic, and so I've felt free to include them in my own recipe, which is mostly based on Root's ingredients. As for his method, Root favors separate cooking of each ingredient for both caponata and ratatouille. So do I.
Caponata alla Siciliana
large splash of olive oil (more to follow)
1 large onion, thinly sliced
1 tbl of capers, rinsed
generous splash of vinegar (a decent cheap balsamic is delicious, though not authentic)
sugar to taste (be cautious and check as it's cooking)
salt, pepper (adjust at the end)
½ cup (or whatever) pitted green olives
a few fresh tomatoes, or a can
thyme
2 large aubergines, diced
4 bell [sweet] peppers, diced, preferably red and yellow for color
2 celery hearts, cut in short slices
1 fennel root
Start with a very large frying pan or heavy pot. Heat the oil, then add the onion slices. (A good splash of water lets you cook them limp more quickly without burning.) Add the capers, vinegar, and seasoning.
Meanwhile, put the tomatoes, either raw or canned, through a blender or food processor. This speeds up the cooking process and reduces the amount of water that may be needed to avoid scorching. (If you're using fresh tomatoes, this also makes it unnecessary to peel them, and the skins are where much of the nourishment and flavor reside, as is also the case with peppers.) Add the tomatoes to the pan along with the olives and a good pinch of thyme and simmer very slowly, covered, until it's a thick sauce.
Meanwhile prepare the other ingredients. This is where I get really inauthentic. I cook the aubergines, then the peppers, then the celery/fennel in a microwave, in a covered Pyrex dish, with a splash of olive oil, a cautious pinch of salt and a bit of water, for about 20 minutes each. Cook the celery and fennel together; they will probably take longer. Let each ingredient barely reach tenderness and immediately drain so that they don't continue to stew in their own juices. Use the same juices for each vegetable in turn and finally reduce them to their essence and add to the pan.
When all the ingredients have been cooked to their ideal state, add them to the pan and bring them to a low simmer, allowing them to get acquainted with each other for a few minutes; don't overcook into a mush. Transfer to other containers and let cool.
§
This is a recipe that can be made in any quantity that your utensils can accommodate. A microwave is not essential—slow sweating in a heavy pot will suffice, though it will take longer. The vegetables can be cooked at any time, in any order, and reserved until needed.
Ingredients? In the versions we ate in Sicily, both proportions and size of cut were freely varied. Yesterday I didn't have any aubergines, but I had a bargain tray of courgettes. I was careful not to overcook them and served the end product to Mary when she came home. She didn't notice the substitution.
Yet another variation. Caponata as it is traditionally made is rather heavy on the olive oil. If you want a low calorie version consistent with any diet, just make the dish with no fat whatsoever: it will not be the same but it will be delicious. That's what real peasant cuisine is all about—work with what you've got, towards whatever result you set for yourself, and take pleasure in your inventiveness!
©2006 John Whiting
---