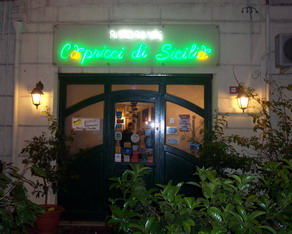 Capricci di Sicilia, says the reliable and well-informed Fred Plotkin, is a restaurant that makes classical Sicilian dishes, especially those of Polermo, with great care. The pastas are delicious… It sounded like just the sort of place we wanted for our last free night before moving on to Selinunte, and it was an easy walk from our hotel.
I had made our reservation under our usual pseudonym. Languages that don't have a wh sound have insurmountable difficulties with Whiting, and so in France we are Monsieur et Madame Merlan, which the person at the other end of the line always finds enormously funny and never forgets. (Having grown up as a Whiting on Cape Cod, I am impervious to ridicule.) In Palermo we became Signore e Signora Merlano, and so the mission was easily accomplished.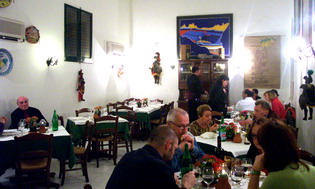 The entrance looked inviting. Once inside we were shown to our table and given English menus without being asked whether we wanted them. It took some time to get our hands on an Italian menu. My Italian is virtually nonexistent, but machine-translated English is usually so terrible as to be incomprehensible. I've seen bagna caoda translated baldly as "hot sauce", as if it were something to pour over your chili.
Having sorted out the menus, I opted once more for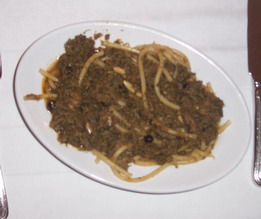 bucatini con sarde, which promised that it would come with the chunky pasta best suited to capturing the sauce within its rough texture. It proved to be ordinary spaghetti, but in one mouthful there was a resistence that went far beyond al dente. Removing it for examination, I found a small irregular coil of stiff wire.
I showed it to our cameriera. She looked at it, smiled broadly and explained (in Italian) that it was only the something-or-other, as if it were a perfectly normal thing to have encountered. I was reminded of the anonymous limerick:
An epicure, dining at Crewe, 


Found a rather large mouse in his stew, 

 
  Said the waiter, "Don't shout, 

 
  And wave it about, 


Or the rest will be wanting one, too!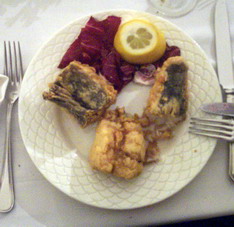 Never mind, there was still the baccalà to come. Salt cod is not common today in Sicily, but it is not unknown and I was looking forward to discovering what they would do with it. When it arrived, it proved to be three chunks of ordinary fresh cod, lightly battered and fried, which would been more accurately identified as merluzzo.
Mary, meanwhile, had spotted a plate of fried potatoes at another table and asked for some with her own fish. French fries arrived instead. We ate them anyway—complaints appeared to fall on deaf ears.
On the way out, I noted that the restaurant had been recommended by Slow Food at the end of the last century, but not since. Was this the Shanghai Syndrome again, greed and laziness induced by a plethora of never-to-return punters? Fred Plotkin's Italy for the Gourmet Traveller is a handbook of regional Italian cuisine, not an up-to-the-minute restaurant guide, which it could not be without a large staff and frequent updating.
And so we had celebrated our last free evening in Palermo with run-of-the-mill cod and chips. Back in Old Blighty it would have come to rather less than twenty quid a head (60€ total), but what the hell! It was a holiday, and on the way back to our hotel I was able to discourage a trio of potential bag-snatchers on roller blades. Life is a never-ending challenge.
Capricci di Sicilia Via Istituto Pignatelli 6 (at Piazza Sturzo), Tel: 091/327777
NOTE: Fodor's website has a heartfelt warning from a native concerning their capricious prices.

©2006 John Whiting
NEXT Back to TOP Back to SICILY INDEX
---