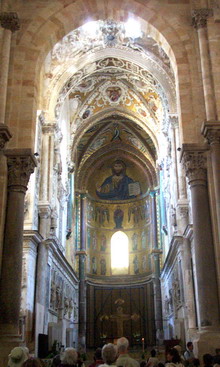 Today's Thursday, so this must be Cefalù. Trudging from cathedral to cathedral is hungry work. This golden Duomo was started in the 12th century by the Norman King Roger II as a modest thank you for being saved from shipwreck. Meanwhile God was laughing fit to kill. King Roger? How could he expect to be taken seriously? The Life of Roger would make a perfect sequel to The Life of Brian.
When the guest-worker Greek mosaicists were painstakingly assembling all those precious fragments—"Damn! What happened to lapus lazuli, Number MCCLVII?!"—little did they dream that their glowing masterpieces would vicariously support a whole battalion of chefs and maitre d's.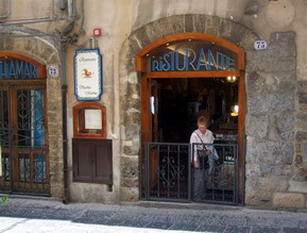 Come lunchtime, Mary spotted La Vecchia Marina, a seaside restaurant whose views and victuals gave equal promise. If our meal proved to be messy, it would also have the advantage of being near the mediaeval washhouse.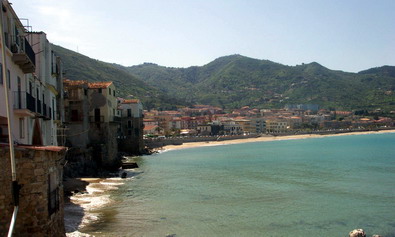 Being first in the restaurant—aren't we always?—we had the pick of the tables and took one next to the window, which had a view like this [right]. Our tour leaders Barrie and Kathy came soon after. Good; so long as they were still here, we wouldn't be late.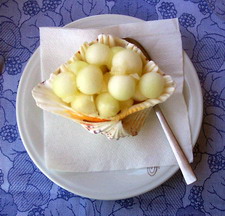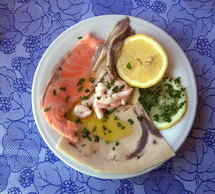 My chosen antipasto, a trio of seafood carpaccios, was so good that I felt obliged to share it. Mary's melon balls in port were equally photogenic.
My generosity was soon rep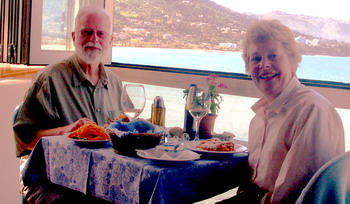 aid: Mary's main course was a big helping of a meaty lasagna, almost as good as the Lasagna Festivale we make at home. The secret came via my niece, who got it from a Providence Mafia family she had married into. She left him after he had drawn a knife on her, but not, thank Godfather, before she got the recipe.
With Mary's lasagne came a generous bowl of freshly grated parmesan, not the desiccated dust that appears in Anglo-Italian pasta joints. We were a pair of happy bunnies.
The salad with my seconda was a mixture of chewy grated vegetables apparently chosen more for appearance than for texture or flavor. They suggested, not for the first time, that the salads in Sicilian restaurants are merely a consession to tourist eccentricity.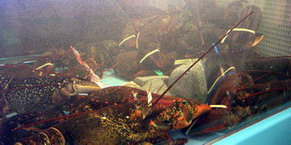 Near the door as we came in was a display of fish and lobsters that could have kept me at the table for the rest of the day. Mary had spotted the marzipan sweets and pastries for which Sicily is so famous. Which is the best? she asked our waiter. The Cassata Siciliana, he replied without hesitation. It was the beginning of a love affair—with the cake, not the waiter—that would reach its apotheosis the following day in Paradiso.
As we lingered over Mary's cassata, I suddenly realized that our guides had departed. I was facing their table, so it was I who should have seen them go. Which way was our coach? We hurried back to the cathedral to get our bearings. Which direction had we approached it from? Neither of us was certain. What would be the cost of a taxi back to Palermo?
At that moment a familiar face appeared, as if magically erupted from the ground. A couple in our party had forgotten something and had come back for it. They knew the way to the coach, and we followed close behind like frightened children that had been lost in a shopping mall. Lacking their guidance, we might still be roaming the streets of Cefalù.

La Vecchia Marina Via Vittoria Emanuele, Cefalù
©2006 John Whiting
NEXT Back to TOP Back to SICILY INDEX
---