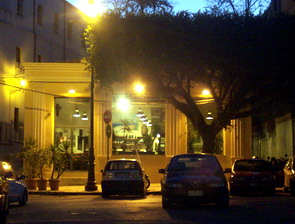 Signore Pino Varia, the chef/proprietor of Il Cambusone, is described in the Slow Food Hosteria Guide as dinamico and efficiente. As the evening progressed, this would become self explanatory. We had chosen his establishment partly because it was just a few minutes' walk from our hotel. From the outside it looked modern and austere, and we had no idea what to expect, except that Slow Food recommendations are uniformly reliable.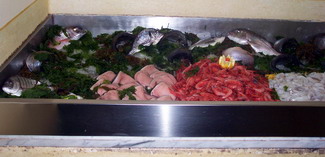 When we arrived, the greeting was much more cordial than the exterior architecture, and the refrigerated slab of fish near the entrance had the promising appearance and fresh odor that we had come to expect in the better Sicilian restaurants. Our table proved to be one of a handful reserved for small parties; most of the others had been arranged into a horseshoe to accommodate a large party of perhaps sixty diners. Was it—horror of horrors!—a coach party?
Our waiter explained to us that we would be served a selection of antipasti, then pasta, then seafood, and finally a dessert. For water, did we want still or gas; for wine, white or red? That was the extent of our options. Having been conditioned by Chez Panisse, a no-choice menu offered no problems and it suggested how such an establishment could cope with enormous parties.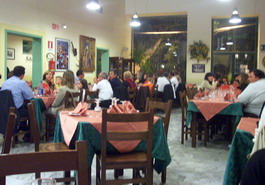 As the guests started to arrive, it became evident that we would be sharing the room, not with a coachload of tourists, but with a huge family party—more like a tribe—complete with nonne e bambini. Signore Varia seemed to be catering successfully to both ordinary Sicilians and gourmet tourists. (To the right in the photo is the only grossly fat man we saw during our ten-day visit. Mass obesity doesn't seem to have reached these impoverished shores.)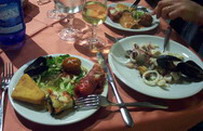 When our first course arrived it was obvious that our host had opted uncompromisingly for quality as well as quantity. There were Panelle (flat fried cakes made with chickpea flour), Sarde a Beccafico (stuffed sardine rolls), Arancine (rice balls flavored with fish), and a platter of mussels, clams and cuttlefish, the latter of a relative tenderness far superior to the rubbery rings and tentacles we had encountered elsewhere. Even authorities on Sicilian food sometimes comment apologetically on the toughness of its cuttlefish. Other cuisines are able to prepare them to a chewable standard and for me, the generalized Sicilian indifference is no excuse.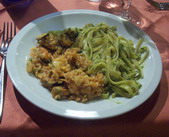 The primi included both tagliatelle degli spinaci and a delicately flavored and perfectly al dente seafood risotto. If Mary had not been there to watch me, I would have polished off the generous portion in its entirety, letting the next course make room for itself as best it might. In the event, I was grateful for a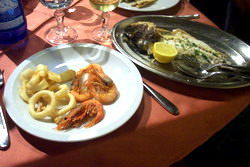 bit of stomach space: the secundi of fried fish, prawns and cuttlefish rings that arrived next were no less than a triumph. The fish were grilled simply and perfectly, the rings were of an amazing tenderness and the prawns' shells were so delicate that there was no need to peel them—they went down my gullet in their entirety, except for the heads, whose sucked-out juices were nectar and ambrosia. Do I sound ecstatic? It's because as I write, the flavors and textures come back to me with undiminished intensity.
The meal ended with a little square of multi-layered chocolate cake. The courses had arrived with such speed that we had eaten in little over an hour. You might call it Slow Food Fast Food, but the service had not been ungratious and rapid turnaround seemed to be the norm in the Sicilian restaurants in which we had eaten.
We were left with admiration both for the inherent quality of the cooking and for the generously egalitarian concept. Did I mention the cost? This feast, including a bottle of excellent AOC wine, had cost us all a mere 30€ each. It was an accomplishment as miraculous in its own way as the feeding of another long-ago multitude with five loaves and two fishes, and I dare say that what we ate that night was far superior.
Trattoria "Il Cambusone" Piaza Giuseppe Verdi 25/7, Palermo, Tel: 091335597.
©2006 John Whiting
---