I don't often make a cassoulet twice in a year, but this time it was inevitable. When Hugh and Meg invited me to take over their kitchen for a week I jumped at the opportunity—with a 28p return trip via RyanAir, it had to be the cheapest French holiday I would ever enjoy. (There were of course the various fees and charges, plus the coach fare from Golders Green to Stanstead, raising the total to an exorbitant £41.91, the approximate cost of an ordinary London meal.)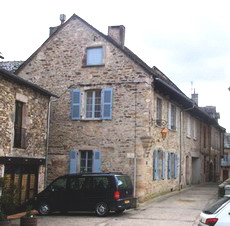 Hugh and Meg are restoring the 13th century Maison du Notaire (right) in Najac, an Aveyron village so beautiful that a photo of it that I took from the top of the local castle is the permanent desktop image in my computer. (You can see the photo here and the castle here.)
My justification for settling in as the Man who Came to Dinner was that, unlike the redoubtable Sheridan Whiteside, I would be cooking the meals, not demanding them. This would allow Meg to spend the week peeling paint instead of potatoes.
Aveyron is on the northern edge of cassoulet country, so it was fitting that on my last night I should put one on the table. I knew that this would be a challenge, inasmuch as the temporary kitchen has only two bottled gas rings, two induction plates and a microwave; but cassoulets have gone through many vicissitudes, including, according to Anatole France, bubbling merrily away year after year on the back burner.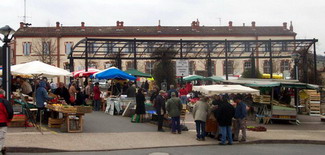 At the weekend there was to be market shopping at Cordes sur Ciel, so I was certain that I would find the necessary meats. Next to a small but ample market was a high-class butcher (see below) who was able to supply enough to feed eight to ten people for around fifteen pounds, except for the duck legs.
I no longer make cassoulet with confit. This is now an expensive ingredient that was once necessitated by the lack of refrigeration. The difference between its flavor and that of fresh roasted duck legs is not apparent in the rich amalgam that constitutes a cassoulet. A crispy-skinned confit served up on a plate with lentils is an incomparable dish, but for a cassoulet even the careful Jeanne Strang, in her classic Goose Fat and Garlic, allows that "The confit of goose or duck can be replaced by partly roasted fresh joints from the same bird."
But here in Aveyron cassoulets are steeped in tradition. No raw duck legs were to be had from any Cordes suppliers, not even for ready money. There was only confit: mountains of it laid in for the tourists, who cart it away by the sackful as if it were about to be outlawed by Brussels.
Those too lazy or unskilled to make a cassoulet are amply catered for with cans and bottles of the finished product at inflated prices. Jeanne Strang wisely warns: "If you come across tins of cassoulet in French shops, be careful; you're liable to be sadly disappointed."
I was about to lash out on the expensive stuff when I checked out the one local small supermarket. There I found, not raw duck legs, but a refrigerated shelf with confit vacuum packed in plastic, at a per kilo cost that was about a third of the cans on the tourist-ready shelves. Furthermore, the packages were not loaded with fat, but contained mostly solid meat and bone. Someone, somewhere, had decided to cater for cooks rather than souvenir-hunters.
With the duck fat that Meg had saved from the breasts she sautéed a couple of days ago, I had everything I needed except the beans. Those I found on another shelf, lingots in a little box labelled with the ambiguously uninformative word importé. Never mind—most of the beans that go into French restaurant cassoulets are now grown in Argentina.
So back to the kitchen where I prepared the meats in my usual fashion, as outlined here. Meg had a big pressure cooker, which easily kept the preparation and cooking time within two days. The large casserole dish that came with her slow cooker would hold quite enough for the five of us that would be eating it, but was small enough to rotate freely on the microwave turntable.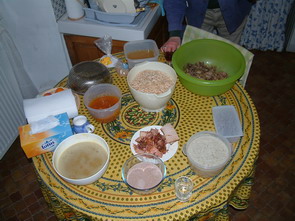 When assembly time came, there were pots all over the kitchen table. I mixed the stocks with the gelatinous puréed pig's feet and garlic and tasted the result. Delicious! Only after I'd assembled the cassoulet for its final baking did I learn that the biggest bowl of stock, which I used as the base, was actually soup that Meg had made that morning from puréed vegetables and lentils. That's the wonderful thing about a cassoulet—it gratefully accepts whatever you give it!
My hazy sense of what should or should not go into the pot may have been related to the fact that there was a 5-litre vinibag of quaffable AOC wine sitting conveniently on top of the fridge. Locals call it a beton, which my French dictionary translates as builders' cement, and they get through whole pallets of them. (Wine is fine in the abstract but even better in the concrete.) The high rate of consumption may be related to the fact that it's as cheap as mineral water—around a quid a litre. In the immortal words of Hilaire Belloc:
So fill the glass! How can the angels win?
Tomato juice is tuppence more than gin.
When it came to the final baking, my luck (if not my sobriety) held out. Meg's microwave is also a convection oven. That meant that I could set it at 160ºC and give the cassoulet the usual two to three hours. In the event, it took two-and-a-half and the turntable produced an evenness of coloration that I only achieve at home by opening the oven and rotating the cassole several times during the cooking. A window in the door and an interior light allowed me to keep track of its progress.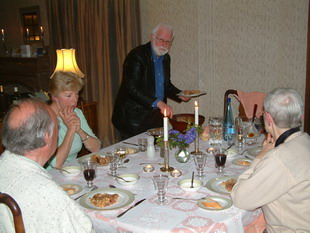 The next day Peter and Sue from up the hill joined us for dinner, which we washed down (vulgar metaphor!) with my last bottle of '88 Domaine Tempier Bandol, brought along for the occasion. When the cassoulet was reheated, moistened with another large dollop of Meg's corrupted soup, the final result was so tasty that I decided she should be credited as joint chef.
I'd bought enough ingredients for my largest cassole, so there was enough to fill two smaller dishes for a double baking; Hugh and Meg will have enough left over for another meal or two. The cost was significantly lower than the meats I'd bought in the Borough Market—approximately £20 for enough to feed ten hungry people. But these ingredients are everyday food here, not prestigious luxuries. If I had to live off cassoulets (what a terrible fate!) this is where I'd do it.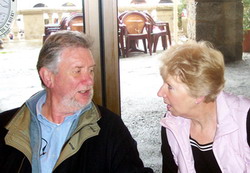 But would Hugh and Meg take me on as their household cook? They're seriously considering it.
"Chez DENIS"
Boucherie - Charcuterie
Votre Maître Boucher
81170 Cordes Sur Ciel
05 63 56 00 50
Du producteur au consommateur, je peux lui faire confiance!!!
Spécialitiés: Boudin Noir - Saucisses Fraîches
©2006 John Whiting
---
July 2006: La Maison du Notaire is now receiving its first round of fortunate guests. Treat yourself to elegant but unostentatious hospitality at its finest.
La Maison du Notaire Hugh Macdonald, +33(0)5 65 65 77 86, hugh@lamaisondunotaire.com. Visit their website.
Return to TOP Return to RECIPE INDEX
---