There are over sixty Michelin recommended restaurants in Prague, including two with single stars. Most of them are French, Italian, Asian, Mediterranean, "International" and "Modern". That wasn't what we were looking for.
By a stroke of luck, when I renewed the Eyewitness Prague travel guide at our local community library, one of the librarians on duty was from Prague. I asked her if she could recommend any restaurants of the sort that locals go to when they want a good traditional Czech meal. She promised to consult friends who are living there and get in touch with me.
A few days later I got an email from her with four recommendations. One of them I had read about as a bar/restaurant that set out to be both honest and affordable, "even for students". The other three were traditional family-style eating and drinking places, all of which began with "U", which may be translated as "At the sign of". None of the four were in the Michelin Guide but all four of them had very promising websites and all but one were within easy walking distance from our hotel.
For our first night we chose U Pinkasu, the one that was reachable by the easiest route. Nevertheless it took as a while and several enquiries to find it; it was tucked around the corner from the square in a little alley. Once there. It was well worth the trouble. It has built its reputation, starting in 1843, on Pilsner Urquell, a newly invented bottom-fermented beer which has become the most widely consumed tipple in Prague. The rest of the story is on their website, as is their extensive menu.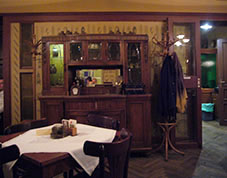 We found it to be a sizeable establishment, spread out over three levels and many rooms. Our request for a non-smoking area (in Prague they still smoke in restaurants!) put us in a pleasant family-occupied room opposite a handsome old sideboard. Everyone was jolly and talkative but no one was loud or intoxicated And, thank God, there was no piped music!
We started by sharing a bowl of their Pinkas popular tripe soup. It was one of the best soups we'd ever tasted. As we were slurping it up, I wished we'd ordered a bowl each, but that would have left less room for what was to come, and I was determined that it would be a lot.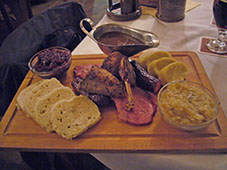 What looked most promising from the long menu was Old Bohemian riveted [riveted?!] plate – smoked neck, baked pork neck, sausage, a quarter of duck,variety of dumplings, red ´n´ white cabbage (850 g). Not so much a menu degustation, more a menu gourmandise. When it came, it was indeed a challenge, but an exhilarating one—every piece of meat was of a falling-off-the-bone succulence. What an introduction to Czech gastronomy! I worked my way happily through the lot; what went back to the kitchen wouldn't have satisfied a hungry mouse.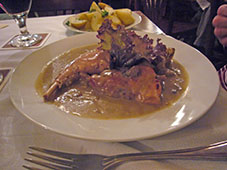 Mary's main course was ample but less extravagant, Rabbit legs baked on bacon with home-made mushroom sauce (2 pcs). Delicious! I would happily have ordered it for a third course instead of dessert. Did we in fact have a dessert? I don't remember. The quantity of Kozel dark beer w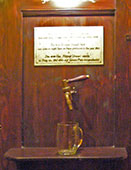 e got through tended to mask such minor details.
On the way out we saw a plaque over an ancient beer tap through which had flowed the first steady stream of Pilsner Urquell. Worthy of commemoration indeed! Three more pub restaurants to come. U Pinkasu will be a hard act to follow!
---