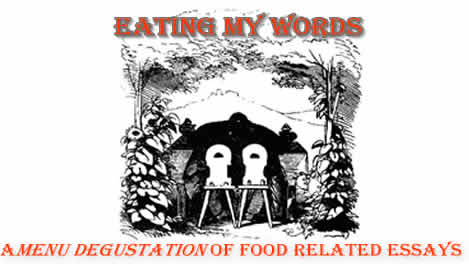 Squaring up for a Meal In countries all over the world, at successive levels of government, laws have been forced through which allow corporations to sue their critics for defamation; the documentary Food Inc. brought this vividly to our attention. But now global legislation is being prepared which will be even more powerful and destructive of consumer health and welfare. Both the Atlantic and Pacific Trade Agreements, drawn up behind closed doors, call for the establishment of secret courts that would give new rights to corporations to challenge environmental and other public interest policies in un-transparent trade tribunals, and the exclusion of such key environmental agreements as those addressing climate change and mercury pollution. This would make ecological and consumer campaigning at the national level an empty ritual.
At Elizabeth David's Table: Her very best everyday recipes This recycled addition to the Davis ouvre seems to be primarily an effort in branding.
It's not just the Food, it's the Inc. Says director Robert Kenner: I realised [Food Inc.] was not a film about food, it was a film about rights. Seeing how food products now have more rights than individuals - that was more frightening than seeing how the food was produced.
Identity Crisis: Fusione Italiano comes to London Italy's top Michelin chefs fervently berated fusion cooking and molecular gastronomy and then proceeded to practice them.
Eating the Earth: the multinational food industry has become a primary impetus towards overpopulation, obesity, pollution and global warming (a paper given at the Oxford Food Symposium).
Thought for the Day Ignore the connoisseurs: the primary purpose of alcohol is intoxication.
The Parkerization of Comestibles "If it's not the best, it's not worth eating!"
Cheese workshop Patricia Michelson of La Fromagerie takes us on a gastronomic tour to the Savoie for a plate of Alpine cheeses, a slice of Lionel Poîlane's famous pain levain, and a glass of wine.
Carême's sonnet on his fallen soufflé When I consider how my yolk is spent...
La Transhumance: an animal fable From the moment it appeared, the new sheep had been an oddity.
Authentic? Or just expensive? The traditional food of European peasants can now only be afforded by the rich (a paper given at the Oxford Food Symposium).
A Short History of Progress Agriculture, says Ronald Wright, is "a runaway train, leading to vastly expanded populations but seldom solving the food problem."
Cheese it—the hops! That the legend of wine-cheese compatibility refuses to die may be the result of "cognitive effect". That's a polite way of saying that we make it up.
Jars of tripes forever! As Adrianna makes it, finanziera includes cocks' combs, sheep's brains, sweetbreads, chicken livers, cucumbers, artichoke hearts, mushrooms, cognac, marsala secco, and dry white wine.
The Joyce of Cooking: a load of el Bulli To borrow a soundbite [sic] from Marshall McLuhan, cuisine is whatever you can get away with.
Who knows cooking who only cooking knows? Richard Olney sadly used his long-awaited memoir to settle scores and rack up points.
On Comprehending Indian Cuisine (or any other) In coming to terms with the foreign and the unfamiliar, we must above all approach it with humility.
The Americanization of Paris Marlena Spieler gives it the full Williams-Sonoma treatment.
The Green Gourmets: The Evolution of Chez Panisse The burgeoning world-wide support for seasonal, locally grown organic produce owes much of its impetus to the restaurant which Alice Waters and friends started in Berkeley, California in 1971.
Toujour Fromage! Searching out great French cheeses in Paris. By the time you read this, a few more ancient cheeses will have disappeared. You are eating history.
Noshing on the cheap We food writers with more taste than income live in two separate worlds. NEW
Forward to the Past Salon International du Livre Gourmand, Perigueux,1998: A personal journal of splendid mediaeval architecture, copious truffles and convoluted politics.
Blessed are the Cheesemakers World Cheese Awards: for a cheese freak, it was like entering Nirvana.
Whiting on Cod One old salt to another.
Fruits de Merde Tesco plumbs the depths.
A Surfeit of Lampries The Great Taste Awards [UK]. Having virtually destroyed its rich tradition of indigenous food, Britain is now experiencing a burgeoning demand for gourmet goodies.
Get a meal! Hanging Out with the Virtual Foodies Website eGullet is peopled with big spenders who discuss in detail the culinary delights they have sampled in their treks to a whole galaxy of Michelin-starred restaurants – the fruits of a NASA-like expenditure.
Bouillabaisse, Cassoulet . . .   My anecdotal treatment of these two classics, from Through Darkest Gaul with Trencher and Tastevin, written in 1997.
Caveat Auctor  What lengths the Eurocrats will go to in order to protect us from our appetites!
Enjoying Rude Health: The Rise of the Macho-Foodie  Garlic and chili are indivisible. The Macho-Foodie demonstrates his virility both by the agony he endures and by the potency of his presence.
. . . the food that cures all hunger . . .  The time has come to open a restaurant specializing in medicinal cuisine.
Foods for Moods  What was served for dinner at Yalta or Reykjavik or Dumbarton Oaks may have affected the course of human history.
Genetic Engineering: much food, many problems – no solutions . . . If we want to protect the environment from the threat of entrepreneurial science, then we must look beyond such science for the ethical impetus with which to combat it.
"How can we afford it? We sell so many!"  "This is ridiculous," I said. "Not only is the cottage cheese free, but it's knocked 19p off the bill for the other two items." "There's nothing I can do about it," the sales clerk replied. "It's in the computer."
Instant Claret  Eventually, after years of practice, you will have trained your palate to appreciate the simple virtues of raw chemistry.
Mireille Johnston Obituary  She brought to her life's work all that she had received through her father's Italianate family, conditioned and enriched by her Nicean upbringing. The result was a cultural blend as complex yet coherent as the cuisine which she so ably practised and presented.
Know Your Onions  This was no ordinary onion. It was large and fat, and its leaves, a foot long, were as meticulously braided as a schoolgirl's pigtail.
Life Depends on the Liver [Foie gras] In the industrial food market there's hardly a vegetable—let alone a piece of meat, a glass of milk, or an egg—that we could face with a clear conscience if we were shown the conditions under which it was produced.
Ludlow Fare  I departed with a healthy respect for the Heart of England producers and even a guarded optimism for the survival of local food traditions.
Macho Nacho The variety and complexity of all our world cuisines is ultimately derived from those generations of women who have tended our domestic kitchens.
Provence: Twelve Journeys with a Gastronome  In hiking clothes and toting a suitcase, Michael Raffael buses and trudges from village to village, cross-questioning the locals like a police inspector on a murder case.
There's pleasure sure in being mad which none but madmen know  Most of the diet-related diseases take so long to manifest themselves that before I start frothing at the mouth, I'll have died of superannuation.
Quel Fromage  "What GMO abomination have I eaten? Tiny hairs are growing on the palms of my hands. I dare not look in a mirror. . ."
Ripeness is All  In the bad old days, works of art – like ripe cheeses – were liable to be infected. They might cause emotional, even social upheavals.
Up in Smoke  Suppose you walked into a restaurant, set a brazier on your table and lit a cone of strong incense? There would be an immediate and justifiable outcry. But those little paper tubes of dried leaves are sacred.
Tastlessness  A few years ago, when food and wine were merely arrows in my sensory quiver, I had a chest infection that left me tasteless for almost a year. If history repeats itself, this time I will be haunting the curry joints, seeking out ever more scorching vindaloos.
Ten of the Best  What, in the final analysis, constituted the restaurant? Was it the furniture, the china, the silver? The ancient beams? The elegant waitress? Or was it the rough genius who had brought a fish back to life in his dancing embers?
The heart has reasons . . .  Kreutsfeld-Jakob Disease, we are told, takes years to reveal itself. Bring on the steak tartare.
Thorne's Crowning Achievement  John Thorne takes up culinary clichés, working them over like clay images and breathing life into them until they dance of their own accord.
Two Domestic Feasts  The table was laden as for a modest Babette's Feast. You will have guessed by now that the cook wasn't English.
When Jeremiah met Cassandra  Rarely has the passage of time been so generous to a pair of iconoclastic prophets. Written for a dinner celebrating the reprinting of John & Karen Hess' The Taste of America, New York, April 23, 2001
---