From its modest beginnings half a century ago, Williams-Sonoma has grown into a culinary giant scooping up more than 2 billion dollars a year. No longer a small-time importer of French pots and pans, it can turn a bare room into a luxuriously equipped kitchen. It can fill the bookshelves as well: since entering publishing in 1992 W-S has amassed a catalog of over a hundred titles and launched a food magazine, Taste, which set out to rival Gourmet and Saveur.
Having staked its claim to US dominance, Williams-Sonoma seems bent on taking over the culinary universe. A new series, Foods of the World, has been launched with a boxed set of three volumes on Barcelona, Florence and Paris. The latter was entrusted to Marlena Spieler, the UK-based, syndicated American columnist and author of half-a-hundred cookbooks. Sh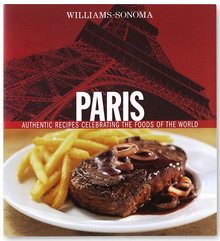 e knows the city backward.
Who are the target audience? The steak frites dust jacket – pale potatoes, meat not too bloody – seems calculated to reassure the middle-of-the-road Freedom Fry lover. Inside, the photos are nostalgically evocative of an age-old city; some of those in monochrome could have been taken at any moment in the past century. There are spot-the-difference food spreads; facing the recipes are illustrations which, unlike those in trendy celebrity-chef puffbooks, actually show you in sharply appetizing focus what the completed dish should look like.
§
The text does not get off to a promising start. The introduction begins with a potted Paris history:
The Parisii, a reportedly wild and greedy Celtic tribe, settled on what is now the Île de la Cité, in the heart of Paris, in the third century BCE [sic]. History records that its members regularly dined on meat — often rancid — doused with liquamen, a pungent fermented fish sauce designed to mask any off taste.
This is culinary caricature – Frogs Legs and All That. Liquamen, or garum, was a Graeco-Roman condiment that would not have reached Paris until the Roman occupation in 52 BC. The legionaires loved it - it was the foundation of their cuisine and was judiciously used, like Vietnamese nuoc mam, to impart a kaleidoscope of flavors. Ferociously expensive (far beyond modern caviar), it would not have been wasted on captive tribesmen; nor would anything have been "doused" with it, even by those who could afford it.
As for "rancid meat", people of means threw it to the stray dogs. It's now well established that spices were used to enhance flavor, not to disguise seriously gone-off foods. Experience would have taught even the most primitive peoples that such inherently unpleasant smells and flavors led to sickness often followed by death. To risk it, you had to be starving.
I wonder if the author actually wrote the passage in question; I have known her articles to be corrupted by subeditorial interpolation. The text gets better. There are succinct introductions to a handful of Paris restaurants and markets and an evocation of the city's arrondissements. Then there are sections on French cuisine in toto, attempting a national overview. There are double-page photo spreads designed to make a few breads, cheeses, drinks, pastries and chocolates identifiable by sight – also a dozen wines (though not their distinctive bottles). The author's affection for the late Lionel Poilâne shines through her lovingly detailed description of the making of his archetypal pain levain – she was one of the first to introduce his breads to English-speaking readers.
Throughout the book, Paris restaurants and shops are mentioned briefly by name and arrondissement, but there are no addresses or telephone numbers, either in the text or in an appendix. Those who would seek them out must consult other guidebooks or Les Pages Jaunes – it's as if the reader were merely being offered a crib sheet to impress fellow-foodies. It's a curious decision, more likely to have been made by PR mavens than by food writers. I'm not inclined to hold the author responsible; I understand that she was not entirely happy with the editorial parameters within which she had to work.
§
The recipes that make up the bulk of the book feature reassuringly unchallenging ingredients: aside from poultry livers, there is nothing remotely describable as offal. Tête de Vieu? (Chez George) AAAAA Andouillette? (Les Bacchantes) Tripes Normande? (Chez Denise) Forget it! The author's well-known predilection for the adventurous suggests that her new-found culinary conservatism is unlikely to have been voluntary.
According to the subtitle, these are authentic recipes. Many of them certainly are, including a soupe a l'oignon such as I ate regularly in Les Halles half a century ago. But the author's ebullient personality comes through in occasional flights of fancy such as Moules Farcies Gratinées, mussels cooked in the style of snails. I quite like the idea, but its lateral thinking is hardly "authentic"; perhaps an editor considered snails too far out. As for the Chinese five-spice powder in her Cuisses de Canard, she insists that "this is exactly what Parisian food is all about", but adds the qualification that it "can be spiced [herbed, surely?] in a more staid manner, with only a handful of fresh thyme…"
Sometimes her idiosyncrasies shine gloriously through her methodology. When her Pâté aux Herbes comes out of the oven, she suggests, it can be compressed with "a heavy weight, such as a board topped with a brick…" Having raided a building site to create Terrine avec Lethal Weapon, you may then "Wrap a towel around the outside of the pan to absorb any excess fat that might flow over the sides." Who does her laundry? More simply, the pan could go into another to retain the overflow. (Using Cordon Bleu's recommended two-pound weight, we've never had any.)
§
Like Marlena's usual recipes, these are no doubt worth cooking and eating, but do they embody the authenticity promised in the title? No sources are given, no authorities cited. And do we need to be told yet again how to make steak frites? What a waste of what could have been an important and long-lived reference work! It seems to be aimed at Martha Stewart readers who just love Paris and would like to recreate its cuisine and ambiance for their own dinner parties, whether or not they've actually been there. Mostly it will stay on their coffee tables – this hefty volume is unlikely to serve as companion, either on the road or in the kitchen. The information is so general and so scattered as to make it virtually useless for reference. And for simple traditional recipes, there's Patricia Wells' classic Bistro Cooking, in which the provenance is consistently documented.
Alas, now that I've looked at the pretty pictures, the book will end up as a showy present. With total editorial control and for a fraction of the budget, Marlena could have written a much more useful, informative and entertaining book off the top of her head. Given her prolific output, perhaps she will.
---
Williams-Sonoma, Paris: Authentic Recipes Celebrating the Foods of the World, Recipes and Text Marlena Spieler, Photography Jean-Blaise Hall, General Editor Chuck Williams, San Francisco, Oxmoor House, 2004, 191pp, US$24.95
©2004 John Whiting
Back to TOP