Venice's aptly named opera house has twice burned to the ground but, in th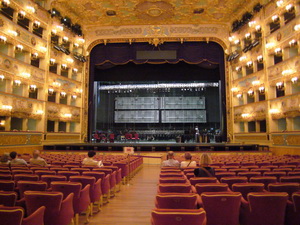 e light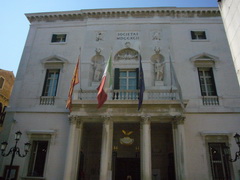 of human incompetence and corruption, I find the recent history of La Fenice strangely encouraging. In his episodic non-fiction novel The City of Falling Angels, John Berendt narrates the odyssey of arson (perhaps), delay, false starts, backhanders and general political and financial shenanigans that left Venice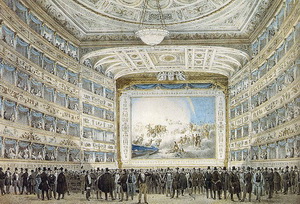 without an opera house from its second destruction by fire in 1996 to its eventual reopening seven years later in 2003. But for me, having experienced the old opera house as a ramshackle if romantic working venue in 1986, I found its reincarnation to be a miracle of tasteful, functional, well-constructed architecture, and preferable to the 1837 original with its mob of top-hatted groundlings. (Francesco da Mosta does not agree, and he was the architect almost chosen to coordinate the project—but where does one find perfection?)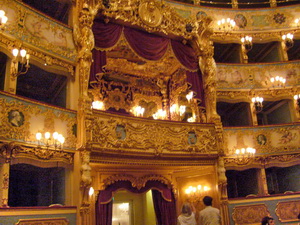 Its presentation to the public is equally commendable. During the day you can show up at any time and pay a nominal 5€ for open access to the public areas, accompanied by an extremely well scripted and delivered audioguide which is number coded to the rooms it describes. You're f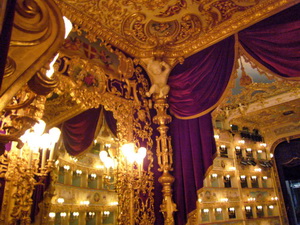 ree to wander about, onto the ground floor of the auditorium, upstairs into the magnificent royal box and thence to the ballroom, the smaller salons and finally the main bar, where drinks and light refreshments are available. It's a world well away from the tightly managed waves of gawpers you encounter in the city's most popular tourist destinations.
The auditorium's acoustics are marvellously controlled, the structure consisting of an enormous wooden box suspended in a steel and concrete shell (which helps to insure that the phoenix will not have to arise from its ashes yet again). The floor of the stalls, formerly carpeted, is now wood, which adds a degree of liveliness to the sound, and the seats are so heavily padded that the presence of an audience is not likely to make a great deal of difference. As for the air conditioning, it consists of a seperate outlet under each seat, visually discreet and, though collectively effective, totally inaudible (on all three counts, it is unlike the politicians who brought it into being).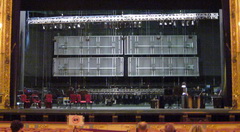 There was no music to be heard during our visit, but a crew was busy preparing for the next production. If I had known Italian, I would have been able to understand every word spoken between the technicians on stage. I wandered about the hall, listening as I went, and detected no dead spots or acoustic inconsistencies. It's a better hall, I think, than the one I worked in over twenty years ago. As for the detail of design and color, it's simply glorious. Back home in my beloved Covent Garden a week later, the architecture seemed just a touch second-fiddle.
---