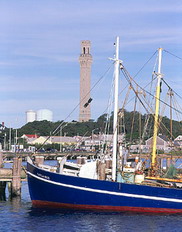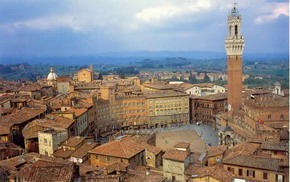 Coming suddenly upon the Torre del Mangia in Siena's Campo took me straight back to my early childhood. Before the Pilgrim Fathers landed on Plymouth Rock (if it had been the other way around, New England might have been a jollier place), they had lingered for five weeks in Provincetown Harbor until unfriendly natives sent them on their way.
In 1892 a group of Yankee businessmen determined to attract the patriotic tourist trade by erecting a monument to the Pilgrims' brief sojourn. By 1906 they had raised the money, and the following year President Theodore Roosevelt sailed to Provincetown in a yacht (named, of course, the Mayflower) to lay the cornerstone. Three years later, President William Howard Taft—all 340 pounds of him—was able to stand upright long enough to officiate at the dedication.
The model they had chosen was Siena's magnificent campanile, which now rose before me. There were complicated Yankee reasons for this grandiose anachronism. Provincetown was by then nearly 45% Portugese fishermen and the native sons were losing their clout, so the Old Timers opted for an Olde-Worlde design to reaffirm the town's ties with its early settlers. Towering above the jumble of colonial churches and shingled shops, it was monumentally incongruous, but to a boy who had grown up in its shadow, it was home.
And now at last I was seeing it where it truly belonged. It was like a tale of identical twins, one raised in a palace, the other in a humble cottage. When the dollar finally tanks and America goes on the block, an eccentric Russian trillionaire may scoop up the country sibling and bring it home to stand beside its double here in the Campo, twin portals to a magic land where every fairy tale comes gloriously true.

©2008 John Whiting
---