---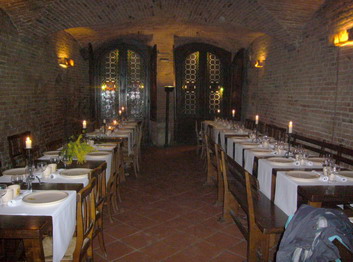 Gallo Nero, a restaurant specializing in medieval cuisine, is housed in a fourteenth century building just south of the Campo. Along both sides of the ancient dining hall are white-clothed tables, romantically candlelit.
You won't find Gallo Nero in the gourmet guidebooks. Rather than aiming at an upmarket clientele, it offers a sampling menu at an amazingly reasonable 23€. Our dishes were unusual and tasty, though the small portion of bittersweet duck made frugal use of the bony bits.
But at such a price and in such an ancient and distinguished ambience it would be mean to quibble. The chefs have teamed up with scholars at the University of Siena and come up with dishes that do not do violence either to history or to the palate. Something of their provenance is told on the home page of their website.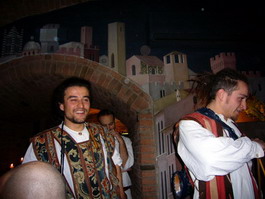 So far as the punters are concerned, they seem to have got it right. On a Friday night at the end of February, the dining hall was filled to capacity with a jolly crowd of diners, made all the merrier by a trio of authentically raucous entertainers. No polite "early music" entertainers they; led by a loud and buxom wench, these troubadors would have been more at home at a rustic booze-up than in the balcony of a noble banqueting hall. You can listen here.
The restaurant regularly produces festive meals on a grander scale. If you're going to be in Sienna, it's worth checking their website for dates and details.
---
Ristorante Gallo Nero via del Porrione, 65/67, 53100 Siena, Tel +39 0577/284356

gallonero@iol.it
©2008 John Whiting