Siena does not have a gastronomic tradition equal to its art and architecture; the authorities are agreed that its cuisine largely mirrors that of Florence and the rest of Tuscany. Ten years ago Fred Plotkin, in Italy for the Gourmet Traveller, wrote, " Siena is notorious for not being a great gourmet town." Visitors with palates must be careful; thanks to a burgeoning tourist trade, there has been a proliferation of atmospheric eating places which survive because they need not persuade their customers to return. It is ominous that in 2004 the Slow Food guide, Osteria di Italia, listed four recommended eating places, but by the current edition it had shrunk to two.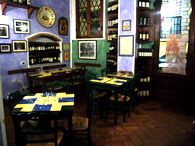 But a city of the prosperity and distinction of Siena is not without lovers of good food, and they know where to go for it without benefit of advertising. Our choice for the first night was the Hosteria il Carroccio, awarded both a Slow Food snail (for its authentic Tuscan food) and a bottle (for its "120 excellent wines, mostly Tuscan"). Tourists are by no means strangers here. At the next table was Newsweek's New Zealand marketing director, tipped off by the Lonely Planet guide.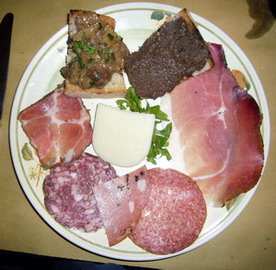 The carta was in both Italian and English and offered a menu degustazione for two at 30€ each, complete with a bottle of the house wine ("good", according to Slow Food, and also me). Unlike so many tasting menus, it was totally unpretentious and an absolute bargain. It began with a generous plate of local sausages, progressed to a thick soup ("Renata's ribollia"), then pappardelle with wild boar sauce, and a big plate of main courses.

The Slow Food entry (right) tells you all you need to know.
Hosteria il Carroccio, Via del Casato di Sotto 32, Tel. 0577 41165
©2008 John Whiting
---