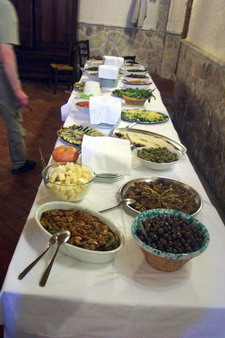 Agriturismo vultaggio is a self-sufficient sustainable farm that is also a holiday camp dedicated to healthy living and healthy eating. There's meat on the table, but vegetarians can find plenty to satisfy them. After a week of Palermo restaurants in which veggies were in short supply, it was wonderful to see so many of them on display, and in a recognizable form. There were carciofi (batter-fried artichokes), felle (fried sliced aubergines), panelle (flat fried cakes made with chickpea flour), bowls of caponata and olives and ricotta della casa and cubes of a hard yellow gouda-like cheese—about twenty dishes in all, including many I didn't know and don't remember but which an expert could probably recognize from the photos.
These were recipes handed down through the family that maintains the farm, and they smelled strongly of authenticity. This was vouched for by the fact that many had the take-it-or-leave-it aggressiveness of real peasant food—cuisina povera that had not been dressed up for tourists like so much of France's celebrated cuisine du terroir.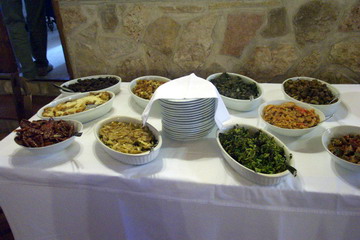 It was provender whose primary purpose was survival. There was broccoli that had been boiled into the submissive state of England's legendary brussels sprouts. (Vitamins? Forget 'em!) There were thin cross-sections of virtually raw artichoke, charred slices of aubergine still raw in the middle, cold limp mixed vegetables swimming in oil. As for the meat, one dish was a strong stew with jet-black little slabs of gristle so hard as to challenge the jaws of a gila monster; another contained cubes of liver that had been boiled through tenderness to the leathery stamina of a traditional English school dinner.
But there was much to enjoy, including the very fact of vegetables served up in such profusion.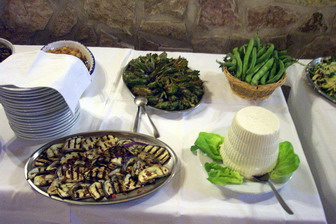 Food historian Rachel Laudan could have used the table to teach a whole course on the virtues and vices of peasant food, taking these dishes one by one and tracing their evolution from the grinding poverty of their origins to their present modest prosperity in which their lineage still lingers. Of all the meals I ate in Sicily, this was perhaps the most evocative. I was reminded that food that is rich, succulent and easy to chew has not been readily available throughout most of human history. If I had to eat at this farmhouse table every day, I would probably come to accept it all, from the raw to the charred. De gustibus…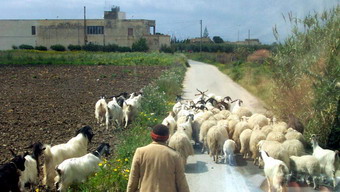 The cost of this generous spread was a modest 12€, with another five for a bottle of their own very drinkable Nero d'Avola. As our coach made its way back to the main road, we were charmingly reminded that virtually everything we had eaten had been grown, harvested, prepared and cooked within walking distance. But in today's technology-dependent world, sustainability has its limits—their web site includes driving instructions from the airport.
Azienda Agritouristica Vultaggio For contact information, see web site.
NOTE: It's difficult to eat here without staying here, and there have been negative reports. Artisanal does not necessarily equal excellent.
©2006 John Whiting
---