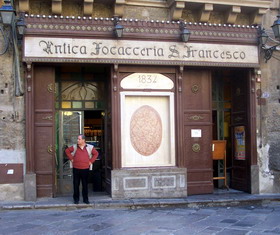 Sicilian tradition has the sort of ossified durability that is preserved in amber by poverty. Unlike those more prosperous regions whose vanishing history is recreated by handsomely endowed committees, tradition survives here because it works and would be needlessly expensive to alter. In Palermo the most historic eating place is Antica Focacceria San Francesco, started in 1834 by the Monsù [royal chef] Antonino Alaimo, who was given the chapel of the San Francesco palace as a center of operations. It would become a focal point of national evolution: here in 1860 Giuseppe Garibaldi, along with his thousand volunteers, refreshed himself after landing in Sicily in his first attempt to found what was to become modern Italy.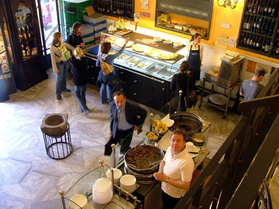 Signore Alaimo rose to the occasion and neither Monsù nor Duce ever looked back. Almost two centuries later, this eternal restaurant is in the hands of its founder's fifth generation. It is highly honored in Slow Food's Osterie d'Italia and its waiters proudly advertise the affiliation on their aprons. Their time-honored signature dish is not some whiz-bang miracle of molecular gastronomy, but the ancient guastedda or pani cu' la meusa, consisting of sliced boiled calf's spleen and tripe [simmering away in the big pots to the left] and ricotta cheese, served up in a soft focaccia. Celebrities from around the globe come here to gawk but they do not frighten away the locals, who drop in as casually as frequenters of a neighborhood McDonalds in a Kansas suburb.
§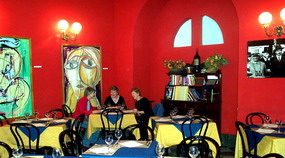 There is a more ambitious restaurant on the top floor, the Sala Florio, and so Mary and I, together with two fellow-travellers from our mediaeval tour, decided to spend the evening on upholstered chairs rather than the ancient iron seats downstairs that are occupied by i contadini. For the antipasto, Mary elected to continue our research into that Sicilian classic, caponata. It proved to be even better than the splendid exa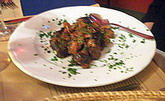 mple with which we had begun our lunch that afternoon at Al Covo dei Beati Paoli, though not quite so extravagantly generous: there was more body to the individual vegetables and less tomato (the great unifier), so that all the ingredients retained their identity. It was certified as a dish for plutocrats rather than peasants by the scattered parsley around the edge, as if plated by a drunken chef.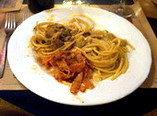 I skipped the antipasto and went for a trio of pastas, each with a separate sauce: nothing fancy, but each would have been satisfying in itself. Not much renegade parmesan to scrape back into the sauce.
For our secondi we opted to forego the omnipresent grilled fish in favor of two meat courses. Once again we were reminded that the cheap cuts eaten by the Sicili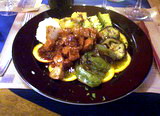 an poor are generally so tough that even with better quality they seem content to chew as vigorously as if it were the usual gristle. My cubes of maiale (pork) in red wine were tasty but had been stewed as briefly as safety would permit. They were served together with roasted vegetables (approximately the same ones that go into caponata) on a bed of thin raw orange slices covering the plate. The latter were obviously intended for decoration rather than nourishment.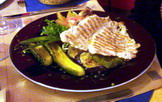 "Every middle-class mother goes to great lengths to feed her children white chicken breasts", writes Clarissa Hyman. If they are cooked like Mary's on this occasion, the kiddies should grow up with strong jaws. These thin breasts (as well beaten as those of penitent sinners) were so overcooked and dessicated that Mary left them largely uneaten; even your omnivorous reporter did not attempt more than one chewy tidbit. The chicken came with soggy overcooked vegetables that tasted more of the charring than of themselves. Served up on a cold plate (as always) and decorated with a water-lily-cut tomato on a radicchio leaf, the result was more suitable for photographing than for consumption.
The bill for four came to 108€—cheap if this had been the most famous restaurant in a mainland European city but a healthy sum for impoverished Sicily.
§
We returned the following night to eat downstairs with our fellow-peasants. After sitting unattended for several minutes we grasped the essential fact that there were no menus and no waiter service—we must go to the serving counter, choose what we wanted and then pay for it while our portions were reheated in a couple of ancient ovens (macro-, not microwave). I elected to continue my research into bucatini [a short chunky pasta] con le sarde, while Mary opted for Anelli Siciliani [pasta rings] in a meat sauce. Both were served up on plastic plates with plastic cutlery. We shared a simple salad and a boccetta of local red wine.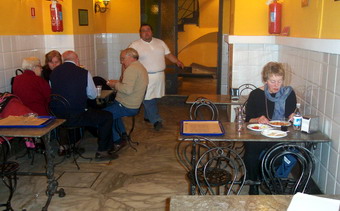 My pasta with sardines was as good as any I'd had and Mary's choice easily gained our joint approval. While we were enthusiastically putting it away, I was watching a small family party at a nearby table [in picture, right]. When one of them got up to photograph their table, I suggested to Mary that she offer to snap them all together. (I'm not shy, just lacking in functional Italian.) Il patrono gratefully accepted and explained to Mary that his mother, seated at the table, was eighty years old, thrusting up eight fingers for emphasis. This was apparently her birthday party—pasta on plastic plates! How many English foodies would be satisfied with such a meagre outlay (unless of course it were preceded by a RyanAir flight from Gatwick)?
After further conversation between Mary and another adjoining table, we walked back to our hotel. The total bill for a satisfying meal and a friendly evening had come to just over 15€. If I lived alone just around the corner, I might never bother to go home.
Antica Focacceria San Francesco 58 Via Paternoster, Tel: 091/320264. No credit cards.
©2006 John Whiting
NEXT Back to TOP Back to SICILY INDEX
---