There's a perennial fascination with creatures that carry their domestic arrangements around with them. Snails, turtles, even pillbugs – these lucky creatures can curl up wherever they may be, impervious to their surroundings. Oliver Wendell Holmes, the pontificating New England poet and self-styled Autocrat of the Breakfast Table, used the chambered nautilus as an extended metaphor of burgeoning self-containment: "Build thee more stately mansions, oh my soul…"
Americans, as always, carry this to its illogical extreme. Ours is the archetypal country of the mobile home, whether marine or terrestrial. From the 15-foot cuddy cabin to the 75 metre yacht with gym and swimming pool, from the mini-camper to the mobile mansion, we have the same attitude towards our paraphernalia as Jack Benny had to his money – if we can't take it with us, we're not going.

Over half a century ago when I was an impecunious college student I was offered a portable shell beyond my wildest dreams. A friend had been appointed to dispose of an old limousine, a 1932 Buick straight-8 with a body by Murphy of Pasadena [very similar to the Fleetwood body for Cadillac pictured right]. It was a brougham; i.e., the passengers rode in comfort and privacy while the chauffeur was required to exhibit both his manliness and his subservience by his year-round exposure to the weather. The radiator badge contained the initials AHZ, suggesting that it had been commissioned by a member of the Zellerbach family in San Francisco. It had been on blocks for about ten years and showed just over 55,000 miles on the clock and so it was in remarkably good condition for its age. I could just put together the negotiated purchase price of $47.50. Alas, I was unable to support this gas-guzzling white elephant and so, after it had sat in my parents' driveway for a year, it disappeared, I never learned where. If I owned it today I could probably retire on what it would bring at auction.
It's hard to imagine that this venerable vehicle was at that time the present age of my wife's unremarkable 1985 Honda Civic, but between 1932 and 1936 there were revolutionary changes in auto design. Being a classicist by nature, I had rejected these with an untutored affinity to what I regarded as the auto's Golden Age. Between 1929 and 1932 the awkward boxiness of the horseless carriage had disappeared and a dignified simplicity evolved which, to my taste, was the equivalent of a Grecian temple. The perfect automobile, the Great Depression and I had all been born more or less together.
As a child of the manse I had no first-hand experience of these magnificent status symbols, but in the parsonage where I grew up there was a long run of old National Geographics. Other preachers' kids may have thumbed through them looking for photos of nubile natives; I lingered over the ads for luxury limousines. I licked my lips over classic Packards, Cadillacs, Buicks, Pierce-Arrows. There was nothing vulgar about them, nothing ostentatious or superfluous – just the clean straight lines and sweeping curves of the timeless vehicles which must exist in Plato's heaven.
After 1933 came the premonitions of a Roman decadence. The radiator, which had been directly in view, was gradually enclosed behind a streamlined nose cone. Running boards disappeared, mudguards were molded bulbously into the body, the spare tire was tucked away out of sight in the trunk. C lassical rectangularity had surrendered to visions of an aerodynamic future.
As the years and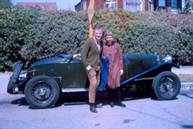 the cars went by I returned occasionally to my childhood fantasies, first by means of a Morgan Plus Four drop-head coupe and finally, before I left the US in the 60s, a magnificent 1929 boat-tail Lagonda, which my father wryly labelled my Lagondola [see left, with friends].
After that my vehicles became purely functional, culminating in a 1986 VW Transporter turbo-diesel van, modified at the factory for maximum security. This body style, in production from 1979 to 1991, had replaced the long-familiar T2 microbus, sketched in a notebook in 1947 by a Dutch VW broker (http://www.geocities.com/harald_nancy/t3_history.htm). Keeping the engine in the rear, the new design still had the distinctive vertical front but replaced the bulbous sausage-like outline of the older model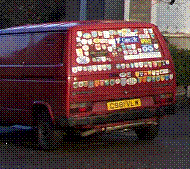 with what was to my mind an instant classic, composed of subtly curved panels harkening back to the pre-streamlined days of the early 30s. For sixteen years it took me all over Europe, gradually accumulating over 250 stickers as evidence of its peregrinations [see right]. The version I craved was the camper, but that would have been totally impractical to carry expensive and vulnerable sound equipment. I contented myself with a second raised floor, level with the engine compartment at the rear, thus giving a surface long enough to accommodate a sleeping bag and inflatable mattress. It would have to do. It served me as long as I needed it, after which it broke down as comprehensively as any faithful public servant forced unwillingly into retirement.
ANYONE who follows the world's depressing news must have some inkling of why an aging American who has lived to see the promise of the 60s fizzle out into the selfish complacency and intellectual torpor of the new millennium – anyone, that is, with an ounce of imagination – should be able to understand the attraction of a modest house-on-wheels that allows the owner to escape the ominous headlines and meander about the empty D-roads of France seeking out the vestigial remnants of honest unpretentious rural cuisine, with no daily expenses except the necessary fuel for camper and corpus. [Editor: A pretentiously sub-Jamesian sentence. Break it up.]
I knew what I wanted – the top-of-the-line Volkswagen conversion by Westfalia, named appropriately (for me) the Joker. Vintage would be 1980s, close to the age of my late lamented VW Transporter. A quick scan of the British, German and French E-bay online auction sites revealed, as I had imagined, that Germany had by far the largest number, going at the lowest prices.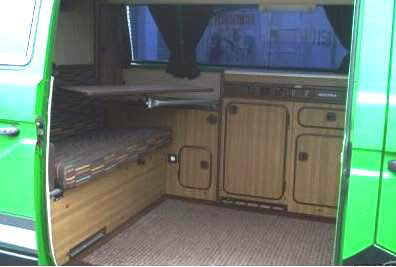 There I found an unusually fine specimen, vintage 1981, its interior in remarkable condition (as documented by half-a-dozen close-up photos). Unlike many of its age, it had not been tarted up with shag rugs and leopard skin upholstery. With guidance from Maurice Naughton, our house guest at the moment and skilled in E-bay manipulation, I was able to nudge the final stages of the online bidding so that it stayed well within my target, leaving me with almost two-thirds of my total budget for any necessary repairs and restoration.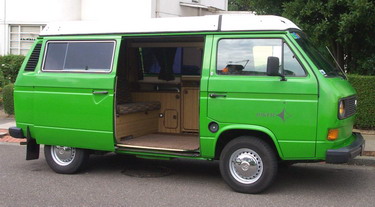 TWO months later my new plaything was overhauled, freed of substantial body rust, partially resprayed and ready to roll. Mary had observed the whole saga with a jaundiced eye. Travelling and living in such confined and Spartan quarters was not her idea of a holiday, and it did not help when I suggested that she look on it as a step up from a tent rather than a step down from a hotel. And so before setting out on a two-week excursion to Languedoc I took the precaution of booking a few nights in a promising B&B at the approximate midpoint in our journey.
But after our first night away from home, something magical happened. The claustrophobic shoebox transmogrified into a delightful Wendy House (or Westy House) and from then on it was simply a process of working out the details of jointly managing our cozy space. The Westfalia interior must have been designed by a single ingenious brain, for it did not have the cold impersonality and awkward compromise of a committee product. It was pleasing both to the hand and to the eye – after two weeks we couldn't fault a single detail of its carefully calculated utilization of every cubic inch (or rather, being German, cubic centimetre). When we had to check into our Languedoc hotel, we felt homesick.
Day by day we worked out how to take advantage of the fact that, aside from fuel (both personal and vehicular), we were totally self-sufficient. It was immediately obvious that we had no need of trailer parks, those Butlins Holiday Camps on wheels where families can squat for a week at a time without, literally, leaving home. Instead we sought out the stopping places along the route which promised the best meals.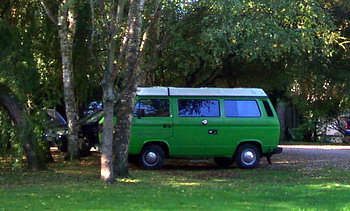 We soon made our most important discovery, which was that if we arrived early in the evening and booked a table, the management were happy for us to occupy their parking lot for the night. This was true at every venue, both hotels and restaurants, everywhere from simple bistros to grand establishments with black-tied waiters. Thus we saved not only the cost of hotel rooms, but also the potential disaster of failing a breathalizer.
And so our new family member has not only become the foundation of our French holidays, but will also allow us the short trips within Britain which we have long resisted because of the cost and discomfort of most British B&Bs. As for British hotels, they are strictly for spendthrift masochists. It is illuminating that the inspiration for Fawlty Towers has just had a preservation order put on it. There are of course a few fine country house hotels, but making regular use of their facilities is about as economical as yachting.
There are many beautiful and uncrowded parts of Britain. There are also, if one is well guided, many pleasant places to eat. It will be interesting to discover whether they are as generous with their parking places – at no expense to themselves – as their French counterparts. It may help if I write ahead, telling of our French experience, explaining that we're putting together a guide book, and asking whether they want to be listed as Generous Host or Cheapskate.
IN OUR throwaway society both autos and humans rapidly depreciate, their lifespan following an accelerating arc towards the scrap heap. Only a few vehicles and a handful of senior citizens achieve the status of "classic", so that their putative value starts to rise again. Most of the motorhomes now rolling off the assembly lines are like Malvena Reynolds' Little Boxes Made of Ticky-Tacky, with anonymous suburban interiors within which their equally anonymous occupants can shut the doors, draw the curtains and pretend they've never left home. Last month we went to the caravan show at Earl's Court, just to see if there was anything new that we fancied. Back home four hours later we patted our little Joker on the bonnet and assured it that we three would remain a happy family.
©2003 John Whiting
In May 2005 our Joker went back into the pack. By June it had been dealt to another player. It will be replaced. Watch this space.
Return to TOP