SOLD - Page left up by popular demand
VW Westfalia Joker, 1981

The classic Westfalia is generally regarded as the best-outfitted Volkswagen camper ever made, in both conception and quality of construction -- the Rolls-Royce of campervans! Design-wise, everything is where it should be and everything works. In fact, this is as good an example of an unrestored Westfalia Joker of this vintage as you're likely to find.
Since I brought it from Germany over two years ago, it's been in the tender loving care of Chris Cross Motors, north London, one of the best air-cooled VW specialists in Britain. They put it in top running shape and repaired the usual rust damage to the lower half of the body, stripping it back to the metal and replacing panels where necessary – there's no fibreglass filling in holes and holding everything precariously together. It's just passed its MOT, with no work required except minor lighting repair, and is taxed for half a year, to October.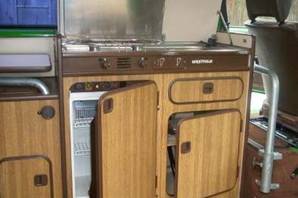 Inside, the upholstery, carpets and curtains are original – undamaged and unstained. Even the fridge works – those who are familiar with VW campers of this vintage will know how unusual that is! The roof has been professionally relined to a higher-than-original standard (desirable to avoid night-time condensation dripping on your head or feet). There's room for a portaloo, so that the vehicle becomes totally self-contained, with no external washing or toilet facilities required.
The asking price is £4950. This is on the advice of my garage, who knows the vehicle inside and out. They're prepared to tell any serious buyer that it's been well cared for.
If it's so marvelous, then why am I getting rid of it? It breaks my heart – the reader will see elsewhere on this website how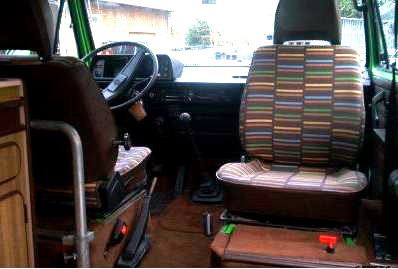 much pleasure it has given us. The sad fact is that I'm 74 and my back has become unreliable, so that our last holiday had to be cut short. It's a left-hand-drive vehicle (which I bought on purpose for European holidays) and my wife is not happy with driving it.
The probable mileage is around 110,000, based on documentary evidence, the condition of the upholstery, and the exterior paint. (As you can see from the Joker logo, the upper half is original.)
I've installed a new Pioneer radio/CD (removable facia) powering the original 4 Blaupunkt speakers. There's also a dashboard tray for a laptop and a low-amperage 13amp socket for powering it, which has enabled me to travel with AutoRoute GPS; not requiring my wife to navigate may well have saved our marriage!
The fabric in the tilt-top is undamaged, unstained and waterproof. The petrol-powered space heater still works but I was advised to disconnect it; they have been known to burst into flame. For cold-weather camping, you're better off with a small butane heater, or electric heat off 220 in a caravan site.
If you want more information, you can reach me by email at campervan@whitings-writings.com. I'm located in north London, Hampstead Garden Suburb.
PLEASE NOTE: The most important thing about maintaining a VW camper of this vintage is the quality of service. Thanks to Chris Cross Motors, we have had two years of trouble-free touring around France. Any prospective buyer should seriously consider continuing with this garage for service and repair, even if it's inconvenient. One of their loyal customers brings his camper over from Holland every year for its annual check-up!
Back to Paris Bistro index HOME