La Régalade Revisited
Things are never that simple, but if one man were to be awarded the Curnonski Medal for revivifying the Paris bistro, it would have to be Yves Candeborde. A dozen years ago, after cheffing in such eminent kitchens as Les Ambassadeurs, The Ritz, Maxim's and La Tour d'Argent, he struck out on his own to become, if not the first, then certainly the most celebrated practitioner of an inventive and democratic cuisine, going back to his culinary roots to make fine dining less precious and more affordable. When I wrote about the Paris bistros' new direction in an introduction to this web site, it was Candeborde who had led the way. (Jeffrey Steingarten tells the story in The Man who Ate Everything, pp. 381-4.)
When you haven't the benefit of others' mistakes, you're almost certain to make a few of your own. When I visited La Régalade in 1998, events conspired to leave a nasty taste in my mouth and my review accurately reflected the experience. But the concept had such positive virtues that when Candeborde sold his brain-child in April of last year to Bruno Doucet, formerly of Apicius, I was curious as to what might become of it. When John Talbott reported in his eGullet column that under the new management it was one of his favorite venues, a return visit became inevitable. And so this July I decided to make it our first evening meal in Paris, to be followed the next night by Candeborde's new venture, Le Comptoir du Relais. Both choices were so fortuitous as to remind me that a competition between fine chefs is a contest in which no one loses.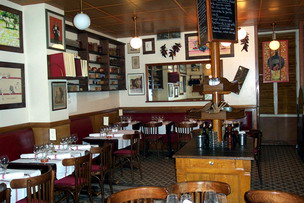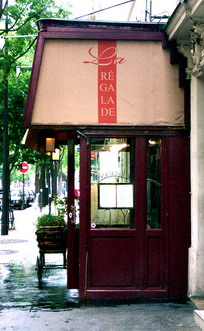 WHEN we arrived, it was as if nothing had changed. The entrance cubicle maintained its vaguely oriental dimensions; the interior was still the comfortable mish-mash of old furniture and miscellaneous pictures. The greeting, however, was rather more cordial than I remembered and there seemed to be more choices within the 30€ menu. I regretted the passing of Candoborde's legendary cochonnaille, the wooden board of salamis, sausages, pâtés and cornichons; but when a huge rectangular terrine arrived at our table I felt assured that the new broom had not swept away the legacy of generosity. The pâté de campagne it contained was as unctuously oleaginous as one could wish; if we had been served with nothing but the pâté, the generous pot of excellent cornichons and the crusty dusky bread, we would still have gone away satisfied.
But we were not to be let off so easy. Our voluble Irish waiter urged us to forego the duck foie gras starter that we had chosen and opt instead for the Canette de la Dombes rôti au foie gras as a main course, which would give us a whole duckling between us together with an ample hunk of the indispensible liver. And furthermore, he pointed out, the extra charge of 14€ for two would be 2€ cheaper than for the entire foie gras on its own.
That left us with our starters still to be selected. I chose the special from the blackboard—baby scallops on the half-shell sautéed in herb butter with tiny crispy croutons—while Mary opted for the Soupe de tomate glacée, chevre frais au basilic et piment d'Espelette. The latter was like gazpacho made in heaven, so rich and generous that she required assistance in getting through it, which I, being of a generous nature, willingly gave.
The duckling proved to be a veritable Mae West of a bird, with foie gras on the side that would have constituted a meal in itself, accompanied by diced celeriac mixed with girolles and a spicy purée with grain mustard. If this were to set the pattern for our scheduled ten bistros in five days, we might suffer a coronary on day four.
Mary's dessert was from the blackboard—hot cooked apricots with apricot sorbet. My Frâicheur de rhubarb et fraises, fromage blanc battu à la vanille was a perfect blend of sweet and sour, sharp and smooth. They were both accompanied by a warm madéleine that would have made Proust give up writing for eating.
Shortly after we arrived, the table next to us in the window had been occupied by two gentlemen who appeared to be regular patrons. One of them was of such proportions that I thought immediately of Mr. Creosote, the exploding diner in Monty Python's The Meaning of Life. My apprehension increased when their foie gras starter arrived—the duck it came from must have been gargantuan. I hoped fervently that thin mints would not accompany their coffee; fortunately we were spared inundation.
In summary, the food, judging by a single visit, seemed up to the old standards at their best. The biggest difference I noted from seven years before was in the dining area's working atmosphere. Whereas it had been hectic and even surly, the staff now seemed to be coping adaquately with the pressures of the fully occupied tables. Our own waiter, though busy, still found time to be pleasant and informative. In fact, it was the sort of "service" (I dislike the baggage that attaches to the word) that can exist when waiter and diner communicate as equals. La Régalade under Bruno Doucet deserves a long and prosperous future.

La Régalade 49 av Jean-Moulin, 14 th, Tel: 01 45 45 68 58, Mº Alesia, Orléans
March 2009: On the whole, Food Snob re-enforces our affirmative response, with lots of detail, photos and an up-to-date carte.
Back to the beginning of this review
---