All aboard for Candeborde!
When I arrive in Paris I usually head for some modest little bistro tucked away in an outer arrondisement where it is kept alive in the winter by the locals; but in the case of Le Comptoir du Relais, Yves Candeborde's new venture smack in the middle of Touristland, I was prepared to make an exception. A decade ago he opened La Régalade on the southern fringe of the 14th. Groomed for conventional success in several noteworthy Paris kitchens, the maverick chef from Béarn had bolted from the Michelin stables and lit out for the wide open spaces between haute cuisine extravagance and bistro modesty.
Ralph Waldo Emerson once wrote "If a man has good corn … or pigs to sell ... you will find a broad hard-beaten road to his house, tho it be in the woods." Candeborde had both. The omnivorous Jeffrey Steingarten discovered him in 1996, sang his praises in Vogue, and reservations were soon harder to come by than for the prestigious restaurants the rebel chef had left behind.
For years there was a running debate in the foodie web sites between those entranced by the cuisine and those offended by the service. (My review in 1998 did not rate it highly in either category.) Then last year La Regalade was sold to Bruno Doucet, formerly of Apicius. There were rumors that Candeborde was buying a hotel and restaurant somewhere in the center where the action was, and soon the foodies were speculating as to where and when.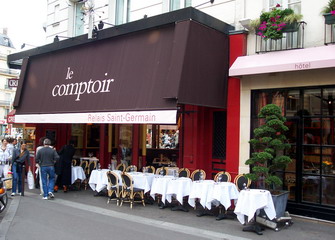 The culmination of this suspenseful tale is the elegantly refurbished Hotel Relais Saint-Germain and its adjoining Comptoir in the carrefour de l'Odéon. With sliding windows and a double façade shared with the hotel, the restaurant can expand on to the sidewalk well beyond the usual few outdoor tables, so that the summer capacity is virtually doubled.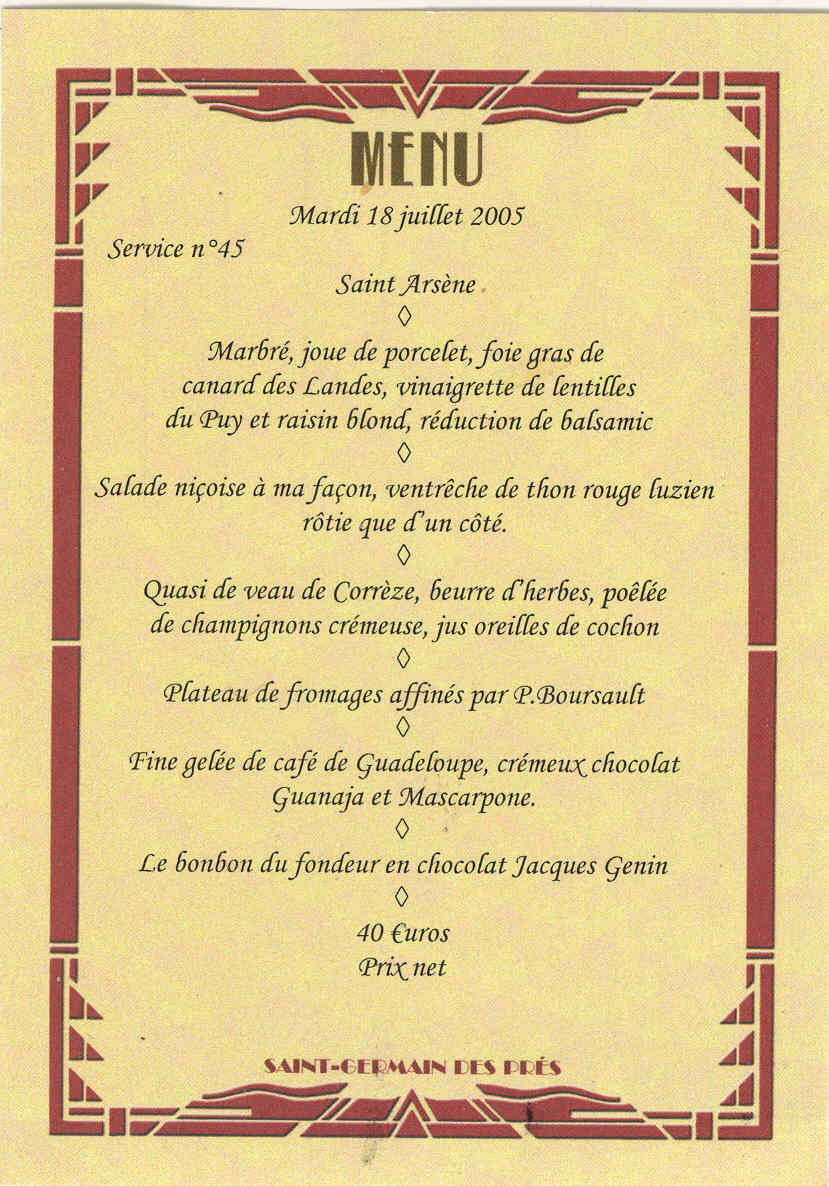 Our two tiny outdoor tables (one each) beside the entrance, with both our chairs facing straight into the street, seemed a rather public venue for a serious dinner, but the sidewalks were wide and we soon became stationary flaneurs, entertained by the passing parade. (We no doubt entertained them in return.) There was a copy of the menu at each place setting, printed on a postcard with an address/message space on the back for impressing one's foodie friends. Its art nouveau design echoed the restaurant's interior [below], dating back to when it was one of the last of the area's workers' cafés. The small size of the menu was made possible by the lack of choice—what you see is what you get. Vegetarians and those with allergies can be accommodated if warning is given when the booking is made, which is not possible until two weeks in advance.
The first item to arrive at the table was a basket of root vegetable chips maison, the sort designed to wean potato chip gluttons to more nutritious fare. These were crisp and light and virtually exploded in the mouth, better than any I've had out of a bag; if nothing else had arrived at our table except more chips, it might have been an hour before I complained. These were followed by a crusty loaf of pain Poujarin, cleverly cut almost through from the bottom so that it looked like an uncut loaf; when you set about tearing off the end by brute force it came away suddenly. Magic—a theme we would encounter again before the evening was over.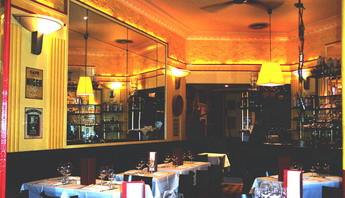 The menu was so planned that there was only one hot dish; the rest could be mostly prepared in advance and brought out as required. This fitted neatly into an overall pattern which allows the restaurant to function as a brasserie by day and a more sophisticated restaurant by night. For lunch, there are no reservations and hearty fare is available at the bar or the bare tables; for dinner, there is only one sitting at 8:30, for which the starched white linen comes out. Space may be a bit cramped for luxury or elegance—we got no ice bucket for our Ammerschwihr Riesling, nor did I see any at other tables—but it would be an ungrateful diner who complained when such imaginative and excellent fare is offered at such a reasonable price. And time is not a negative factor as it often was at La Régalade. With a single sitting, the waiter is not hovering as you sip your coffee.
The salade niçoise, consisting of gem lettuce, tiny provençal olives, anchovy, egg, fresh tuna, cherry tomatoes and garlic slices, thumbed its nose discreetly at authenticity. (The egg, surprisingly, had a gray ring around the yolk revealing that it had been overcooked.) I missed the pissala (anchovies ground to paste in a mortar) mixed with olive oil which Waverley Root found to be the customary dressing in Nice half a century ago; but I usually encounter it only at home, where we make it ourselves.
The chump of veal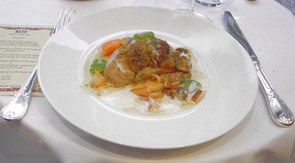 loin was braised to perfection, as indeed it should have been, since it was the only cooked-to-order dish on the menu. The peas and carrots that accompanied it were surprising in that (1) they were plainly boiled/steamed and (2) they were there at all. There are reports that the French government is now officially concerned about rising obesity and the growing lack of vegetables in the French diet. Perhaps; but this was the only restaurant this visit that did not expect a hunk of meat and its condiments to stand gloriously on its own.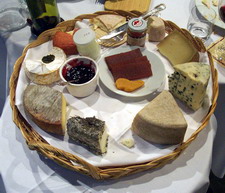 The DIY cheese tray, complete with quince paste and cherry preserves, is a gesture not often found these days even in more expensive restaurants. It was not quite so generously stocked as the famous tray at Astier, but the quality of its contents, affinés par Boursault, was exceptional, including a splendidly ripe Epoisses, not yet broached, into which I made serious inroads. There was more than one tray in circulation, so that the greedy could help themselves rather more generously than was good for their cholesterol levels.
Towards the end of the evening Chef Candeborde made the rounds of the tables in a spotless silky white tunic. His hand was remarkably soft for such a hard-working chef. We had just finished our layered dessert of chocolate cream and Mascarpone topped with coffee jelly, a miracle of flavor and construction. When Mary asked him how he stopped the jelly flowing into the Mascarpone, he grinned, waved a hand and replied airily, "C'est magic!" And indeed it was.
Le Comptoir du Relais 5 carrefour de l'Odéon, 6 th Tel: 01 43 29 12 05 Mº Odéon
©2005 John Whiting
Back to the beginning of this review
---