It's a long way from Madagascar. . .
La Chopotte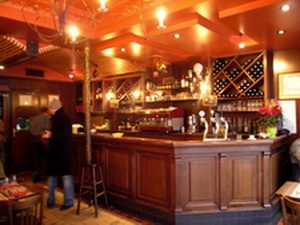 Down in the working-class quartier Alésia, La Chopotte is an open-all-day bistro/wine bar/café, with a zinc along one side where men drop in for a drink and a chat while other lucky locals devour generous portions of perfectly constructed old-fashioned classics.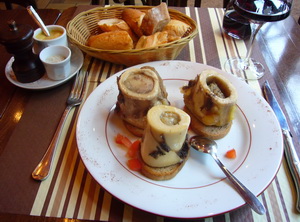 I went straight to the oldest, starting with l'os à moelle. The big bones were chock full of marrow, roasted to juicy perfection. It was easy to poke the contents through onto the squares of toast on which they were served. They came with a jar of Dijon mustard and a dish of proper sel gris.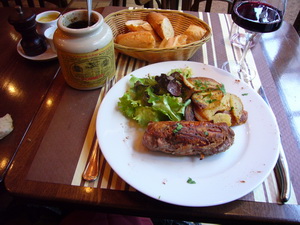 My andouillette AAAAA (that stands for Association Amicale des Amateurs d'Andouillette Authentiques, in case you're interested) was the most thoroughly rusticated I've ever eaten. Its baroquely webby casing was filled with tripe that had been thoroughly cooked into submission past the rubbery texture that one sometimes encounters. (The taste, according to a Wikipedia sourpuss, is "akin to eating dung". How long will that calomnie go unchallenged?) The accompanying mustard was a step up to the more expensive whole-grain Moutarde De Meaux Pommery. The sublime sautéed potatoes must have been cooked in duck or goose fat.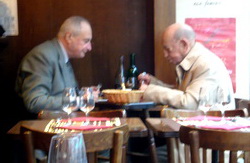 To supplement the ardoise I was automatically given a printed English translation, but for this midwinter Sunday lunch there were no tourists at the tables. Across from me against the far wall were two elderly French gentlemen straight out of Central Casting. They were obviously regulars and may well have occupied the same table every Sunday.
At the end of their meal, the waiter brought a high stool with an ashtray perched on it. One of the diners ceremoniously lit a Gauloise, took two quick puffs and stubbed it out, whereupon the stool was immediately taken away. The familiar odor drifted across the room. As I watched this mini-drama, the furtive fumeur caught my eye and looked apprehensive. I gave an expansive Gaulic shrug, whereupon he smiled gratefully and went back to his conversation. When I left a half hour later I was given a cordial "Au revoir".

I noted on the menu (right) that the boeuf bourguignon cost half what I'd paid the previous day at l'Opportun. I'll bet it wasn't padded out with potatoes.
La Chopotte 168 rue d'Alesia, 14th Arr, Tel: 01 45 43 16 16, Mº Plaisance, Alesia
©2009 John Whiting