Le Repas Inopportun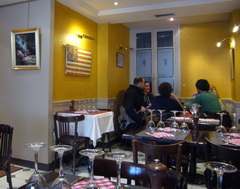 Just along the boulevard Edgar-Quinet from La Cerisaie, one of my favourite mini-bistros, is L'Opportun, a bouchon Lyonnais that's open until 11:30 p.m. every day except Sunday. Barbara and I dropped in for a quick late lunch and settled on boeuf bourguignon as a dish that would be immediately avail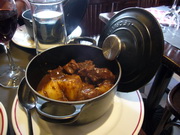 able. Two portions soon arrived in covered le Creuset pots. The meat and sauce were richly flavorsome and showed signs of long slow cooking, but they lacked the requisite little onions, mushrooms and pork – ragoût de boeuf would have been amore appropriate designation. Padded out with large hunks of unauthentic and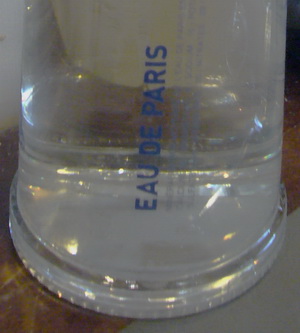 inopportune boiled potato, at 20€ per serving it wasn't exactly bargain of the month. Other prices were equally eye-watering (see cartes below right); this is not a bouchon for the laboring classes.
Not being a bottled water enthusiast (nor do I like to pay fo

r the a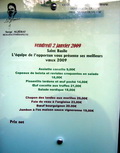 ir I breathe), I usually order eau de Paris, with a smile. On this occasion it was brought to me in an appropriately labelled carafe. Chalk one up for the management.
L'Opportun 62 bd Edgar-Quinet 14th Arr, Tel: 01 43 20 26 89, Mº Edgar-Quinet
©2009 John Whiting