Le Trumilou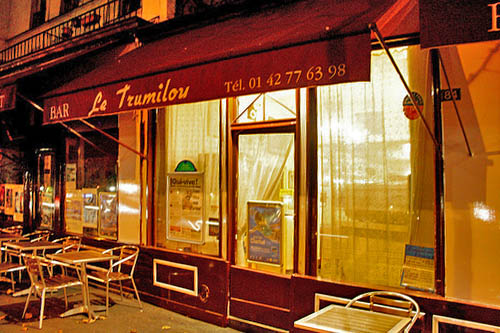 The basic cuisine of historic bistros can arouse very different responses in different people. Chartier's does not summon me back; Le Trumilou's does. The latter is an ancient and simple bar/restaurant on the river behind the Hotel de Ville. I was first told of it by Simon Bainbridge, to whom it had been recommended in turn by Walter Trampler; musicians, who are often stuck in foreign cities for days at a time, can be diligent seekers-out of bargain gastronomic intelligence.

On one of Electric Phoenix's concert appearances in Paris I guided them there for our first night's dinner. It was easy walking distance from our hotel and well away from the expensive food factories that line the boulevards. Two large dining rooms with old-fashioned white linen tablecloths flank the bar, where academics and laborers sip their coffee or play the pin­ball machine. The waiters have been there as long as the furniture, and so have the menus, which offer plats du jour on a weekly rota, including stuffed cabbage, blanquette de veau, potée, and catfish with a garlicky aïoli which could make you persona non grata for the rest of your Paris sojourn.
On this occasion I went for their tripe à la mode de caen, a huge bowl of it, properly made. Such dishes are among the reasons I keep returning to France. It's now almost impossible to cook good tripe in England because it has been declared illegal to sell it unbleached except for animal consumption. There used to be a place in London where you didn't have to bark for it – the huge Japanese food center in Colindale, North London, where inscrutable Orientals were allowed to purchase their curious food­stuffs. I'm told that it has closed, so it's back to Trumilou or Chez Denise whenever I have an urge for tripe so overpowering that even the London tabloids can't satisfy it.
Set meals are 13,50€ and 16,50€
---
May 2008 The Times, They Are a-Changin! Back in the Great Depression (as opposed to the Lesser Depression, which we are now experiencing), A. J. Liebling was learning about food in some of the cheaper Paris cafés. In a chapter entitled "Just enough money", he wrote perceptively,
A man who is rich in adolescence is almost doomed to be a dilettante at table. This is not because all millionaires are stupid but because they are not impelled to experiment. In learning to eat, as in psychoanalysis, the customer, in order to profit, must be sensible of the cost.
As the price of food in Paris goes through the roof, this sensibility is increasingly forced upon us. It's flatte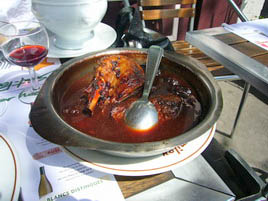 ring to be treated and fed like royalty, but when you float down from your gastronomic heaven to headlines announcing yet another Third World food riot, the gloss tends to rub off. Fortunately Paris is still home to a plethora of bistros and cafés that serve up food you can eat every day with a big smile, a clear conscience and an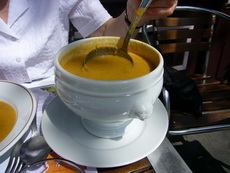 undepleted wallet. During our last visit, which included a glorious repast at Taillevent, my most satisfying single dish was at a return visit to Le Troumilou. It consisted of a generous pot of canard aux pruneau—a succulent half a duck slowly braised in red wine and armagnac with a dozen prunes and a few diced vegetables. Together with a big bowl of perfect soupe de poisson and a pichet of decent red wine, it provided Mary and me with a generous lunch for a mere 30€. From here in London, it's still worth hopping over to Paris for a meal—including the cost of transportation! 2017 Alas, no more!
---
Le Trumilou, 84, quai de l'Hotel-de-Ville, 4 th, Tel 01 42 77 63 98
Back to the beginning of this review
Back to INDEX
---