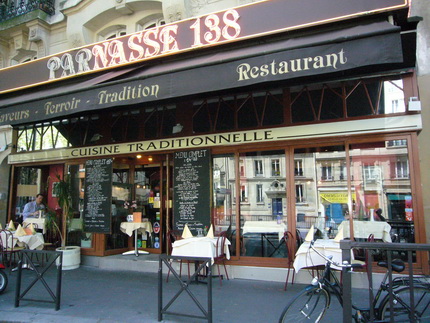 The area that centers around Montparnasse and Raspail is so replete with overpriced and overhyped restaurants that a bargain bistro that's open 'til 11:30 p.m. every day of the week is worth its weight in foie gras. Parnasse 138 offers so much variety in its inexpensive menus that you could eat lunch and dinner there for a week and never order the same dish twice.
Mary and I were staying around the corner at the Hotel Mercure Raspail, and s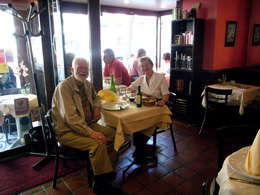 o we were particularly grateful for someplace nearby so that we could leave our bags with the concierge and pop out for Sunday lunch before catching a late afternoon Eurostar back to London. This little gem has been in the same family for many years and seems to have accumulated a clientele of regulars, many of them on back-slapping terms with the maitre d'. Our fast and efficient waiter didn't waste any time in small talk, but when he saw me photographing first the menu and then the restaurant, he offered to snap us together (Tourists, every waiter knows, always want proof of their peregrinations!) and to give us a Xerox of the day's listings.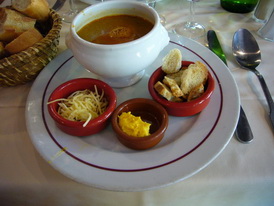 For a starter, Mary opted inevitably for the soupe de poisson. It's a dish we still make at home, but it's increasingly hard to find a fishmonger from whom we can get the heads and bones to d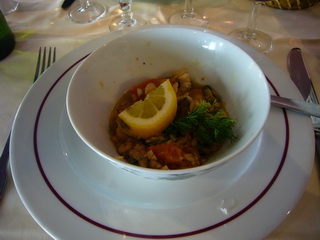 o it properly. This was the real thing, with the density of color and flavor that can only result from a really well-stocked scrap bucket.
My own choice of a starter called itself Poelon de fruits de mer à la provençale. The portion was small but tasty and rich with acceratingly expensive shellfish.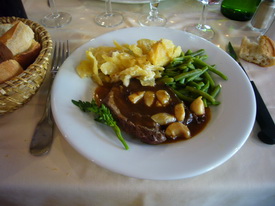 Mary's Gigot d'agneau à l'ail confit had been slow cooked and was meltingly tender; but my Filet de bœuf Rossini from the 29€50 menu (with a 6€ surcharge) was a bit chewy and lacked the elegant pre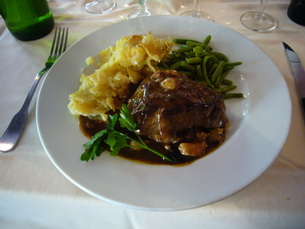 sentation that this dish usually receives. (In fact neither dish was tarted up like a candidate for the Turner prize, but that's fine with me.) It was also a bit short on the foie gras that gives it its unctuousness; nevertheless the meat had a robust flavor that the more expensive tournedos often lacks.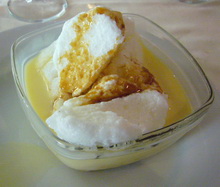 Both our desserts—Ile flottante and Tarte tatin—were a disap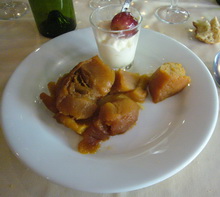 pointment: small dishes, mean helpings. The latter lacked the deep caramelization that gives it its distinctive flavor.
Nevertheless, in spite of these negative criticisms, we'd go back. This very reasonable and generous bistro is a Pudlo Special Favorite; next time I'll stick with the simple straight-forward clichés that Pudlo recommends, such as pot-au-feu with marrow-bone.
Parnasse 138 138 bd du Montparnasse, 14th Arr, Tel 01 43 20 47 87, Mº Vavin, Port-Royal
©2008 John Whiting
---