On sober reflection . . .
Miroir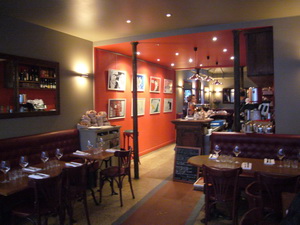 When John Talbott reviewed the newly-opened Miroir, he warned, " . . . you will not be able to get in in a month, Depression or not." That was just over a year ago; it already has a Michelin double fork/spoon listing. Phoning at the beginning of the week, I was able to get a table for Friday evening, but was asked quite emphatically to confirm on the day. I was subsequently very glad that I did. It was a simple, unprepossessing place with very comfortable banquettes and a wall of pop art paintings at the back that I didn't take take the time to examine.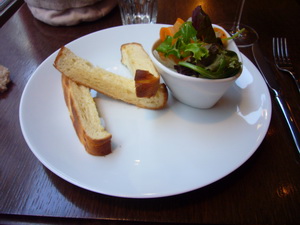 Chef Mathieu Buffet and sommelier Sébastien Guenard, both from Aux Lyonnais, have lowered the financial goalposts, but without sacrificing quality. The waiter was friendly and easy-going; the ardoise offered half-a-dozen choices for each of three courses, 32€ for all three. For a starter, I settled on a rillette of sea bass with lemon, which proved to have a satisfyingly complex flavour.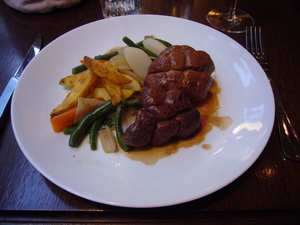 For a main course, I couldn't resist another veal kidney. Pot-braised, it was as richly satisfying as at Chez Leon the night before and came with a generous helping of simple but properly prepared vegetables. (This seems to be more common; I hope it continues.)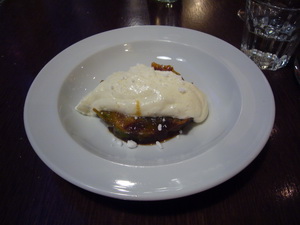 Desert was an excellent crème fromage blanc mixed with bits of meringue, slightly sweet, with the sharper flavour of greengage plum (unaccountably identified on the ardoise as peach). Miroir is yet another of the sort of new Paris bistro that I very much approve of – I greatly prefer the Ah!-factor to the Wow!-Factor.
Miroir 94 Rue des Martyrs, 18th, Tel: 01 46 06 50 73, Mº Abesses