De Mars à Vénus
Le Fontaine de Mars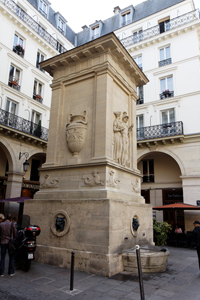 When La Fontaine de Mars opened in 1908, the Eiffel Tower was still a new and controversial landmark. A mere café, it was named after a small nearby fountain depicting the God of War, commissioned a century before to adorn a military hospital. Only the fountain [right] had survived.
Given the bistro's bel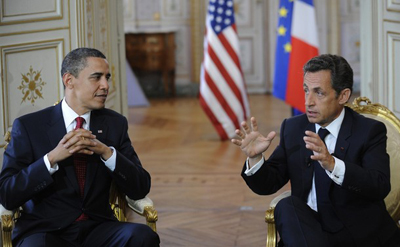 licose associations, was it mere coincidence that President Obama and his entourage chose to dine here on the 65th anniversary of D-Day? After all, they were in Paris to celebrate the occasion. But that would be a motivation as obscure and circuitous as a Congressional filibuster. For years, La Fontaine has been in everybody's list of great Paris bistros. Under successive ownerships, it hasn't taken advantage of the fact by going either up or down market, and so it says something of our President's inherent good taste that he chose this unpretentious establishment rather than opting for the Brobdingnagian portions, the theatrical shabbiness and l'addition astronomique of his predecessor Bill Clinton's favourite, L'Ami Louis.
-0-
We decided to go for Sunday lunch. The interior was as romantically nostalgic as all the photos had promised. The table that had been reserved for us was alone and next to an unused glass door—it felt almost like being in a private booth. We asked for both French and English menus. I noted immediately that they were the same format and typeface, so that the ignorance of foreign tourists would not be exposed. Was this deliberate? If so, it was a fine diplomatic touch.
Alexande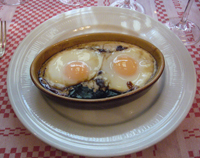 r Lobrano has written that the "oeufs au Madiran 'façon meurette' are as good a reason as I can imagine to get out of bed on a Sunday before noon…" The robust tannic Madiran is one of my favorite wines of the South West, and so this was my inevitable choice of starter. It did not disappoint. The sauce was so intense, so densely concentrated, and so deliciously marbled with the freshly broken yokes, that if the meal (indeed, my life) had come to an end at that very moment it would have been a Long Day's Journey into Light!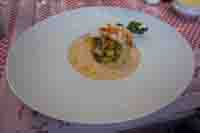 Mary's "Cold creamy shrimp soup and crispy vegetable" was small in quantity but large in quality. It was topped with six intertwined fresh and juicy shrimp and tiny diced raw vegetables. She pronounced it scrumptious; I was allowed to taste just enough to ascertain that she did not exaggerate.
The slate of the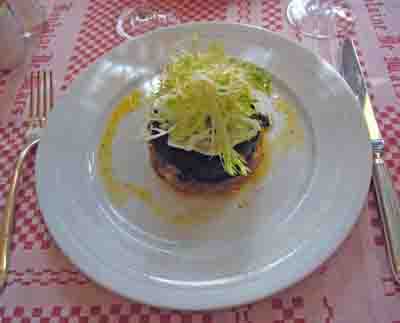 day's specials included Veritable cassoulet aux haricots Tarbais. I rarely order a cassoulet in a restaurant. I've been making it for so many years in evolving versions, requiring days of preparation and an extravagant array of ingredients, that a restaurant that matched it would have to charge a ridiculous price. I opted instead for Basque black pudding, one of their simple specialties. Unusually, it was served, not in the usual casing, but in a crispy hamburger-like patty resting on a bed of cooked apple. Original but not gimmicky and utterly delicious!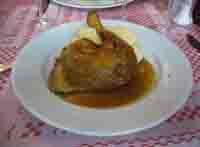 Mary's main course was the Plat du Jour, a simple but excellent leg of roast free range chicken and mashed potatoes, with good chicken gravy. How different from the undercooked overpriced Poulet de Bresse we had once fought our way through at Allard!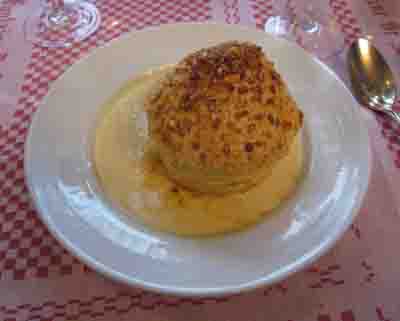 For dessert I opted for one of my perennial favorites, Ile flottante. This proved to be a more disciplined dish that I'm accustomed to. The meringue is baked in a mold, having been sprinkled with crumbled praline and shaped to a cone. It comes out crunchy and well browned. If you want to know more, the bistro's pastry chef has posted the recipe on lefooding.com.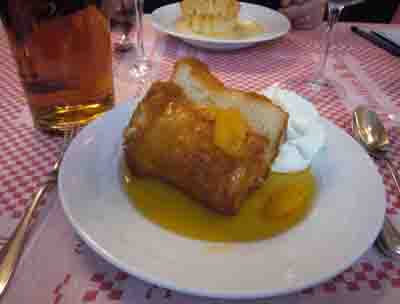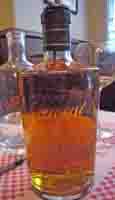 Mary chose Baba au Vieux Rhum Clément VSOP. She didn't know what an extravagant experience she was letting herself in for. The waiter brought it to the table, tipped it on its side, cut it open and dowsed it with a generous quantity of rum from a bottle which, amazingly, he then left on the table. (At La Grande Epicerie de Paris it costs 30€.) Mary (and then I) topped the dish up more than once, but no waiter came to remove the temptation.
How abstemious the bistro's regular diners must be! Mary and I left in a slightly intoxicated and deliciously romantic frame of mind and wandered across to the Eiffel Tower, where we sat on a bench in the sun and watched the other loving couples. That's what Paris is all about!
---
La Fontaine de Mars 129 rue Saint-Dominique, 7th Arr, 01 47 05 46 44, Mº École Militaire (8)
©2013 John Whiting