Chekov with a happy ending!
La Cerisaie
La Cerisaie is a bistro with the abundance of a cherry orchard in full fruit. It is yet another père et mère bistro, with Chef Cyril Lalanne cooking exquisite dishes in the kitchen and his wife making everyone feel at home in the dining room.
After carrying on steadily for several years they seem to have suddenly become one of the most talked about restaurants in Paris, with various media lining up to hang awards around their necks. Phoning a week in advance and asking for an early evening table for two on a Tuesday night, I d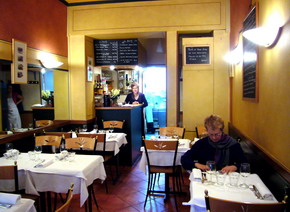 idn't have any trouble getting a reservation. Success hasn't gone to their heads. I dislike suddenly popular restaurants that take on an air of self-importance, but this unpreposessing little place has stayed commendably modest, particularly considering how much they have to be proud of.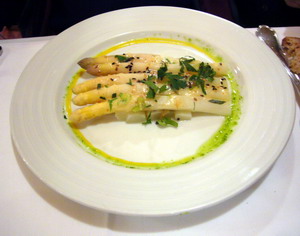 The blackboard offered a generous selection of dishes, any of which would have made us happy. For starters, we chose two simple classics. Aspe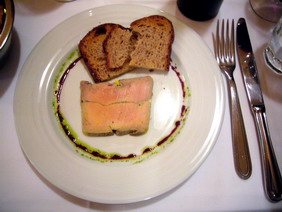 rges blanches des landes au citron confit was white asparagus with preserved lemon and bright green parsley oil, white and black seseme seeds. Terrine de foie gras de canard et pain de campagne grillé was an excellent paté of the sort that makes me glad that there are so many people who won't eat it—there's all the more for the rest of us!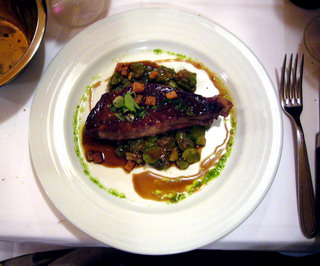 I had heard in advance that their roast pig was remarkable and was delighted to find it on the menu. Cochon noir de bi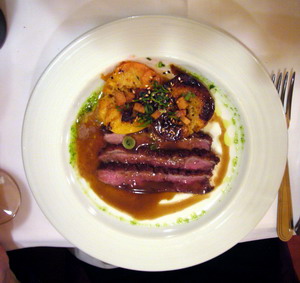 gorre et fèves de printemps was a rare breed of unique flavor, its juicy pink slices served on a bed of diced vegetables that had thoroughly absorbed the meat juices.
Mary's goose—Magret d'oie et pêches rôties aux épices—consisted of three slices served with roast peach halves and a rich goose gravy. She pronounced it delicious, and generously allowed me to share it.
For a final course I opted for an unpasteurized cows' milk cheese from Bethmale in the Pyrenees, served with quince jelly. Mary chose Poelée de fraises et nougat glacé. When she said that she didn't care for nougat ice cream, she was offered vanilla.

We had a half litre of an excellent Gaillac, Domaine d'Escausses, at €18. The bill for two three-course meals and wine came to €82.50
It was an excellent dinner in every respect. The patron is carrying on the new tradition I so strongly approve of—gently modifying and lightening the old classics to bring them up to date without violating their essential character. This is a place where you could use the blackboard as a dartboard and happily eat whatever fate served up to you.
La Cerisaie 70, boulevard Edgar Quinet, 14th arr, Tel 01 43 20 98 98, Mº Vavin
©2007 John Whiting
Back to the beginning of this review
---