le Jardin des Surprises
La Cantine du Troquet
Eating at La Cantine du Troquet is like entering a time warp. They don't take reservations—you just show up any time after they open at seven, Monday through Friday, and hope for the best. My information wasn't up-to-date and so I went around a few nights before to check. There was a helpful woman in their office next door who said yes, that was still their policy, but that if we came at opening time we would have no trouble getting a table, so not like Last Night at the Proms.
Accordingly, Mary and Frank and I showed up a few minutes before seven and found the staff lounging and smoking outside the front door. It was all very laid back and suggestive of things to come.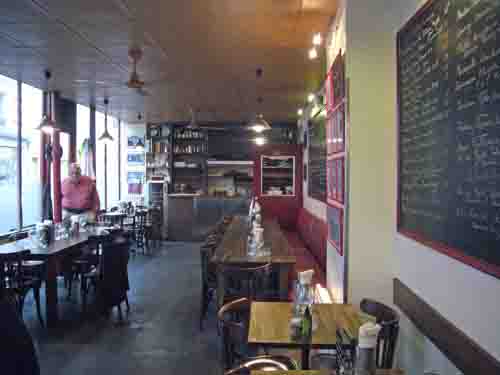 We were the first punters to arrive and so we got a good table immediately. The days' dishes, twenty-eight in all, were listed on a big blackboard on the wall. Unlike most Paris restaurants that pull in the tourists, there were no English translations, but the lad who seemed to be in charge was patiently helpful, both to us and to later arrivals.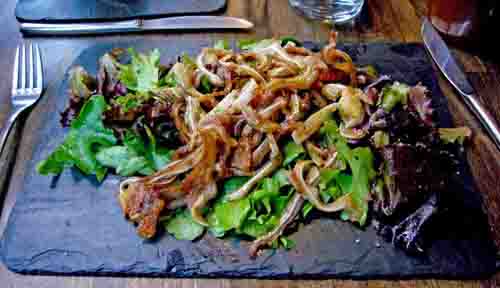 This canteen is noted for nose-to-tail cooking, so my choice for a first course was grilled pigs' ears. They came sliced on a bed of greens. Tasty but gristly—not for the edentulous.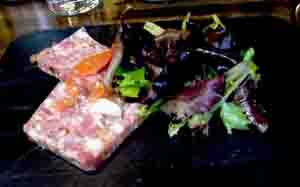 Mary's head cheese was opulent, with big hunks of fat. Low-calorie diet? Forget it! Again, uncompromising nose-to-tail—and we hadn't even left the head! As for Frank's boudin paté, it was so rich that he couldn't finish it. No problem—I'm always prepared to help out in an emergency.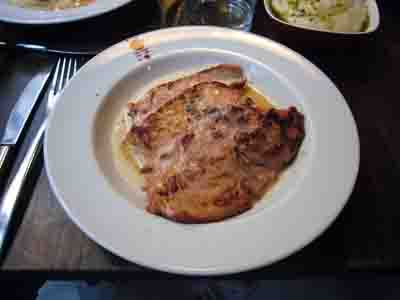 For my main dish I went for lomo (pork tenderloin) cooked in the Basque fashion with Espelette paprika. (I'd asked first for Echine de porc Ibaiona, which was on the board outside, but no luck—they hadn't updated it yet. They still hadn't when we left.) Pork, like chicken breast, can be bland, but this was one of the most intensely flavoured I've ever had, with lots of good purée to soak up the juices.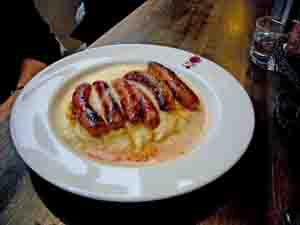 Mary's xixtora (Basque pepper sausages) were flavorsome and served on a bed of purée. It's hard to beat a good sausage. Globally, they come in an infinite variety and I'd be prepared to work my way through them all!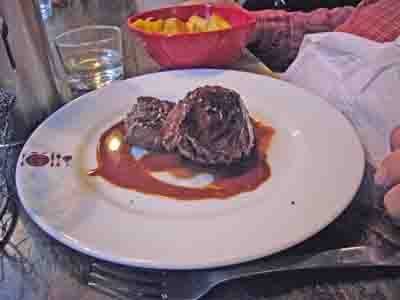 Onglet (hangar or flank) is a steak noted for its flavour but not its tenderness. This one came generously in two thick chunks. Frank found it hard to chew. My sample was very satisfying to the palate but would have benefitted from a long marinade. Frank's chips, alas, were very coarsely cut and undercooked, so that the thicker pieces verged on the raw. That's just plain careless.
Our deserts—chocolate mousse, fig and raspberry tart and clafoutis with Mirabelle plums—were all good. I was particularly happy with the clafoutis; we've had several recently that were excellent when hot but went stodgy when they cooled. Mine was at room temperature by the time I had eaten it but still quite light in texture, with a good mouth feel.
-0-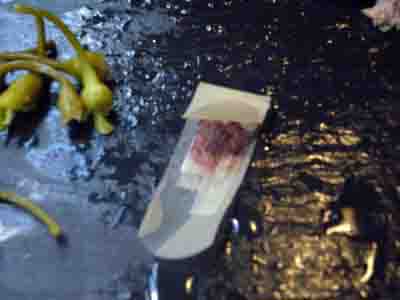 All-in-all, I had an enjoyable meal, but only because I'm eccentrically laid back about kitchen hygiene. After I'd finished my pig's ears, the last curious item on the slate was a blood-soaked band-aid with two wound closures. If it had been blue, as is the proper practice, it would have shown up immediately in the kitchen and not been hiding under my starter. Even so, how could a (sober) chef have lost it without noticing?
When I pointed it out to the waitress who took our plates away, she seemed nonplussed but not particularly concerned. Her only comment was a multilingual "OK". Since no one came to our table to apologize, she didn't appear to have reported it, or else the kitchen didn't give a toss either. There was no offer to take anything off the bill. I was reminded of the old limerick,
An epicure dining at Crew
Found a rather large mouse in his stew.
Said the waiter, "Don't shout
And wave it about,
Or the rest will be wanting one too!"
Whatever may have been going on in the kitchen, I came away with no apparent damage to my innards, but poor Mary, alas, was not so fortunate. She's had an upset stomach ever since, and that was over a week ago.
Would I go back? I've pigged out at country bistros whose kitchens might have made this one look like an operating theatre, so the answer is yes. But I'd go alone and I'd look under everything first.
©2013
---

La Cantine du Troquet, 101 rue de l'Ouest, 14th Arr, Mº Pernety (13), 7:00 pm, Monday – Friday, no phone, no reservations