La Mère Agitée is a back-street Paris bistro noted for its bonhomie and its punning cognomen. With a low-cost no-choice menu, it figures prominently in lists of recommended eateries. There's singing on Wednesday night and all week long there's a camaraderie among the out-of-towners who assume that they share a social impetus and a love of the honest peasant cuisine which is fast disappearing.
The burly, shiny-headed host is an unashamed self-booster. "We French don't appreciate real food any more," he proclaims to the whole room. "No butter, no fat - and we want tiny portions. We're ruining our own country. It's the tourists that keep me in business."
But there's an added dimension to this attractively quirky eccentricity. Many of the regulars are Royalist ultra-Catholics and the Wednesday night singing consists of stirring right-wing marching songs. An artist who works as a desk clerk at a hotel a few doors away tells me that the host and his wife, who does the cooking, are ardent fascists of the ultra-Le Pen variety. The glint in his eyes when he speaks of France's degeneracy has more to do with miscegenation than with menus.
[NOTE: When Mary and I revisited in 2004, Père had died and Mère seemed less agitated by ultra-right politics. In fact she was cooking so well that we ate there on three successive days, two lunches and a dinner. Good satisfying fare, without pretense. Lunch was still a modest 18€ and dinner not much more.]
This is a phenomenon that one encounters frequently in rural France. Conservatism in matters of cuisine often goes hand-in-hand with reactionary politics. It's easy to see why. The forces of culinary corruption apparently come from abroad - Brussels bureaucrats, multinational corporations, foreign countries and their invading immigrants. And it's the small producers, not the giants of agribusiness, who are seen to suffer.

But there are countervailing forces from the left as well as from the right. The Socialist activist José Bové's attack on a McDonald outlet has drawn support from a wide political spectrum which has extended even into the upper reaches of government. In the past, when a high official was seen shaking hands with a convicted criminal, it was usually an embezzler, not a protestor.
Following this new trend, there's a bistro near the Guardian's Paris office which has attracted both custom and extravagant praise from British journalists. Here are two separate news items which are worth quoting at length:

Stuart Jeffries: Have the French lost their appetite?
The Observer Sunday, June 10, 2001
[. . .]
My favourite restaurant in Paris just now is one of these boutique restaurants, called Le Domaine de Lintillac in the Rue Saint-Augustin. It also has branches in Lille, Brussels and Liège. Everything that you can eat or drink here is from the same little terroir - the gutsy Cahors wine, the tender magret de canard with pommes sarladaises, even our old friends the boudins aux chagaines. The lights are dim, the tables full, and the talk of the Périgourdine waiters concerns either food or rugby - those twin traditions of south western France.
Each table is equipped with a toaster so you can make your own toast on which you can spread five types of foie gras and five types of pâtés all prepared by a commune in the southwest of France. Perhaps it's not Alain Passard's kind of restaurant then, and not one that is especially adventurous, but it's a place where French cuisine is trying to hold on to its soul before it loses it completely.
According to Jean Guillot, a self-styled artisan-farmer, who runs the operation from the south-west of France: 'We have a passion for our Périgourdine cuisine. Le Domaine de Lintillac consists of some farmers and gaveurs [which probably translates best as force-feeders] of geese and ducks, an abattoir, an artisanal conserverie where the foie gras is prepared, where confits de canard and the cassoulets are made. It's a simple cuisine whose secret is the quality of raw materials we work with.' Le Domaine de Lintillac's slogan is 'De la basse-coeur à votre assiette. Aucun intermediare.' (Roughly: 'From the farmyard to your plate - no intermediaries.')
This is the Bové myth incarnate: a non-polluting small-scale agriculture with a deep commitment to the mystique of la France profonde, supplying the good things of the earth to the table. France has always indulged in this national self-mythologising - the terroir, for winemakers as for culinary artisans such as Jean Guillot, is the heart and soul of France. But myths influence reality: these terroir-based restaurants pack in a young clientele hungry for food that nourishes their Gallic self-image.
[ . . .]

Jon Henley: France finds its palate after a good whine
The Guardian Saturday May 19, 2001
[. . .]

On the rue Saint-Augustin, a few minutes' walk from the old stock exchange, the newly regilded Opéra and (not to put too fine a point upon it) the Guardian office, lies a small restaurant called the Domaine de Lintillac.
I mention this not because small Paris restaurants are an obsession of mine but because this unassuming little lunchtime eatery sums up what today's Frenchman demands of dining out: firstly, it has to be good value, what the French call un bon rapport qualité-prix. Here the Domaine scores highly. It is possible to emerge, rubbing your tum after three courses and a couple of glasses of Bergerac, having forked out £8 for the pleasure.
Second, the surroundings should be convivial. Again, the Domaine performs well. The dim interior clearly hasn't been touched since the 50s, it is always packed, the conversation animated, and on every table sits a toaster to toast bread for the five types of foie gras on the menu.
Third, the menu should be short and unpretentious. The Domaine, with its Périgourdine cuisine, from the south-west, has foie gras and pâtés for starters, six main courses ranging from the cassoulet gastronomique to the boudins noirs, and just three puds.
Finally, and here's the point, the food itself. France, which has always cared for its nosh, has suffered the full gamut of late 20th-century food scares.
All of which explains why the Domaine de Lintillac has proved such a success. Its motto is De la basse-cour à votre assiette (from the farmyard to your plate). The owner, Jean Guillot, runs a farm called the Domaine de Lintillac, five miles outside Brive in the south-west. Everything you eat comes from there, or from his neighbours' farms, conserveries and vineyards up the road.
The Domaine de Lintillac represents, in short, French cuisine saving its soul, la France profonde fighting back, a kind of heartfelt national antidote to the Big Mac. It is somehow reassuring that, all too often, there is a not a table to be had.
[ . . .]
With such extravagant praise it was necessary that I fit in a visit on Saturday evening, my last act of homage to French cuisine before returning to London. Accordingly I was there promptly at seven, trailing my luggage behind me.
Before entering, two things caught my eye. One was the posted menu; the other was a window full of canned goods bearing the name of the proprietor: Conserverie Artisianale La Tradition Perigourdine Lintillac 19270 USSAC. I was immediately struck by the fact that the patés and terrines listed on the carte and on the labels were the same. Hmmm. Time being a problem, I could save quite a bit of it by skipping a first course exactly like what I could pick up in a can at any good grocery store.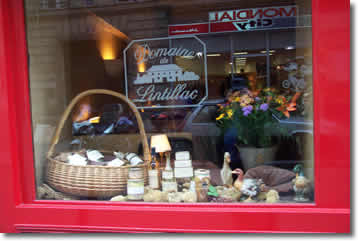 Settling down at my table with the menu, I quickly determined that my main course must be the Cassoulet Gastronomique at 55ff - this in spite of the fact that the largest can in the window was labeled "Cassoulet", but without the qualifying adjective. It arrived within fifteen minutes in a small straight-sided oval casserole dish, containing a duck leg and a short length of nondescript sausage resting on a bed of huge broad beans - not a haricot in sight. Nor any trace of crust; but what could one expect in a quarter of an hour?
One could certainly expect that the dish would be heated through. But there were stone-cold beans immediately adjacent to hot ones, and patches of duck meat near the bone which were similarly icy - just the effect one would expect if the dish had been reheated in a non-rotating microwave. The confit was dry and stringy, the sausage bland and anonymous, and every mouthful, whether of duck, sausage or beans, tasted the same as every other.
I had ordered a glass of Cahors to accompany it; I was thankful that I had not ordered a bottle. It was of a sourness which put my jaw into spasm as though I had drunk straight vinegar.
Of the three possible desserts, I opted for the coupe, which was identified by a feminine proper name - I didn't bother to write it down. It arrived in a tall much-abused glass with about a quarter of the foot broken off. (I was reminded of the New York hashhouse joke: "Which one a youse guys wanted the clean cup?") Inside were a few scrapings of some sort of butter crunch ice cream and some thick butterscotch syrup, topped with a tower of imitation whipped cream from a pressurized dispenser and decorated with half a wizened walnut. The coffee which followed succeeded in being both weak and bitter.

The one fully justified claim was that the place was cheap: the bill came to 110ff. But a three-course lunch of real food at L'Ecurie, with a demi-pichet of pleasantly drinkable wine, would come to about the same. Do Guardian journalists leave their palates at the door? Are they so easily swayed by conformity to an abstract principle which dictates that the food ought to taste good?
This bistro, we are told, is part of a small chain of similar establishments in several European cities. In other words, food is prepared at a central factory and shipped to local outlets. Does this sound familiar? One would like to know more of the financial structure. Are these bistros franchises? Apart from the menu, what is the essential difference from any other fast food chain - aside from the fact that the latter have advanced from canning to freezing? If this shabby operation is to be the model by which French artisanal food is to be preserved, then make mine a Whopper with cheese. At least it doesn't come out of a can. And it's got fresh lettuce.
La Mère Agitée, 21 rue Campagne-Première, 14th, Tel: 01.43.35.56.64, M° Raspail
Le Domaine de Lintillac, 10 rue St Augustin, 2nd, Tel: 01.40.20.27, M° Bourse
©2001 John Whiting
Back to the beginning of this review
---