Appellation d'Orgie Controlée
AOC
14 rue des Fossés-Saint-Bernard, 4th, is an address I have long associated with fine food in copious quantities. Over three decades ago Waverly Root recommended Le Petit Navire as an excellent fish restaurant and one of the few places in Paris where one could sample that curious Provençal specialty tapanada, "northernized," he explained, "as tapenade". This now famous blend of olives, anchovies, capers, garlic and olive oil can today be bought by the jar in Kansas City, but back then it was a novelty. Root's other suggestion was bourride – a dangerous and insidious recommendation, as I would one day discover.
Twenty years later I was finally cast adrift in the Little Boat by a staff member at Paris' huge electronic music center IRCAM. "Don't take the Metro," he advised me. "It's a half hour's walk from here and when you've finished eating you'll be glad you worked off some of your dinner in advance." He was quite right. Tapenade was new to me and I got through a substantial amount before going on to the bourride. This great Provençal fish stew is not nearly so famous as bouillabaisse – mostly, I suspect, because it does not contain an ostentatious lobster and its making and serving is not a theatrical table-side performance. At a glance it's only a bowl of soup with a couple of filets on toast, but those who value the richesse of pre-diet French cuisine will appreciate bourride as a white fish bouillabaisse thickened with a generous quantity of aïoli (garlic mayonnaise) together with optional extra egg yolks. Anyone who ate it regularly, other than a hard-working fisherman, would find that both his taste and his waist had expanded to exciting new dimensions.
Alas, Le Petit Navire has gone to Boat Heaven, although a respected online restaurant guide curiously features a "new" entry for it, with prices in euros – this in spite of the fact that the franc was still the currency when it turned off its ovens years ago for the last time. Wishful thinking? Happily the premises have been taken over intact and renamed by a team who are serving a different menu which is nevertheless worthy of the fine tradition.
Memories of the space came back to me as soon as I entered; I could even spot the corner of the room where I had sat a dozen years before. AOC is a Mom and Pop restaurant – if one may use such a homely moniker for such a dignified venue – whose distinguishing culinary feature is embodied in its name. The chef chooses his principal ingredients from among those which have been awarded an Appellation d'Origine Contrôlée; i.e. the label is legally confined to a particular region of France and a designated method of production. A more pretentious establishment might supply you with an annotated carte detailing your charollais entrecote's diet, ancestry, immediate family, home address and pet name, but here the descriptions are mercifully brief and to the point.
If you want to know more, the chef's wife will happily tell you. She runs a relaxed front-of house, friendly and generous without being effusive. (Also, useful for ignoramuses such as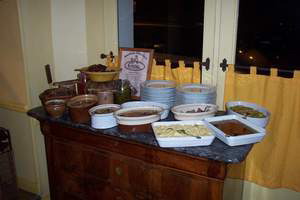 me, she speaks excellent English.) The first time I went there with my old friends Frank and Barbara, I ordered hare terrine for a starter. When Frank asked for the less expensive ordinary terrine, she enquired, "Would you be happy with the hare? If so, I'll just leave it here for you both." And she did, not taking it away until our plates were removed. For a bit more we could have opted to raid the hors d'oeuvre table [right], which was filled to bursting with pâtés, salads, cornichons, olives and other goodies piled up in such profusion as to provide a meal in itself for the unscrupulous.
All three of us went for game from the day's specials on the slate: roast pigeon cooked with grapes and spit-roasted pheasant on green cabbage cooked with butter. The chef proved himself capable of rendering them delicious and subduing them into easy chewability. He is an ex-butcher, self-taught, whose cooking has been reported by some to be uneven, but not in our experience. It was Barbara's third visit in a couple of months, and the place was already one of their favorites. That night it also became one of mine.
AOC, 14, rue des Fossés-Saint-Bernard, 5 th, Tel: 01 43 54 22 52, Mº Cardinal Lemoine
Back to the beginning of this review
Back to INDEX
---