Our first night's dinner took us well away from the touristic milieu and into the empty squares and narrow passages of Accademia. Knowing that Antica Locanda Montin had rooms as well as a trattoria, I had expected a rather more prominent façade. When we were finally directed to a small canal-side doorway, identified o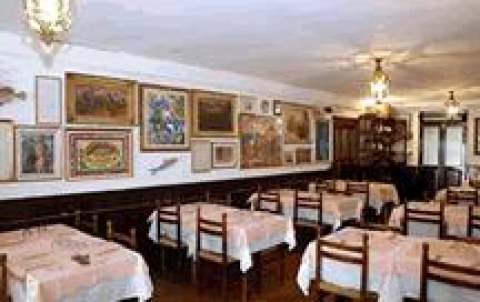 nly by a lantern, I thought it was the rear entrance – an assumption reinforced by finding that it opened onto an empty dining room and bar, with a single attendant. The walls were covered with framed pictures and photos whose significance I wouldn't grasp until after dinner, when I examined them more closely. (If you're more interested in the history than the food, skip to the end.)
The patron sent us through the dining room to a long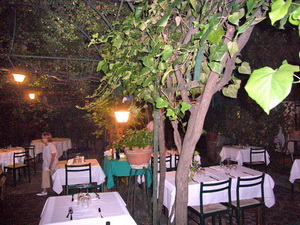 courtyard under discreetly lit arches of vines and ivy. It reminded me of the romantic outdoor dining we'd experienced years before at La Riboto de Taven in Les Baux-de-Provence. The carta was exactly as I'd seen online in someone's blog. The same with the decor—if it ain't broke, don't fix it.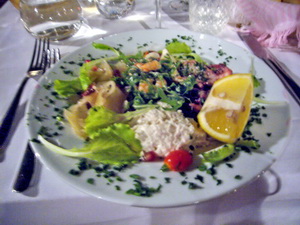 The Antipasto misto di pesce was a delicious assortment of lightly marinated crustaceans and fish,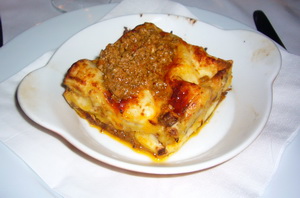 with a bit of fresh goat cheese and well-dressed salad leaves. Mary thought that her lasagne was one of the best; a taste convinced me that she was absolutely right. For years we've made lasagne according to a Mafioso recipe from Providence RI that came from La Familia via my niece. This one, though much simpler, was well within that class.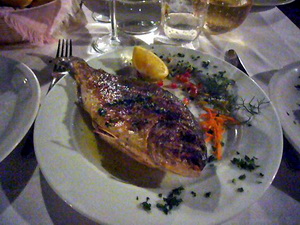 For a main course, I was tempted by the Fegato alla veneziana (calves liver and onions) that Charles Shere had spoken well of, but we came to Venice at least partly for the fish, and so we chose simply grilled Orata (gilt-head - left) a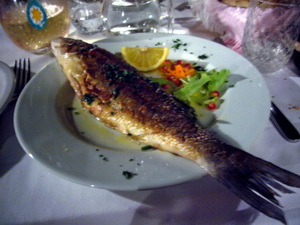 nd Branzino (sea bream - right). Both were spanking fresh and cooked to perfection – fully as good as any more elaborate dishes we were to have later. The only disappointment was the Tiramisu we shared between us – rather bland and watery and dusted with inferior cocoa.
§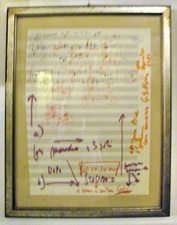 On the way out I took a closer look at the paintings, photos and pages on the walls of the restaurant. There was part of a score by Luigi Nono, a portrait of Ezra Pound which had fronted a flyer for an exhibition, a strange little surrealistic painting, and more than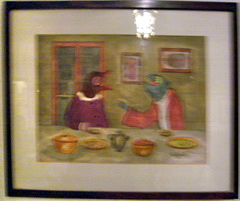 one photo of ex-President Jimmy Carter, who has apparently been a regular guest – one posted program bore his signature together with those of other family members. There's a photo of Dubcek as well, but none of Henry Kissinger or George W. Bush. Tells you all you need to know.
When we got back to London, I went to Locanda Montin's almost equally ancient website, where I found a quaint English translation of its introductory paragraph:
It exists like "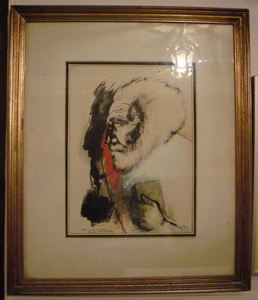 the stones of Venice," those extolled by John Ruskin; it is a stone of Venice, attached to the name of this city in the memories of those who have visited this wonderful place, not as hurried tourists, but as those who have loved it. The Locanda Montin is not a restaurant, not a place to sleep, not a bar: it's something dear to the heart of the Venetian and foreigner alike who know the real city, feel the fascination of its waters, understand the real Venetian. Along the pavement of Dorsoduro, at the beginning of the last century walked Modigliani;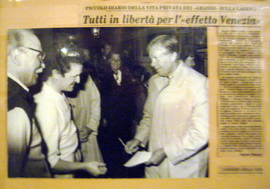 then came Ezra Pound and Carena, Cadorin,Guidi, Saetti, Lucchesi, De Luigi, Uto Ughi, Luigi Nono. President Carter loved to go there, and today come Robert De Niro, Brad Pitt, Paloma Picasso, Yoko Ono, Mike [sic] Jagger, David Bowie and Kinutani; it's the place where lovers come, or people pressed for time; students and professors of the neighbouring Cà Foscari University. Here you can stay in the rooms which have hosted among others, Gabriele D'Annunzio.
We walked back to the Accademia vaporetto stop along deserted canals and alleys, miles and millennia away from the tourist tat. If we return to Venice, this is where I'd like to stay – a simple double room off season costs only 75€. You go up a back staircase through a salon full of paintings given by friendly artists (there's on

ly room for about a tenth of the collection) to a room which may be hung with works by D'Anunzio. From here you could wander about the little streets and canals of Dorsoduro and never see a backwards baseball cap.
Antica Locanda Montin See website for contact information
---