From Through Darkest Gaul with Trencher and Tastevin, 1997: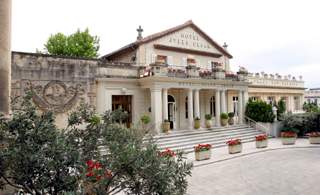 The rain has let up enough for me to close my umbrella and enjoy the misty drizzle. I stroll along, idly looking at the displayed menus. Many seem acceptable, but none are compelling. Then across the street there emerges out of soft focus a brightly lit Hollywood set of a hotel, a monumental entrance with a pillared porch, flanked on one side by an imposing chapel with a stuck-on Grecian façade, and on the other an enormous restaurant, glowing with crystal chandeliers. It could be the vestigial remnant of a monastery.
Close. It turns out to be a 17th century Carmelite convent, converted [sic] in 1929 (just in time for the Wall Street crash) into the Hôtel Jules César. The menu of the Lou Marqués Restaurant— posted at the street so that the plebes might salivate in baffled frustration— announces that it is a member of the august Relais & Chateaux chain, which includes such gastronomic shrines as Robuchon in Paris and the Hotel de France in Auch. It takes only a moment to decide on an experiment. I look like Santa in mufti: shapeless cotton slacks, a turtle-neck shirt, and a loose-fitting Suffolk fisherman's smock. I stroll up to the young maitre de at the front door who is taking reservations.
—Bon jour. When does the restaurant open?
—Bon jour, monsieur. At seven thirty.
—Do you have a table for one?
—Oui, monsieur. What is your name, please?
The details are exchanged without a single haughty glance at my clothes, my beard or my floppy leather hat. I'm off for a half-hour's walk.
When I return at seven thirty the maitre de greets me immediately by name without glancing at the reservation book. As he takes me to my table I apologize for being inappropriately dressed and explain that when I set out I had no intention of eating so grandly. If he would prefer to hide me away at a little table in the corner. . . .
—Not at all, monsieur.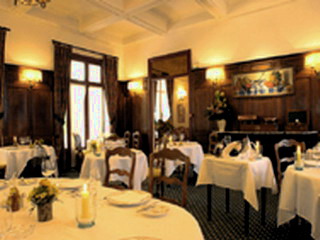 He leads me to a table immediately next to the entrance where I can see—and be seen by—everyone w

ho comes in. [My table is the far one in the middle of the photo.] I choose the menu du terroir at 300 francs (five courses of local specialties) and a bottle of Domain Tempier Bandol Rosé.
I'm then free to turn my attention to the evening's guests. Most of the room seems to be booked for a large party of Americans on a Grand Tour. They're all clamoring for attention and shouting across from table to table.
—If you get a waiter, hang on to him! Don't let him get away! They're scarce as hen's teeth!
They're all ordering a la carte, demanding translations, deciding with difficulty, and then changing their minds. In the midst of all this confusion my courses start arriving at exactly the right intervals and the right temperatures; my wine is replenished from the chilled bottle as soon as I'm within an inch of the bottom. The young waiter is dignified but affable, stopping for brief exchanges with such unhurried poise that the restaurant might have been empty. Halfway through the meal he asks politely as he tops up my glass,
—Is the restaurant too noisy for you?
I can't help laughing.
—That's the wittiest thing a waiter ever said to me!
He smiles at our little joke and turns to the next table, where a tipsy American stockbroker is loudly demanding attention.
It's been a thoroughly enjoyable meal, but in a few days I won't easily remember what I ate. Everything was perfect, nothing was surprising. It was like a speech by a great statesman on a grand occasion. When you're serving a clientele such as this, who are paying this kind of money, you don't mess around with lemon grass in the fois gras.
So am I disappointed? Not in the least. I've eaten an expertly prepared dinner and witnessed a great performance—as absorbing as David Story's fine play, The Contractor, in which a crew of workman erect a wedding marquee on stage and then take it down, chatting as they work.
At the end of the meal I'm invited to have coffee in the lounge, where for 20 francs there's a small cafetière of superlative coffee and a lifetime supply of delicious petits fours. If I had appeared in evening dress wearing the Legion d'Honeur, I could not have been entertained more graciously.
Which is exactly what I tell the maitre de.
Hôtel Jules César, Restaurant Lou Marquès, 9 boulevard des Lices, BP 116, 13631 Arles, France, Tel 04 90 52 52 52
©1997 John Whiting
---