When you're driving alone on a mountain road after dark on a winter's night, with no hotels in prospect, expecting to spend the night wrapped in a travelling rug on the seat of a cold van, there's nothing like the sight of . . .
But I'm getting ahead of myself. After four days in Perigueux, helping to bring on a world shortage of foie gras and truffles, I was on my way to the Languedoc to make a similar attack on the current vintage of Mas de Daumas Gassac. Conveniently along the way was the newly acquired Shangri-La of an American academic I'd met the previous year in a Paris bistro. In spite of a house in the throes of renovation, she threw together an excellent lunch of tasty vegetable soup followed by grilled lamb and butter-fried endives, washed down with a good local wine – so good, in fact, that I bought a case of it on the way out of town for a mere five euros a bottle. Sipping it at home a few days later, I wished I'd filled the van with it. Don't expect to find it anywhere except at the local cooperative outlet in Branceilles, a village of 242 inhabitants (now 243). It's the only wine produced in Corrèze and is known as "le Vin de Mille et Une Pierres" – a thousand and one stones – which will tell you something of the terrain.
Realising that I couldn't negotiate the two hundred-odd miles to Guerac in the Herault before nightfall, I aimed at another Sawday-recommended B&B in Cantal just beyond Aurillac. Even with my electronic navigation to guide me I overshot the mark and climbed further and further into the mountains. The tiny villages became less frequent and more lifeless. Finally my navigation screen indicated a village ahead whose name – Raulhac – was deemed worthy of inclusion on the map. Around the next bend was a scattering of lights on the other side of a small valley, and finally a HOTEL sign which was promisingly illuminated.
On a dark rainy midwinter evening, l'Auberge Nabrin was an amorphous looming eminence whose brightly lit small bar, visible through a steamy plate glass window and door, promised warmth and succour. Several picturesque locals appeared to have been laid on to add verisimilitude. The venerable Madame Nabrin – it could have been no other – was dispensing drinks and conversation. My rudimentary French and primitive sign language conveyed that I wanted, first a kir, and then a place to sleep.
"Oui, mons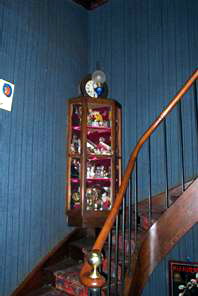 ieur. Avec diner?" You bet – I had entertained visions of spending the night gnawing my vitals. It was now six-thirty; dinner would be served in an hour. Madame Nabrin's daughter, who showed healthy signs of enjoying good meals, took me outside to the hotel entrance at the rear and into a small hall with a twisting staircase, whose dark flocked wallpaper and prolific decoration might have been as ancient as the hotel itself.
I was escorted up the stairs and along a corridor to what was obviously the master bedroom, a large corner room easily containing two double beds, a table and a couple of chairs. A screen along the far wall partially concealed the room's dominant feature: a massive display of porcelain sculpture which included a large bathtub with hand-held shower head, a toilet, a hand basin and – masterpiece of ingenuity – a bidet on castors, with flexible tubing, affixed to a rod whose other end was attached to the floor so that the awesome mechanism could be swivelled out from under the basin and comfortably straddled by a user of whatever girth.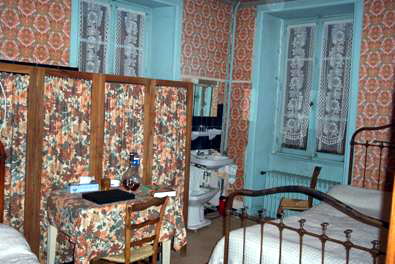 I polished off the kir, followed it with a generous Armagnac (a medicinal substance which I always take with me on long trips) and was ready to face the world.
The dining room was ample, comfortably accommodating three parallel rows of tables. A TV set high in a corner providing the unlikely spectacle of Bill Cosby and family conversing in perfect French. Only one table was set for dinner. Madame had told me that, not surprisingly, no one came here to stay in the winter.
A pichet of local wine appeared, together with an empty bowl and a large tureen of soup. It was vegetable abd barley, I was informed, with stock made from lamb and pork bones. The tureen was left at the table – obviously I was intended to make serious inroads. It was tasty and filling. How much should I gamble on what was to follow? I let myself have two bowls; I would happily have devoured two more.
The tureen was removed and two platters appeared, one with lettuce, tomato and a genuinely ripe but unblemished avocado, the other with an assortment of cold meats and an obviously home made pâté. Fair enough. I couldn't arrive with no notice in the off season and expect a hot meal. Gratefully I polished off the lot.
I patted my full stomach and awaited the cheese course. After clearing away the debris, Madame appeared bearing a plate which she carried with an oven glove. "Tres chaud!" she warned as she set it down. My God! Those two platters had only been the starter! Another soon arrived with two perfectly grilled slices of lamb, together with an ample bowl of a sort of chunky pommes sarladaisees – cubes of potato and strips of onion fried to delicious crunchiness in duck fat. Politeness demanded that I make the supreme effort. I was barely able to get through the meat and half the potatoes, enough to show my good intentions.
As I was tucking in, a personable young man – well, young compared with me – came to the table and introduced himself, in flawless English, as the Mayor. Word had reached him that the village had been honored by an out-of-season American visitor, and he had come to extend a welcome. I commented on the amazing hotel. "When Madame no longer runs it," he told me, "the new owner will be visited by the Health and Safety authorities, who will inform him that all sorts of modifications will be required." "In other words," I remarked, "it will be made to look like every other hotel." "Exactly," he responded. We shared a moment of silent regret for yet another threatened fragment of history.
I asked about production of the legendary local cheese, cantal vieux fermier – France's equivalent of a well-aged farmhouse cheddar. Only half a dozen traditional producers left, he told me, with one of them just a couple of hundred metres up the road from the village. And so when the cheese tray arrived – accompanied by a TV ad for Le Petit Camembert – I was not surprised to see that it included, along with a bleu d'auvergne, a couple of ample hunks of cantal with a thick mold-riddled rind. It was crumbly and sharply nutty, beyond any other cantal I had experienced. So distinctive was its flavor that, in the unlikely event that I ever have the good fortune to sample it again, I will recognize it immediately.
The depleted cheese tray was removed and – lest I faint from lack of sustenance – replaced by a chocolate éclair. Still more calories, but what the hell! By then, I reckoned, my stomach was probably too exhausted to process it. I went to bed and dreamt of tortuous mountain roads and endless banquets.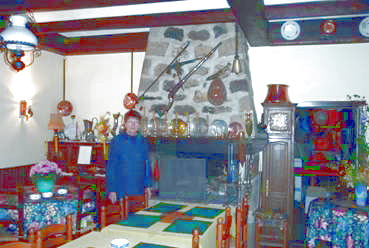 Breakfast the next morning included a quasi-braided loaf formed from rectangular bread rolls baked end-to-side in a long interlocking mosaic. There were croissants of course, and four varieties of home-made preserves. I was offered an egg but moderation triumphed over greed. Pitchers of coffee and hot milk arrived, enough to float a battleship. The morning's news, interspersed with the jolly pop music of another era, was audible from the kitchen, where a row of gleaming copper pans hung on the wall, obviously intended for use, not for display. What, I wondered, would the ample meals be like when guests were regularly expected rather than blown in occasionally by a winter wind?
Before loading my suitcase into the van I went to the bar for l'addition. My kir on arrival, my room, the ample meal, the pichet of wine and the breakfast came to a paltry 51.15€ − just over thirty pounds. In London, if I were lucky, that might get me a decent lunch.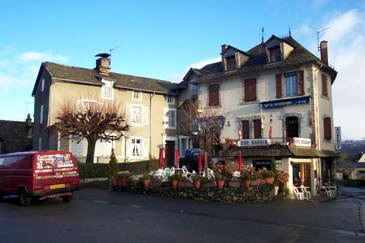 Outside there was brilliant morning sunlight, the first that my week in France had provided. The day's driving would take me well over the snow line to the Col de Curebouse and then down the other side into a flurry of swirling flakes. Here was the old, the starkly mountainous Auvergne that Frank and I had missed in our hurried journey north from the Tarn to Rouen. This time my circuitous route took me through the middle of Thiezac, where over a century ago Joseph Canteloube had first heard from Louis Delhostal the lullaby Brezairola which he so hauntingly set in his Chants d'Auvergne:
Soun, soun, bèni, bèni, bèni, Come, come sweet slumber,
soun, soun, bèni, d'èn docon! Come from where you will!
I would like to think that in his wanderings through the Auvergne he might have stopped at Raulhac's welcoming hotel, and that he had dined and slumbered as well as I.
Auberge Nabrin, 15800 Raulhac, France, Tel: +33 (0)4 71 49 55 14
©2002 John Whiting
Return to TOP