La Comm

anderie, Brizay. The description in Sawday's French Hotels turned out to be totally confused with another hotel in the book, with a similar name. This one's an impressive old chateau, but a bit rough-and ready – for instance, my bed collapsed during the night. The new owner is a Dutch hippie with a good line in monologs. Dinner was rather casually served outdoors – neither good nor terrible. At 100 euros (£62.50), not bad for room, breakfast and dinner for two. I found it amusing, Mary hated it. Because of the change in ownership, it's no longer in Sawday.
---
Domaine de la Tortinière, Montbazon. A huge pretentious place at a huge pretentious cost.

Because of a booking problem, unspecified, we were given the most expensive suite at the cost of an ordinary double room. It was rather shabby and hideously decorated – the stuff of nightmares. The "underground subway" from the rooms to the restaurant, of which the Sawday Guide speaks so glowingly, reminded us of central London's pedestrian underpasses, minus the graffiti. At dinner, Madame came to our table and promoted their cookery classes as if she were speaking to rank amateurs, even after being told politely that Mary was herself a cookery tutor.
Guests, we were informed in their self-aggrandizing literature, have included a Who's Who of politicians, capitalists and media celebrities, probably occupying our bed. Perhaps that's why we were asked rather loftily to move our déclassé vehicle to a less conspicuous parking place. We are one pair of nobodies who will not be back. Double room, breakfast for two, dinner for two, £114.54.
---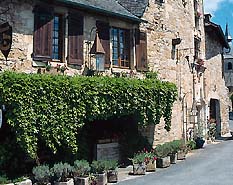 La Maison des Chanoines, Turenne. A wonderful hotel with wonderful food in a wonderful old hillside village which the tourists haven't taken over yet, but which is under threat. It's no longer in the current Sawday guide because the owners have decided not to pay the 800 euro fee for inclusion, but details are in the latest Michelin. (It deserves a higher rating, but rooms and restaurant are modestly elegant rather than Michelin-grand.) We can't recommend it too highly. Suite, two beds, study area with additional foldaway bed; 2 breakfasts; 2 dinners, £118.36.
---
Chateau de la Cote, Brantome. A very old-fashioned chateau conversion, huge and isolated, with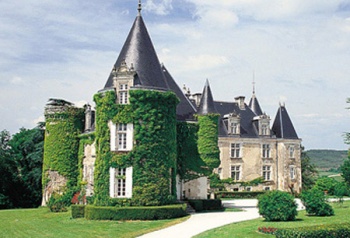 great dignity, but no pretension or haughtiness. Out of a time warp. Our room was so enormous we almost got lost in it. Good traditional regional food in a quietly formal dining room in which I would have been ashamed not to have worn a tie and jacket. The Russian Mafia with their wives [must have been wives] at the next table, however, felt no such obligation. The place was unique and we both loved it. Enormous bedroom, large bathroom, breakfast for two, dinner for two, £118.68.
---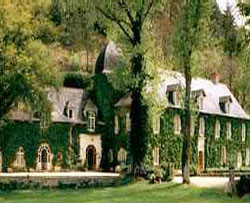 Manoir d'Hautegente, Coly. A family estate, imposing and self-important. It felt a bit like staying in a National Trust property with the noble lord still in residence. How much you liked it would depend on how much you enjoy being condescended to. (The grandiloquence of their web site will tell you what to expect.)

Actually it was quite beautiful, everything was properly managed, the chef was thoroughly competant if a bit showy for my tastes. My negative reaction was largely subjective and only to the family, who in fact behaved impeccably. Large corner double bedroom, 2 breakfasts, 2 dinners, £161.88.
---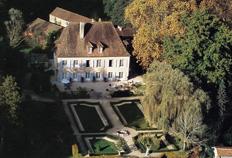 Le Domaine de la Barde, Le Bugue. Our favorite. We were there two nights and glad of it. A beautifully restored chateau which has been decorated and planned by someone who understands how to make perfect service virtually invisible. The restaurant is a separate establishment in the grounds. Mary's birthday dinner there was, she rather thought -- perhaps because of the total context -- the best meal she'd ever been served in a restaurant. Mine, slightly different, was certainly one of the best, though not the grandest (which, for me, is superfluous). For two nights, with two dinners, the bill came to well over 300 pounds, but we didn't begrudge a penny of it.
I had told the hotel upon booking that it was my wife's birthday and I wanted the best room. We returned from our first day's sightseeing to find a splendid bouquet in our bedroom, sender unspecified. When Mary went downstairs to enquire, the young lady at the desk informed her, and kept insisting, that it was from me. It wasn't, and when we left it wasn't on the bill. Now that's what I call class. The best bedroom, 2 nights; 1 breakfast for one; dinner for two, 2 nights, £318.06.
---
Hotel Restaurant Le Chateau, Lalinde. Frumpy and overpriced. Forget it. Small bedroom for two, huge bathroom, £86.65.
---
La Terrasse, Meyronne. A rather Hollywoodized ancient castle, with fabrics and paintings in excruciating taste. The dining room is run by a swarm of young harridans. Also overpriced – they get away with it because of unnecessary luxuries like massage jets in the bathtub. Like Le Chateau, best forgotten. Bedroom for two, 2 breakfasts, dinner for two, £161.13
---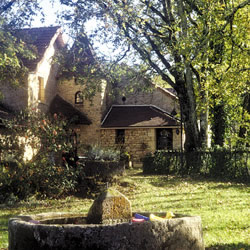 Auberge de Castel Merle, Sergeac. We loved this place. At under thirty pounds it was the cheapest room on the trip but also one of our two favorites. (That's our room, just to the right of the tower.) Wonderful hearty grub du terroir, very reasonably priced, from a Welsh chef who trained under his French mother-in-law. Seriously skilled, he can cook splendidly for a hundred or more at a time, with only menial assistance. There's a lot more to say about this place, which is well away from the usual tourist centers. You could stay here for a week or more and be glad you did; your bank manager would be happy too.
Just before we left the chef brought me a little bottle of oil. "Put your finger in this," he said, "rub it on your other palm, rub your hands together, cup them and smell." I did as I was told and got a wonderful noseful of truffles. "It's my own methed," he explained. "I soak the truffles in the oil for a couple of days in the fridge, then put the bottle in the freezer. Freezing fixes the oil, so that when you use it later the truffle essense hasn't dissipated. I've won prizes with this." I believe him. Beautiful small apartment for two, 2 breakfasts, 2 lunches, 2 dinners, £86.06.
©2002 John Whiting
---