Five years ago Richard Binns, author of the unique self-published French Leave series of idiosyncratic guidebooks, gave up writing them, partly because so many of the areas he was most fond of were swarming with tourists which he, ironically, had helped to attract. If you are a lover of picturesque beauty observed in relative solitude, there are certain names that will come sadly to mind. Carcassonne, Mont-Saint-Michel, Les Baux de Provence, St. Paul de Vence—these are places which, if you want to experience them without severe jostling, you must visit in summer and get up at the crack of an early dawn.
Fortunately for those who are not slaves to the best-selling guidebooks, France has so many areas of beauty and fascination that there just aren't enough tourists to go around. High on my list of personal favorites is Bergerac—I tell you this with a clear conscience because there are not thousands of lemmings hanging on my every recommendation.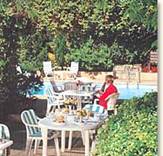 An excellent center of operations is the principal city of Bergerac itself. It has its own airport, reachable by Ryanair at giveaway prices, depending on the flexibility of your flight schedule. Once you're there, the Hotel de Bordeaux (right) can provide you with a central location at a moderate cost, tucked away in its own private garden, where it has been making people welcome for a century and a half.
IF YOU'RE a wine lover without a personal fortune, you will have come to the right place. La Maison des Vins de Bergerac is one of the most welcoming and well-equipped showcases for regional French wines that I've encountered. The Chamber of Commerce and Industry in Bordeaux thinks so too—it's been awarded this year's trophy for the 'Best of Wine Tourism'. It has a dedicated Vinoteque (wine amphitheater) with 35 places equipped with individual sinks where you can spit (if you're a pro), empty your leftovers (if any) and rinse your glass (if you're sober enough). The knowledgeable staff will be helpful at the proper level, whether you're a neophyte or an expert. There are several tastings a day and the schedule is flexible, so if you're staying in Bergerac you should have no trouble fitting it into your schedule. In fact, it's an excellent place to ge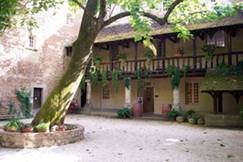 t advice and make reservations for visiting the nearby vineyards. If you're coming by car, you'll want lots of storage space—the cost/quality ratio in this region is extraordinarily high. In fact, you may wish you'd brought a van.
Adjoining the Maison is a restful courtyard with an ancient enormous catalpa tree. Take a few minutes off; you may well have it to yourself.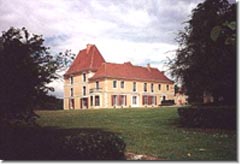 A GOOD vineyard to start with is my old favorite, Chateau Corbiac, about four miles east from Bergerac. The Corbiac family should know something about making wine—they've been doing it for nearly five centuries under nineteen patrilineal owners. Their one-and-only wine is a Pécharmant, which is the upmarket red AOC of the Bergerac area. The last three vintages available in quantity sell at the vineyard for around the 10€ mark—a very modest price for an immodestly good wine. They age well, if you're prepared to give them the opportunity.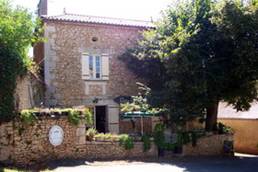 TWELVE MILES further east in Saint Marcel du Perigord is Lou Peyrol, an isolated restaurant so quietly satisfying that you will wonder how they keep it a secret. When we arrived early for lunch, the village was deserted and the outdoor tables empty, but not from lack of quality. The

beautifully designed, classically restrained but richly flavored smoked fish terrine (right) invited imitation—its construction was self-explanatory. In my main course the perfectly sautéed scallops with pimento and basil sauce allowed the ingredients to speak for themselves.

The new owners are Philippe and Fiona Wavrin. Philippe was head chef at the City Brasserie in London and taught at the London Cordon Bleu Culinary Institute of Paris in London. I felt that he must be cooking here exactly the way he wanted to, and to the height of his abilities. His wife is a Liverpudlian child psychologist, so families should be sympathetically catered for. I didn't enquire about their children's menu, but I think it's safe to assume that it won't feature fish fingers and Turkey Twizzlers.
While we were waiting (not impatiently) for our food to arrive, a lone Tour de France cyclist appeared breathlessly to ask where on God's earth he might possibly be. He received an answer that sped him on his way. Poor boy—if he had stopped here for lunch, he might have switched happily from pedaling to feasting.
THREE miles further east on the D32 at Ste Foy de Longas is the Truffière de la Bergerie. (Like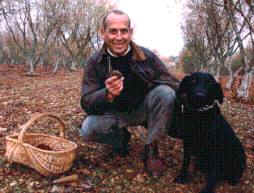 so many French web sites this one is maddeningly slow, but the copious information is worth the wait.) The owner, Hughes Martin, is a mine of fascinating information and an enemy of obfuscation, and his English is excellent. He took a degree in horticulture and worked as a production manager in a big nursery for nearly 20 years until a change of ownership made him redundant. He had known the Dordogne since he was fifteen and decided to buy a farm in Perigord. After looking at about fifty properties he was "quickly seduced by the mysterious and unique nature of truffle farming" and bought the Trufflery of the Bergerie in 1996.
Genuine truffles, whether black or white, have become an extravagant luxury. Add to this the fact that their pungency rapidly fades and you're into the area of pretense and skullduggery—many a punter has lashed out for a few black shavings which, for all their flavor and aroma, might as well have come off a dyed turnip. Some of the cheapest and most tasteless truffles are imported from China; the most important French truffle merchant has a factory there. Go figure.
Summer truffle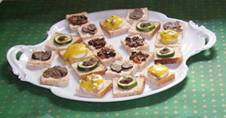 s are a different variety and are not so intensely flavored, so they are relatively cheap. But caught in the first blush of freshness, they have more to offer than the "authentic" truffles after they have traveled untold "truffle miles" and sat lengthily in cold storage before they reach you. Hit the Berg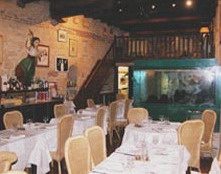 erie trufflery in the late summer and M. Martin will prove it to you.
BACK in Bergerac for dinner, there's L'Imparfait, (right) which is much better than its name suggests. It's in the old town with an old (i.e. traditional) menu, fed from daily market visits. My 2002 GaultMillau says that the owner is Elton John, but I can find neither confirmation nor denial. Don't let it put you off—he's certainly not presiding in the kitchen!
For Another Day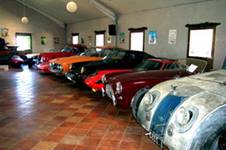 Five miles southwest of Bergerac is the Chateau de Sanxet, ancient producers of Bergerac's Monbazillac. In these days of obligatory dry wine, such traditional sweet wines are fighting for their lives. In the 19th century the sweetness of wines was intended to match the sweetness of the sauces. It's still permitted to serve sweet wines with foie gras, which may keep them alive until foie gras itself is consigned to history by misguided reformers.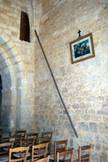 This estate has been in the family since the sixteenth century, and it shows it. Everywhere is just a bit shabby, from the dusty cellars to the equally dusty auto museum (above), quite unlike the shiny examples in the British National Motor Museum at Beaulieu. There's a Romanesque chapel attached to the estate, with an ancient door about twenty feet up a wall, opening into empty space. A handrail leads up to it, attached to the stone, but there's no stairway. Jacob's ladder, perhaps? The whole estate is history not to be missed—it gives a sense of centuries actually succeeding one another incrementally, not merely reinvented.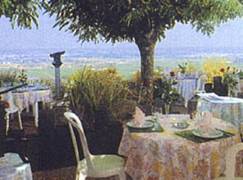 FIVE miles south of Bergerac on the road to Mont de Marsan is La Tour des Vents. The view from the terrace is so spectacular that it demands a lunchtime visit. This is truly serious dining without pretense or a second mortgage. Liver lovers should leave their afternoon

schedules open to savor at length their Degustation de nos 3 foies gras. Follow it up with their veal sweetbreads in pastry and you may want to linger on for dinner. ("Tell me, why do you serve only one meal a day?")
ELEVEN miles south of Bergerac in the splendid mediaeval village of Issigeac is Chez Alain. An excellent carte of local dishes and game in season. Allow plenty of time to see the village.
___________________________________________________________________
Hotel de Bordeaux, 38 Place Gambetta, 24100 Bergerac, Tel: 05 53 57 12 83,
Fax 05 53 57 72 14
Maison des vins, Bergerac, Tel: 05.53.63.57.55
Château de Corbiac, Pécharmant, 24100 Bergerac, Tél 05 53 57 20 75, Fax 05 53 57 89 98
Lou Peyrol, 24510 Saint Marcel du Perigord, Tel: 05 53 24 09 71
Tuffière de la Bergerie, Bressac, 24510 Sainte Foy de Longas, Tel: 06 15 99 78 99,
Fax : 05 53 23 77 80
L'Imparfait, 8 rue des Fontaines, Tel : 05 53 57 47 92, Fax : 05 53 58 92 11
Chateau de Sanxet, 24240 Pomport, Tel. / Fax : 05 53 58 37 46
Tour des Vents, 24240 Monbazillac, Tel : 05 53 58 30 10, Fax : 05 53 58 89 55
Chez Alain, Issigeac, 24560 Dordogne, Tel: 05 53 58 77 88
Return to TOP