One of the most popular galleries in central London is the Photographers' Gallery, immediately adjacent to th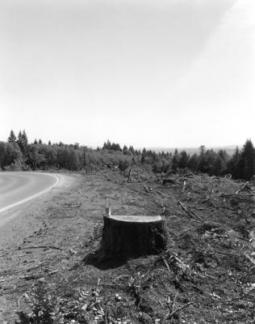 e Leicester Square tube station. (I am biased in their favour because (a) entrance is free and (b) their official name unusually includes the requisite apostrophe, and in the right place.) This month their featured exhibition consists of the short list for the Deutsche Börse Photography Prize 2006.
After spending a few seconds in a darkened chairless room devoted to an excruciating karaoke video, we lingered long over the photos that Robert Adams has been taking over many years in which he documents the violence done to Oregon's magnificent forests. In the laconic words of poet W.S. Merwin, "A man now dead saw the mountains as money." The photos are dedicated to Adams' father, who long campaigned aginst the wanton destruction.
Taking refuge from ecological chaos, we went next door to their other gallery, which houses a simple snack bar such as might exist in Plato's heaven. Just a few sandwiches and filled buns, a "soup of the day", an assortment of salads and cakes, together with hot and cold drinks—nothing to write home about, you might observe dismissively. But almost uniquely fo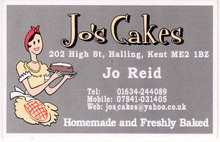 r such a concession, everything is, as they say in France, maison. This husband-and-wife operation has been ticking over for fifteen years, with mère making the cakes in her Kent kitchen and père bringing them in by train and producing the savouries in situ. Given the nightmare of suburban London commuting, he deserves a medal merely for providing the transport! (If you're so lucky as to live within delivery distance, you can enjoy Jo's Cakes in the privacy of your own home.)
Today we had a perfect tuna mayonnaise granary roll—slightly spicy and generously filled—and a moist carrot cake with cream cheese icing that gained the special approval of Mary, who makes her own to a high standard. The cappuccino was as it should be, and fair traded. Unlike most establishments that even pretend to both quality and morality, the cost was barely above what you'd expect in a supermarket takeaway. (Click on the menu below and gnash your teeth.)
In 2002 this little jewel was listed in the Time Out Eating and Drinking Guide but it was later dropped from the Budget pages, along with the unique October Gallery in Bloomsbury. Two years later the entire category of Vegetarian and South Indian disappeared, which included the memorable and unchanging Diwana Bhel Poori House in Drummond Street. Was this to make room for the passing parade of trendy new establishments that are gone before the ink dries? Don't throw away your old Time Out Guides; if you are not merely a dedicated follower of fashion, there are addresses and

phone numbers you'll still require.
Photographers' Gallery Café 5 Great Newport Street, London WC2 Tel: 7831 1772 Leicester Square tube
---