14 January 2014 Since I wrote this we've been back repeatedly, with nary a disappointment. Today Mary took me there for my birthday luncheon, which proved to be one of the best ever. It's a tasting menu now, and with no lapses, no silliness. We'll be back again in exactly a month for Valentine's Day!
---
Dining out in London tends to be a top-or-bottom experience. Time Out will guide you to an infinity of ethnic eateries serving up a cornucopia of exotic foods at modest prices, while up there in the stratosphere the TV chefs have left their kitchen crews in charge of turning out displays whose appearance and prices suggest that they should be in a Tate Modern exhibition of auto-destructive sculpture.
In between are a constantly rotating roster of pretentious gastropubs more concerned with making a statement than with serving a meal. A few are excellent, but last week's success may be this week's credit crunch casualty. Others we have gone to after rave notices from respected reviewers proved to be expensive disappointments.
What we really want from a celebratory meal out is imaginative but not exotic food, served in modestly elegant surroundings by friendly but not obsequious waiters, and priced reasonably enough to make us want to go there again. It's the sort of ambience you'd expect if you were being entertained by prosperous friends.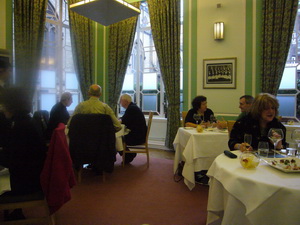 Of course, what your friends – prosperous or otherwise – have going for them is that they don't have to make a profit. That was the first thing that popped into my head when Mary showed me an enthusiastic review of the Vincent Rooms, a restaurant attached to the Westminster Kingsway Catering College. Such an association is no guarantee of quality – we once had a terrible meal at a trendy Thameside catering school (now mercifully closed) where rank beginners were encouraged to "express themselves". But WKC had a promising Escoffier Room offering "an à la carte menu based on the teachings of chef de cuisine Auguste Escoffier".
The front of house staff, we were warned, were only students and liable to make mistakes. But those mistakes, we soon learned, did not include the sort of indifference or arrogance common in a country where waiting on table is not an honoured profession. They were all as friendly and eager as puppies, and they were under the supervision of a beautiful lady who had worked in a similar capacity for Gordon Ramsey and Anton Edelmann. Even if the food had been substandard, I would happily have just sat there looking at her.
But that was unnecessary. What came out of the kitchen was to a standard that would have made us happy if we'd been paying Michelin prices. A trainee waiter might occasionally put down the silver from the wrong side, but there were absolutely no mistakes on our plates.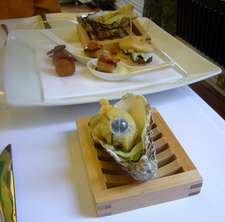 Since the object of running this restaurant is to give students the opportunity to produce a variety of dishes under pressure, what is offered verges on a menu degustation in that, as well as a choice of five courses each for starter and main, each diner gets a wide selection of canapés and petits fours. Ours were both plentiful and delicious, including among the former on a previous visit a small cup of cream of celeriac soup, complete with foam, which was so utterly superb as to blow away all criticism of this ubiquitous trendy topping.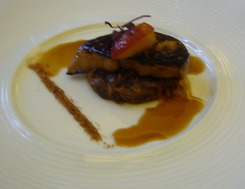 From the menu (below) Mary chose as a starter the Warm Duck Confit with Caramelized Apples, Seared Foie Gras and Pain d'Epice, Cassis Jus. The small taste that she allowed me made me wonder why she had parted with even a morsel—it blended into a totality so rich and multidimensional that the individual flavours spoke together like the voices of a Bach chorale, with the foie gras as cantus firmus. (If that sounds like a candidate for Private Eye's Pseud's Corner—well, tough!) My starter choice was the

Carpaccio of Venison, Pickled Mushroom and Juniper Sour Cream. It was a single small slice, but the flavour was so intense that I needed no more. The tiny mushrooms were pickled just enough to complement the raw meat.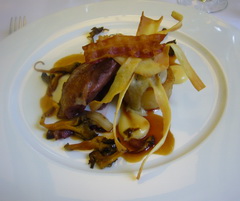 In my Roasted Squab Pigeon, Parsnip Puree, Fondant Potato, Pickled Wild Mushrooms and Pancella, Puy Lentil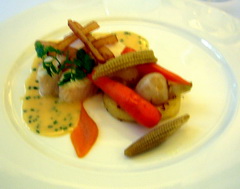 Veloute, the squab breasts were as perfectly cooked as any I've ever had, the potatoes deliciously buttery and the whole pallete of flavours combining into a harmonious whole. Mary's Poached Halibut, Stuffed Ciollini Onions and Courgettes, Potato Galette, Chive Cream Sauce was another complex assortment of ingredients that might have been overdoing it, but which worked well together. Her halibut, she said, was cooked to flaky perfection.
For dessert I went back to a luxury of my college days, bananas fried in butter. They were done at the cart which on our previous visit had been devoted to crêpes suzettes. The bananas were not as transcend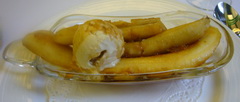 antly caramalized as those I had devoured years ago but, on sober reflection (difficult after more than half a bottle of Gewurtz), I realized that the dish that I had remembered with such affection was a vulgar excess more appropriate to Mel's Drive-In than to Escoffier haute cuisine. Such, alas, is the price that one must pay for gastronomic sophistication.
Although the main courses were of modest size, the total meal was enough to satisfy any reasonable appetite, particularly when supplemented with superb rolls freshly baked on the premises, together with the very finest French butter, Echiré from Poitou-Charentes. You'd only expect the latter in destination pay-through-the-nose gastronomic shrines, and by no means all of them. If you come early, you'll find freshly baked student loaves on a table in the entrance hall, going for a quid apiece. Buy on the way in; they won't be there when you leave.
§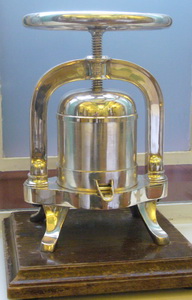 Near our table on a windowsill was an ancient duck press, an object so rare that they're worth thousands of pounds and are rarely if ever used. The exception is Tour d'Argent in Paris, which has two of them, one on standby. In that venerable establishment a couple can experience their famous pressed duck for a mere 130€.
Over a lifetime, you could save a certain amount of money by purchasing your own press and making it yourself. François-Xavier, a Swiss financier and gastronome, gives complete instructions on his website, FXcuisine.com. Read it and weep.
There's one thing that makes me sad about this excellent institution. Upon graduation, how many students will find work in restaurants where they'll be allowed to work to the tasteful standards they have achieved? In London, the gourmet establishments for high-rollers tend to operate at a level of ostentatious vulgarity to match that of their patrons. As for the rest, the less said the better. I'm reminded of U. C. Berkeley, the great academic factory where a plethora of magnificently trained scholars gave rise to the following:
Q. What do you say to a PhD?
A. Burger and fries, but hold the mayo.
The Vincent Rooms Vincent Square, SW1P 2PD Tel: 020 7802 8391
---