In the days before Gordon Ramsey wielded his chainsaw, the safest tourist fare in London was the traditional English tea—there was a limit to how much damage could be done to a cucumber sandwich, a scone, a dollop of clotted cream and a tea bag. If you really wanted to live it up, you had it at the Ritz, where the Palm Court was extensive enough to accommodate the masses who queued up for the full treatment. Today, to keep up with the ever-burgeoning demand, their afternoon tea reservations stretch from 11:30 a.m. to 7:30 p.m.
Mary and I were taken there a quarter century ago; it felt rather like being processed by immigration officials at an airport. A small pitcher of hot water came with the teapot. Mary likes her tea very weak and so she asked for another. "Certainly," replied the waiter with ill-disguised condescension, "I shall refresh your tea." When it finally came after a twenty minute wait, the hot water was still the same miniscule quantity.
Roll back another quarter century, to when I was doing my US military service at Chelveston, fifty-odd miles northwest of London. One of my army buddies was the scion of a rich Chicago family, big in transportation. When his grandmother came to pay him a visit, she naturally stayed at Claridges, and Jay and I were invited to join her at the hotel for lunch and then for a pilgrimage to Canterbury Cathedral. Leaving Chaucer in a cloud of dust, we set out on our penitential journey in a chauffeur-driven Rolls.
Ten years later in 1966 I returned to Claridges at my own expense. This time it had to be more modest; all I could afford was afternoon tea. For seven shillings sixpence, which at the time was worth about a dollar, I got a pot of tea, a plate of delicate little sandwiches, a scone, a dish of pastries, and the right to sit for an hour among the comfortably rich and be treated by a respectful waiter as though I were one of them.
Now fast-forward to the present. For four decades I've been promising Mary that I would take her to Claridges for tea. This year her birthday seemed like the right moment. Never mind that the cost had increased 94-fold to £31; there had been times in those far-off days when 7/6 would have made a bigger hole in my assets.
§
Unlike tea at the Ritz, tea at Claridges is not a tourist check-list event with a souvenir book; nevertheless it's popular enough so that reservations are essential. When I phoned a week in advance, there was not a table available until five, but that fitted perfectly with our plan for the evening, which was to end with a Night at the Opera (Covent Garden, not the Marx Brothers).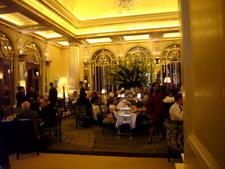 If Claridges did not exist, it would be impossible in the 21st century to invent it. The Reading Room, which is what they staidly call their central ground floor restaurant, has been given a thirties-modern ambiance with art deco cut marble fireplaces, leather columns and banquettes, and suede walls. Hercule Poirot would feel quite at home. The sound insulation is excellent—you can scarcely hear Gordon Ramsey fulminating nearby in his eponymous kitchen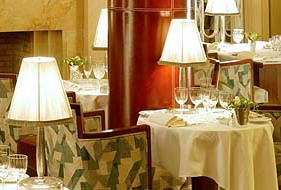 .
Arriving on the dot, we were shown to a rather privately situated table in the antechamber. (That's the very one, as pictured on their website.) A violin/piano duo were playing light classics well enough to be pleasurable rather than cringe-making. If I could afford such a reading room, I would happily sit there re-reading Dorothy Sayers. (She writes better than Agatha Christie.)
We immediately liked the attitude of the maitre d' and our waiter—relaxed and friendly to just the right degree to make us comfortable. No hauteur, no forelock tugging. "Enjoy yourself," was the message. We settled down to do so.

The menu [left] offered the usual sandwiches, scones, pastries and tea, with the increasingly obligatory indication that they were largely organic and carefully sourced. For tea there was an impossible list of over thirty, from which we blindly chose the first, their own "afternoon" blend. It included leaves actually grown in England—roll on global warming! It was delicious, an "ordinary" tea of a warming richness and subtlety, quite lacking in tannic harshness. And the hot water came in a big teapot.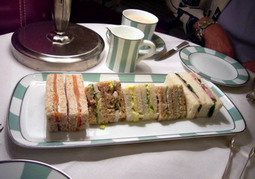 The crustless sandwich triangles looked much like what you might get in any tearoom, but both the bread and the filling actually had flavor, so that when we were offered seconds, we accepted.
The scones were about as good as they get. Mary is a first-rate pastry cook who turns out great scones in her own kitchen, so she is not easy to satisfy; these were up there in that stratosphere where comparisons become pointless.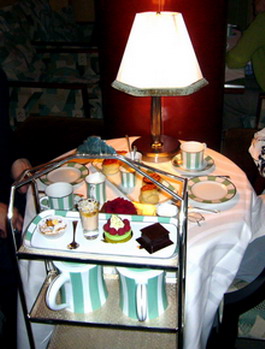 The pastries were also excellent. At the very end an extra one arrived with a candle, Happy Birthday written on the plate in chocolate, while the musicians played th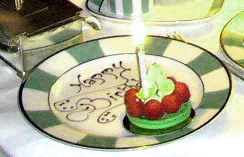 e traditional melody. Do they have to pay royalties? The song is still in copyright until 2030.
So at last I've fulfilled my forty-year-old promise. Having done it once so happily, we'll no doubt do it again. Afternoon tea doesn't get any better than this!
Claridges Hotel Brook Street, London W1A 2JQ, Tel: 020 7629 8860
©2007 John Whiting
---