Britain is a land of peaks and troughs. As the gap widens between the rich and the poor, a chasm opens up between those who live to eat and those who are inexorably eating to die. On the mountain tops are gastronomic temples presided over by chef/priests who transubstantiate mere bread and wine into nectar and ambrosia; far below in the slough of despond the masses slop up their daily fix of empty calories.
Anyone so rash as to open a restaurant in this country must decide exactly what spot to occupy on the slippery slope. Most of the punters, having been weaned on pot noodles, will have no standards by which to judge it other than those promulgated by the mass media. Should you aim to be a celebrity chef charging a bras and a gigot, or should you cater for the masses who will gobble up without complaint anything that's cheap and cheerful?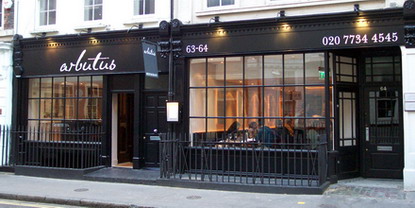 Anthony Demetre and William Smith have dismantled their Michelin-starred Putney Bridge and planted an Arbutus comfortably below the timber line. Their garden spot is 63-64 Frith Street, a Soho site with a long history. For Anthony, it is a homecoming, for he cheffed there a dozen years ago for Bruno Loubet. Since then the location has been the graveyard of an unhappy succession of chain-brand eateries and overweening restaurateurs.
The nurturing of this ambitious sapling in such rocky soil has been documented online with an avidity usually reserved for the launching of a pop group. In Britain, dedicated foodies are so thin on the ground (if not the tummy) that they resort to websites in which they may exchange menus, recipes, opinions and soft porn photos of gastronomic erections. Arguing over the finer points of cassoulet construction or molecular gastronomy, they splinter like fundamentalist sects, divided as much by the clash of egos as of dogmas. At least four of these schismatic forums have been following the Arbutus life cycle with an avid documentation worthy of the Chelsea Flower Show. It would be disingenuous of me not to confess that I subscribe to them all. [Well, three of them. As if to prove my point, one of them promptly suspended me on the grounds that I had "ridiculed" them....And now it's down to two. The owner of another has expelled me because I dared to scorn the sous-vide method of cooking meat, a spin-off from a Nestlé gimmick to make processed food look more attractive. Sigh.]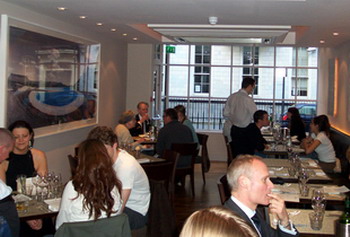 A half price introductory offer for the first week brought out squads of avant-garde scouts who reported in such detail that by the time Mary and I arrived on the last of the preview nights it was virtually a case of déjà mangé. It was already clear from insider information that the team had made a calculated decision to move down market from Michelin stardom without sacrificing their cuisine's essential character. The seating is bistro style, with banquettes along the walls and small square tables that allow instant reconfiguration for any size party. There are white linen napkins but no tablecloths; instead there are large squares of washable matting which avoid a stark cafeteria feel. Bare wooden floors save money on carpets but make for a fairly high noise level, even with normal conversation. As is common in France, there are no side plates; your bread sits on the table and you help yourself to butter from a common dish. One could complain that the bread supply is not left in a basket but is offered from a wooden trencher a wedge at a time. When we asked for more, it was several minutes in arriving—helpful for dieters but disagreeable for gluttons. It's just one of a number of peripheral economies that keep the costs down.
There is no sommelier to look down his nose at you if you order a cheap wine or none at all. A welcome corollary is that a waiter doesn't rush to top up your glass every time you set it down. Even more welcome is their unusual policy of offering 250ml (1/3 bottle) carafes of every wine on their list at almost exactly a third of the bottle price, thus encouraging experimentation. (A cleverly calculated exception is the dessert wines, in which the carafe price is a substantially higher proportion of the full bottle.) If you're pleased with your choice, you can order further carafes without paying a premium, a flexibility that is particularly welcome in a large party who may have widely differing preferences.
Such a policy is enabled by a vacu-vin storage system that allows part bottles to wait for the next order without oxidizing. Would such a system be acceptable on the continent, particularly for the more expensive wines? It says something about British honesty that I didn't even think of demanding proof that the wine in the carafe had in fact come from the bottle on the list.
§
"But what about the food?" you ask with growing impatience. After consulting my ecstasy graph extrapolated from the superlatives in the various forum reports, I had decided to start with the braised pigs head, potato purée and caramelized onions. The meat came layered in a small rectangle, about four by two inches, consisting of rather more flesh than fat or cartilage. There seemed to be a generous proportion of the highly desirable cheek. The cheeks are often among the best parts of an animal or fish; cod cheeks were a traditional perk enjoyed by Provincetown fishermen.
The puréed potato was light, smooth and rich, though not so luxurious as Robuchon's legendary extravaganza with two parts butter and whole milk to four parts potato; but then we weren't paying Robuchon prices. The caramelized onion marmalade was irresistible—full marks to the chef for not trendily labelling it confit.
The slow cooked shoulder of lamb boulangere, lamb sweetbreads and spiced dates is a sort of signature dish carried over from Putney Bridge, so I was delighted that Mary decided on it as her starter. It proved to be another two-by-four-inch rectangle, made up in the usual fashion of layered meat, potato and onion. We were both happy with it, and with the tasty nuggets of sweetbread, which are not easy to come by in London.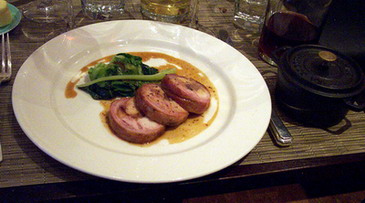 The saddle of rabbit, shoulder cottage pie and hispi cabbage with mustard sauce is another popular survivor from Putney Bridge. The saddle came in three slices, rolled and stuffed with kidney and wrapped in ham. It was full-flavored but a bit dry; more of the mustard sauce would have been welcome. The "cottage pie" was braised shoulder in a little iron pot with a topping of the same potato purée that had come with the pig's head. Nothing wrong with that, but a cottage pie traditionally has a crust. This had none, as if it had been plopped on just before bringing it to the table. A few seconds with a salamander would have given it a welcome touch of color and texture. (Or else call it by another name that doesn't arouse false expectations.) The cabbage was simply boiled or steamed and discreetly seasoned; in the forums there were complaints that it had sometimes been too salty.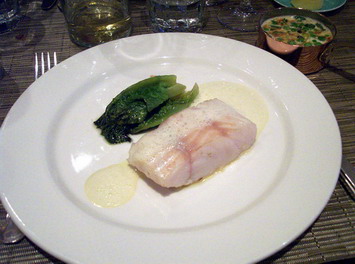 For a main course, Mary opted for Fillet of Pollack (one of the few species that aren't over-fished), braised lettuce, and gratin of peas, pistachio and marjoram. The fish was a generously thick slice, simply prepared and served. It arrived hot, firm and flaky, cooked just past translucency. The lettuce, however, had not been thoroughly washed; Mary literally gritted her teeth. The gratin, just moist enough to act as a sauce for the fish, came in a little copper saucepan. The flavors married well.
For Mary I ordered a carafe of Riesling Kabinett, Brauneburger Jaffer, 1995, from the excellent Mosel Weingut Willy Haag. Today you don't often see such wines on a cutting edge restaurant list, but they were highly prized by the Victorians, who expected the wine to be of a sweetness to complement rather than contrast with the sauce. German Rieslings usually age well, and this one had mellowed into a well-rounded elegance. Would that I had ordered a whole bottle! It would not have gone well with my rabbit, but it would have been preferable to the pale and thin but aggressive Gamay d'Auvergne "Crepuscule" Domaine Peyra 2004. My fondness for this unspoiled corner of France had led me astray. Crepuscular? There was indeed something of the night about it, threatening and cutting-edge, in the worst sense. You could call it complex, but only inasmuch as there were successive layers of sharp unpleasantness. For the rabbit I should have followed my first impulse and opted for the Cahors.
The cheesecake is another survivor from Putney Bridge. It came in what seems to be the uniform 2x4 rectangle, resting on a thin butter-biscuit bottom crust. The texture was so loose that if it had been listed as a cream cheese mousse and brought in a bowl, it would have raised no eyebrows. But I had no complaints—it was truly scrumptuous! If it were available in a local shop I would soon make Mr. Creosote look like Twiggy. The wedges of strawberry that accompanied it may not have been at the pinnacle of ripeness, but the raspberry coulis in which they were served disarmed all criticism. Mary ordered Alphonso mango, rice 'imperatrice', sorbet and Breton biscuits. She found the mango and sorbet to be in short supply, the dish consisting mostly of biscuits and rice pudding.
§
At the end of the meal we lingered for a few minutes and went away content. Our helpings had perhaps been a bit small, but by London standards so were the prices, even without the introductory half-price offer. There are not many restaurants in central London that come close to filling this particular niche and doing it well. For instance, their pre-theatre dinner is £13.50 for 2 courses, £15.50 for three. Unusually, they open for the evening at 5:00, so that if you're prepared to eat early you can have a leisurely meal at a modest price and still make it to your seat anywhere in the West End without running. (My pre-theatre experience at the ancient Mon Plaisir guaranteed that I would never return.)
But there were criticisms on several of the forums that were so detailed and unanimous that they should be taken into account. For instance, there were howls of dismay over the "roast" beef, slow-cooked by the fashionable boil-in-a-bag sous-vide method. This means that there is no caramelized outer crust and no infused flavors from other ingredients cooked together with it. A good cut of beef has relatively little taste without the Maillard reaction that results from browning. Steak tartare, for instance, is loaded with the strong flavors of onions, capers, catsup and Worcestershire sauce, not to mask the raw meat, but to give its blandness a bit of character.
Developed in the mid 70s at the Restaurant Troisgros, sous-vide is a logical spin-off from long-established commercial canning methods. Chefs have been quick to sing the praises of a technique that eliminates the critical timing of conventional roasting. Since it requires a lot of expensive equipment, it's not well suited to domestic kitchens, so once you're hooked on the taste and texture of anonymous animal protein that you can eat with a spoon, you've got to keep coming back to the pusher. All this is a criticism not so much of the Demetre/Smith team as of the fashionable new world of molecular gastronomy. I hope this is not their method for slow-cooking belly of pork; it would produce a revolting mass of sloppy fat.
Arbutus does not call itself a bistro, but if you choose selectively, it's easy to pretend that it is. The dishes that we had at the prices listed on the menu, if consumed during one of our Paris trips, would still have merited a favorable review. Not many London venues make the grade.
STOP PRESS: Two enormous pluses that I forgot to mention — NO SMOKE! NO MUSIC!

Arbutus 63-64 Frith Street, London W1D 3JW, Tel 020 7734 4545,
Fax 020 7287 8624, email info@arbutusrestaurant.co.uk
©2006 John Whiting
HOME TOP LONDON RESTAURANTS INDEX
---