Locavore extraordinaire
Terroir Parisien
I approached this modern bistro with a certain degree of caution. My most reliable authorities had given it enthusiastic write-ups, noting that its ingredients are sourced from within the geographical confines of the Ile de France. This is indeed a worthy ambition but the area is so intensively urbanized that it must be as difficult as it has proved to be within London's M25. A further warning was the venue's slick modernity. The premises had been part of a now defunct cinema and still had something of the ambience of its former life. Would it prove to be no more than a showcase for la sculpture gastronomique?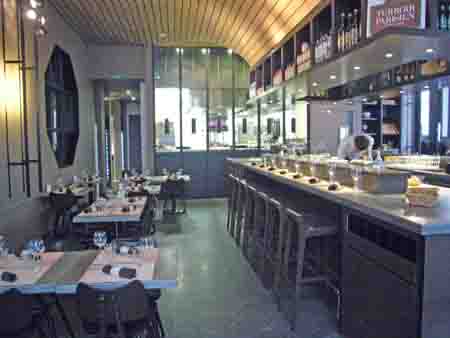 I needn't have worried. The maitre de's warm welcome made us feel immediately at home and, from that moment onward, no one in the kitchen or the dining room put a foot wrong. Even the long central dining bar, reminiscent of Robechon's regimented Paris Atelier, proved to be a sensible way to accommodate the quick casual diner. This is, after all, a brasserie-type establishment, open all day seven days a week.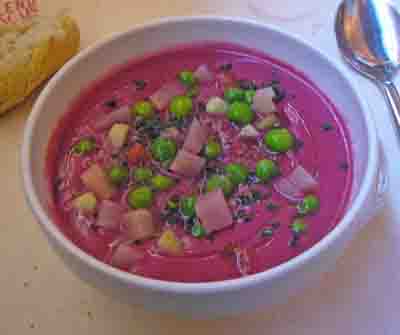 Unusually for such a sleek venue, there were two hearty-sounding soups on the menu and so Mary and I started with them. Both were satisfyingly substantial—not dainty little tasters, but real bowls-full such as you'd expect in an old-fashioned bistro. Mary's beetro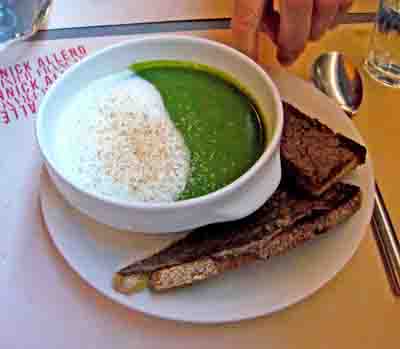 ot soup "from Mrs. Berrurier's farm" was full of tiny diced vegetables which held their shape but exploded with juice in the mouth. My nettle soup with nutmeg and onion foam (a substantial component, not just a decoration) was served with fried toast richly impregnated with chicken liver, producing a unique blend of robust individual flavors, comforting rather than challenging to the palate.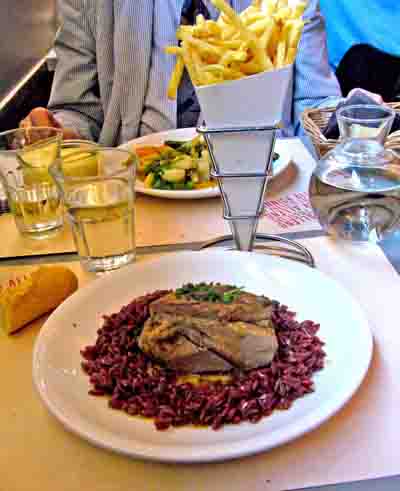 Mary's slow-cooked shoulder of lamb was, for her, "the best, most delicious, most lamb-like lamb ever!" She generously allowed me a taste, which made me want to order a second portion. It was faintly pink but cooked to cut-with-a-spoon tenderness. What utter perfection! It came surrounded by a bed of beetroot pasta, little long-grain-rice-shaped pellets of utter deliciosity! (Sorry, I'm getting carried away.) It came with a cornet of perfect French fries—warm and accessible finger food, as in a high-class burger joint.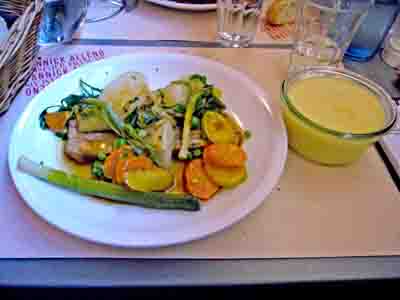 My slow-cooked veal was no less perfect and came surrounded by a generous helping of glazed garden vegetables, not a common component of bistro fare. On the side was a bowl of potato purée of a smoothness and richness to match that of Joel Robuchon. (I had eaten his famous version years ago in Jamin, his old Paris restaurant. The memory lingers on.)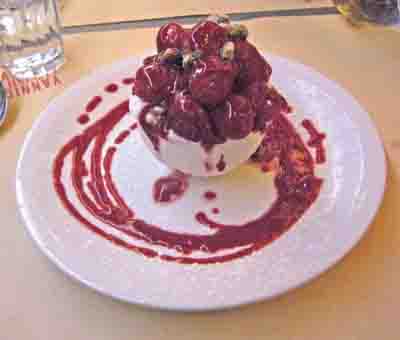 Mary's dessert was a nest of meringue filled with thyme ice cream, topped with fresh raspberries and coated with raspberry purée, all perfect. My own dessert was Paris-Brest, named after the bicycle race for which it was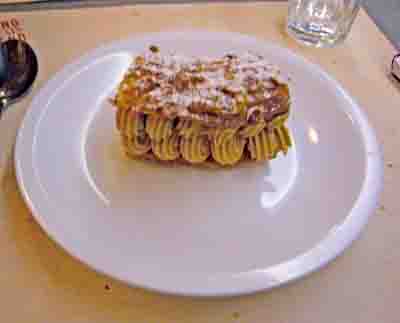 created in 1891. Made of choux pastry and a praline flavoured cream, it is traditionally served in the shape of a wheel. My portion was less than a quarter of the full circle, which would have covered a large platter—impossible to get through at one go, although I would have been prepared to try.
In the course of t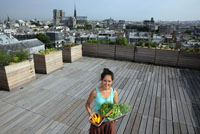 his splendid meal we were served by two charming and helpful waiters, one of whom had lived for a year in Australia. At the end, we were invited to express our enthusiasm directly to the chef. It turned out that Yannick Alleno was not in the kitchen and that everything had been prepared under the direction of Chef de Cuisine Eric Castandet. Later research would reveal that some of the vegetables served in the restaurant are grown by Sybille, a bio-agronomy student, in a vegetable kitchen garden on the roof of the building in which the restaurant is located. Tha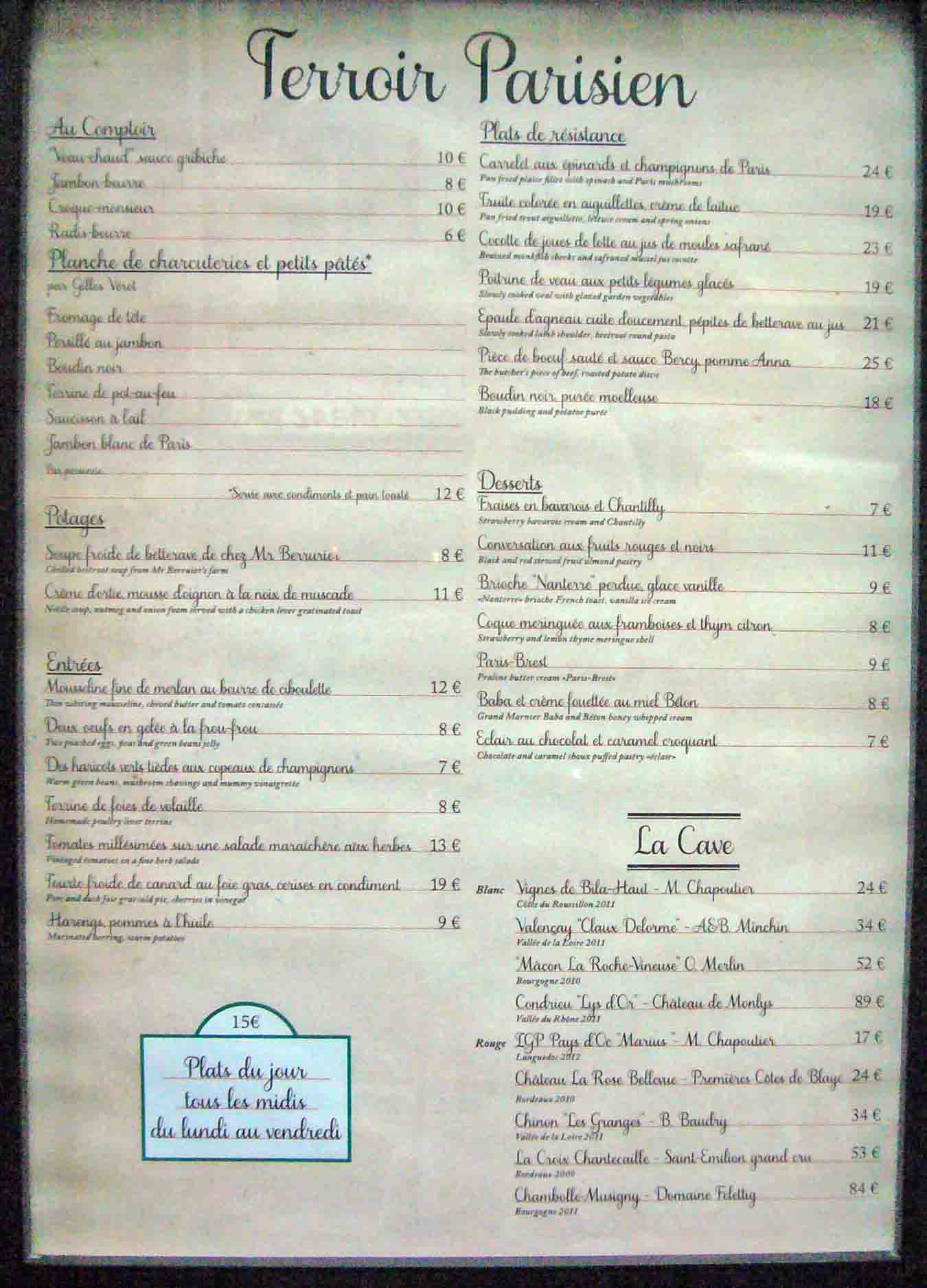 t's about as locavore as you can get!
©2013 John Whiting
---
Terroir Parisien 25 rue Saint Victor, 5th Arr, Tel 01 44 31 54 54, Mº Maybert-Mutualité