Coming and Going
Terminus-Nord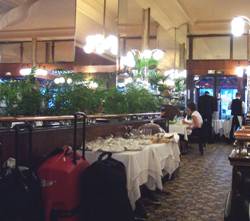 This old-fashioned brasserie is hardly worth a detour, but there have been moments just before or after a Eurostar journey when I've been very happy that it was there. It's part of the Flo group, which tells you that it's unlikely to hold any big surprises, either pleasant or unpleasant. The décor is well-preserved art deco dating from 1925, the waiters are friendly and competant. There is an extensive carte of dishes with a wide range of preparation times, and your waiter can advise you what will fit most comfortably into your schedule. The turnover is both massive and rapid, so dishes such as plateau de fruits de mer requiring little preparation and utter freshness are the most likely to be reliable, while those that benefit from tender loving care may be given scant attention.
I've been pleased more often than not with their mass-produced fish soup and bouillabaisse. At 7 € and 20 € respectively, they represent good value and are sensibly conceived: the soup is made in huge quantities and the fish (together with a decorative but inedible crab) then cooked in it to order. It's the same approach as at Chez Pérard in Le Touquet, which must produce enough soupe de poissons every year to float a battleship. Waverley Root thought that this was the tastiest and most reliable way to make bouillabaisse, and that's good enough for me.
Considering that the railway terminus clientelle are anonymous, fluid and time-conscious, the ambiance is remarkably relaxed and sometimes even friendly. On one occasion a pair of Frenchman sharing a business lunch at a nearby table not only spoke to us as they left but offered us their unfinished wine bottle in addition to our own. Since I only had to stagger, not drive, it was gratefully accepted.
Terminus-Nord, 23 rue de Dunkerque, 10 th, Tel: 01 42 85 05 15, Mº Gare du Nord _______________________________________________________________________
July 2005: Terminus Nord continues to be the right brasserie in the right place at the right time. Upon our arrival at Gare du Nord, Chez Casimir having proved to be closed when all the guide books said they were open, we retraced our steps to our old stand-by and had an excellent light lunch. Mary opted for tagliatelle with crayfish tails and a creamy sauce with chives and was glad she did; I was very happy with a turbot tartare and a well-dressed potato salad. The Japanese do not have a monopoly on raw fish—in fact, with its subtle spicing, this was more to my taste than the usual sashimi. An eminent food writer (who musn't be named) agrees.
We both ended with a strawberry soup with a dollop of sorbet de cassis—heaven! The bill came to a modest 45€, including a glass of Riesling. If this "ordinary" brasserie were in London, it would be trumpeted in the lifestyle pages and we'd be dropping in more often than was good for us.
---
May 2007: Still the same reliable institution. It's like Dr. Who's tardus, through which one enters and departs from the alternative universe that Paris still represents. In five years the bouillabaise has gone up to 25€, but the price of fish has skyrocketed—it's still good value for money.
Back to the beginning of this review
Return to INDEX
---