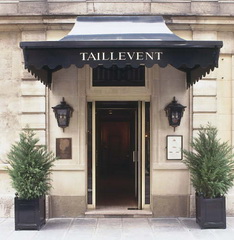 The history of TAILLEVENT under three generations of the Vrinat family exemplifies the last half century of Parisian haute cuisine. Choosing as its patronymic the great 14th century chef who wrote the first book on French cuisine, its founder André Vrinat set out in 1946 to establish the perfect restaurant. Within a couple of years it had its first Michelin star, its second in 1954 and its third in 1973. For the next quarter century there were those, including Patricia Wells, who suggested that it just might be the greatest restaurant in the world.
But no longer. Last year Taillevent lost its third star and those naming its successor would probably nominate one of the gastronaut explorers such as Ferran Adria or Heston Blumenthal. Meanwhile, André's granddaughter Valérie is content to continue running an establishment whose object is to make its diners feel supremely comfortable, whether they are statesmen who have dropped in routinely from a nearby embassy, or tourists who have flown halfway around the world for a once-in-a-lifetime celebration of some personal landmark.
Mary and I, though closer to home, fell into the latter category. My previous attempts over a couple of decades to get a reservation had been last-minute and therefore unsuccessful, but this time, determined to entertain Mary in style for her 70th birthday, I e-mailed a fortnight in advance for a luncheon reservation, letting them know the occasion. The ensuing reply, both dignified and deferential, was downright Jeevesian:
Let us write you how honoured we are to know you have chosen Taillevent to celebrate your wife's 70th birthday. . . . We shall do our best in order Taillevent to be up to the event you are going to celebrate with us.
Mme Vrinat's greeting at the door was the essence of classless perfection. The first obligation of a host is to make each guest feel comfortable, and I sensed that her easy warmth would have been the same, whether we had arrived in a Rolls or a rickshaw. We were then passed down the hierarchy of waiters as effortlessly as a basketball in the hands of the Harlem Globetrotters.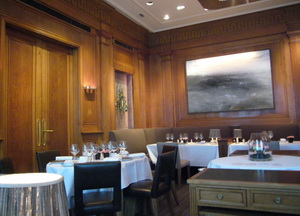 We were almost the first to arrive for lunch, and so we were able to look the room over and photograph it inconspicuously. It had recently undergone a change in the direction of modern

ization and simplification; the walls were still classic wood paneling, but there were two jaunty geese perched on a ledge and the austerely ominous seascapes must have been chosen from personal taste, not for their calculated effect on the palate. Taillevant is still in the hands of a compère, not a committee.
In 1953, James Beard wrote, "This is a restaurant well known to businessmen, the diplomatic corps, gourmets and wine connoisseurs," but half a century later the room was gradually filling up with rather less exalted diners—in a jacket and tie I approached the upper limits of formality. But there was friendliness in the room; the couple at the next table were over from the States, she excited at being introduced to Taillevant for the first time. Looking around us, I sensed no murmured conversations likely to affect the fate of nations.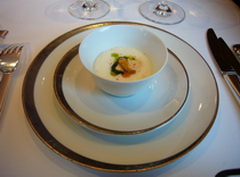 We had opted for the 70€ menu, which offered four courses with three choices for starter and main course. First came the obligatory amuse gueule [left], an intensely flavored shrimp foam with an equally intense swirl of green cauliflower purée.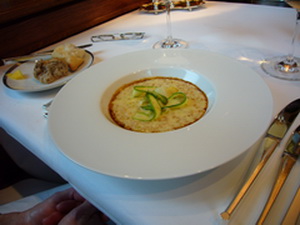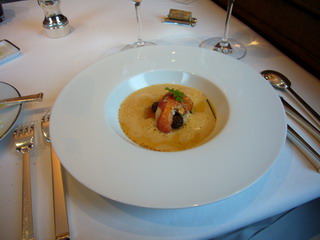 My starter [left] had me once again foaming at the mouth; the creamy velouté proved to have such intensity of flavor that an entire lobster might have gone into its making. Mary was happy with her unusual spelt risotto [right], dressed with both green and white asparagus.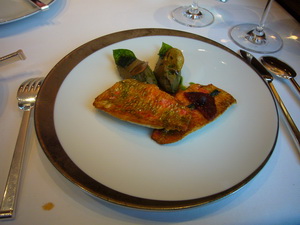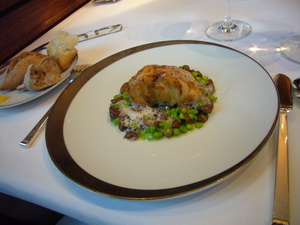 We stayed with seafood for our main courses, Mary opting for the lotte [right] and I for the rouget [left]. Both were perfectly cooked; the portions were modest but quite sufficient within the context of the meal. The fresh vegetable component was a welcome manifestation of haute cuisine's changing fashions. A spoon with every course, in the approved Mirabel Osler fashion, meant that I didn't have to do anything embarrassingly vulgar to get every last precious morsel.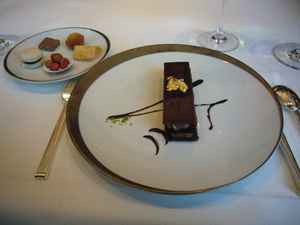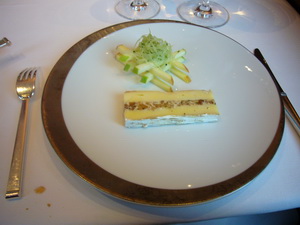 The brie [left] with a layer of walnuts, accompanied by a tiny architectural construct of apple and celery, was more a mouth cleanser than a cheese course of the traditional groaning cart variety; this left our palates ready for the world's most luxurious chocolate biscuit [right] and a little plate of petits-fors.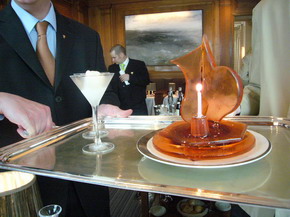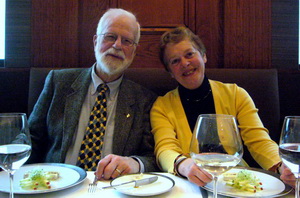 Twice in the course of the meal, Taillevent demonstrated that it had truly entered the 21st century. Noting that I had been photographing our courses, our waiter offered to include us in our gastronomic record. But the big surprise was still to come. At the end of the meal, two waiters approached bearing a silver tray with a glass grotto-like structure enclosing an electric candle, together with two martini glasses of champagne sorbet. A male couple at an adjacent table were similarly fêted. Just a few years ago, such a bourgeois manifestation in this inner sanctum of haute cuisine might have occasioned a diatribe in Le Monde.
Our bill for two kirs, two luncheon menus, a bottle of Gaillac and two coffees came to a
sob


ering 216€. Was it worth it? Along with the food, what left a very pleasant taste in our mouths was service so casually flawless as to make us feel as if we were being entertained by rich generous friends. This is neither Maxim's, where a haughty maitre d' once made me feel as if I should have come in by the service entrance, nor a trendy American "Hi, I'm George!" chowder bar. Balance is all—our wine glasses were refilled when nearly empty, but not topped up constantly so as to nudge us into ordering another bottle. Just how much is perfection worth? When you're in the mood for it, quite a lot!
Taillevent 15 rue Lamennais, 8th Arr, Tel: 01 44 95 15 01, mail@taillevent.com, Mº George-V
---
Back to the beginning of this review
---