A minority report - see note at end



Loads of Bull
Le Severo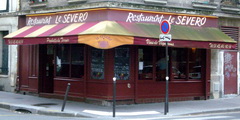 Le Severo, a no-nonsense bistro run by an ex-butcher, is on every meat lover's wish list. One Paris reviewer says it has the best beef in town, another claims it serves the best frites. As a card-carrying carnivore, I just had to make the pilgrimage; Mary, who prefers less rugged fare, nobly went along with the program.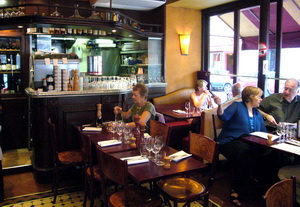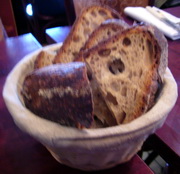 From the ardoise, it was immediately apparent that a vegetarian locked in the larder might starve to death. A basket of bread arrived; it was properly dense and artisanal, but hard and stale near the edge, as though it had passed its sell-by date.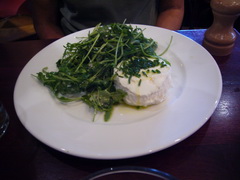 To start, Mary chose the only non-meat item, which proved to be a whole chevre frais and a mountain of rocket [left]. (Cf. Oscar Wilde: "I asked for a watercress sandwich, not a loaf of bread with a field in it.")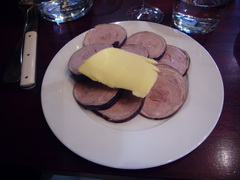 I went for the Andouille Deguéméné [right], a rolled tripe sausage from Brittany noted for its robust smokey flavour. In French, andouille is also an insult, comparable to the English "silly sausage". This particular specimen, though revealing the concentric circles of a proper construction, was so bland as to convey neither approbation nor opprobrium. The best thing on the plate was a hunk of suberb butter.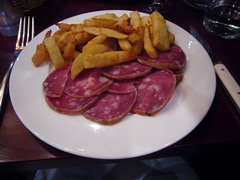 For a main course, Mary, not wanting to debovinate the known world, asked if she could have another starter, the Rosette de Chez Laborie, together with a side order of frites [left] . No problem. My ambition was made of sterner stuff. If Severo had the best beef in town, I was going to go whole cow and opt for the most expensive solo item on the menu, the entrecote, at 34€.
As soon as our orders arrived, Mary was critical of the frites: they were carelessly cut and overcooked. My own palate, swayed by wishful thinking, took a while to acknowledge that, although the flavour was pretty good, they were soggy, as if they had been kept warm, while the burnt scraps were like little splinters. The photos reveal all.
My entrecote [right] was, as it were, a fine kettle of fish. The sinews were alm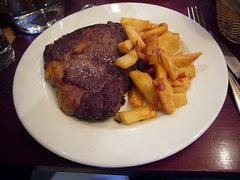 ost impossible to separate from the rest of the steak, even with a sharp knife. Having fought my way through to it, it was not only tough, which I can grudgingly forgive, but remarkably tasteless. I thought nostalgically of the tender and delicious entrecote I had once had less than a mile away at my old favourite, L'Ecurie, and at a third of the cost. It also occurred to me that there was nothing on the menu requiring any prep; just roasting, grilling or deep frying — as minimalist as MacDonalds.
While I was wrestling with my recalcitrant steer, an archetypally monumental American couple arrived at the next closely adjacent table. Madam was pink all over, enveloped in an aura of potent perfume and as encrusted with diamonds as a Damien Hirst skull. Eschewing dessert, we beat a hasty retreat. With a single glass of wine, the addition came to sixty-six wasted euros.

Le Severo 8 rue de Plantes, 14th Tel: 01 45 40 40 91 Mº
August 2009 A trusted friend writes:
I have eaten there 4 times in the last 2 or 3 years, the last time last November. Every time I found it terrific, the kind of place you could never find in England, needless to say. The butcher/patron was always friendly, happy to discuss the various cuts on offer and never greedy with the wine prices or suggestions.
My own experience was exactly as I described it, but apparently it should not be taken as typical.
©2009 John Whiting