La Régalade déjà vu
long after Manet
Le Regalade St. Honore
The birth of what Jeffrey Steingarten called "Haut Bistros" can be dated to 1992 when Yves Camdeborde, a young Béarnese sous-chef at Les Ambassadeurs, decided not to wait out the slow ascent to preeminence in a Michelin-starred restaurant but to strike out on his own on the southern fringe of Paris, where the locals might keep him going until word got around. He named it La Régalade, after the south-west France practice of drinking from a bottle that spouts straight into the mouth (see the Manet painting above). The rest, as they say, is history. (Steingarten tells the absorbing tale in a chapter on the new bistros in The Man Who Ate Everything.)
By the time I got to La Régalade in 1998 and wrote about it, it was getting a bit tired. I wrote about it again in 2005 after Bruno Doucet, formerly of Apicius, had taken over. I was totally enthralled.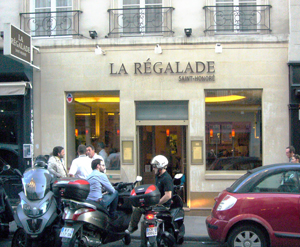 And then in 1910 Doucet invaded the 1st Arrondissement. John Talbott reported that La Régalade St. Honore was "already full to bursting before a single review ha[d] appeared in the print media". Three years later, with its sentimental associations, I had to pay my respects.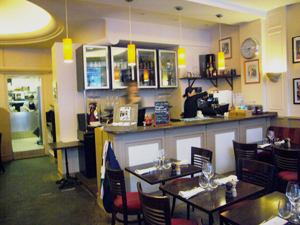 So long after its spectacular opening it wasn't difficult to get a reservation. For such a posh location, it's a rather simple dining area, with bare tables. At 35€, the three-course five-choice menu is, for the 1st arrondissement, a genuine bargain. No wonder it continues to be a Paris by Mouth Absolute Favorite.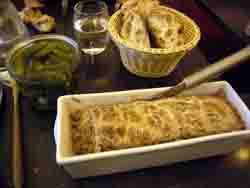 Doucet had brought his splendid signature starter along—a big terrine, along with a pot of gherkins and a basket of bread. There was no dish, and so we had to balance the meat on the bread. In the food blogs there's a difference of opinion as to whether it was pork or pork mixed with chicken, also conjecture as to whether the absence of a dish was to inhibit consumption and from what motive. Never mind, that's just blogger-blag—the terrine was welcome and delicious. How many bistros start your meal so generously?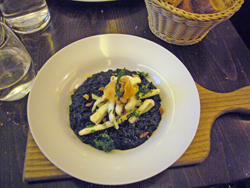 Unusually for a Paris bistro relying so heavily on the tourist trade, there's no English carte, but the waiter was helpful. (And any serious diner whose French is less than fluent should carry a pocket food glossary.) My starter was creamy risotto with squid ink and slivers of squid, fried "like baby eels", i.e. very quickly so as not to go tough. A rich flavour to the rice, as dense and concentrated as its color.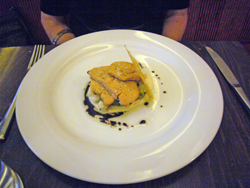 Mary's starter, Croustille de foie gras au chou-fleur fondant & croquant, pulpe de noix pimentée, was a disappointment. There was a very small portion of foie gras included and it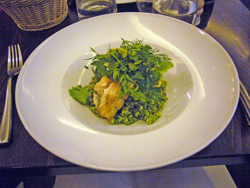 s flavor in the dish as a whole was not prominent.
She also found her chicken breast disappointing. Such a dry piece of meat needs something in the way of sauce. With it was a small amount of raw-ish semolina and puréed broccoli, topped with a pile of raw herbs.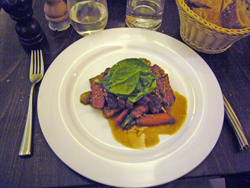 I had better luck with my duck breast. It was cooked to my liking—rare and thinly sliced, still hot and a generous quantity. The carrots coated with soy sauce were gently caramelized, the way I prepare them at home to go with duck breast.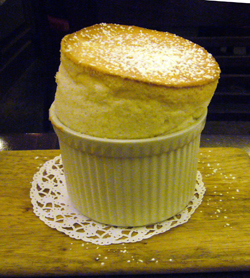 The Soufflé chaud au Grand Marnier, which we both chose for dessert, was a perfect example of what a soufflé should be like. Utterly superb! The dish goes back to La Regalade's beginning twenty years before; Camdeborde had learned to make it at Tour d'Argent and his version of it has been justly famous ever since.

-0-
Among the choices in the 1st Arrondissement, La Régalade St. Honore is a strong contender, but it lacks the historic vibes of its parent in the 14th. If I were to return to a Doucet kitchen, that's the one I'd head for.
©2013 John Whiting
---
La Régalade St Honore, 123 rue St-Honore, 1st Arr, 01 42 21 92 40, Closed Sat-Sun, Mº Louvre-Rivoli
Return to the top of this review.