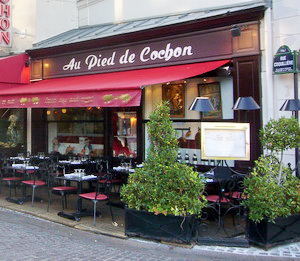 Au Pied de Cochon never closes – there's no lock on its front door and its ovens haven't been turned off since December 6, 1946. But the Les Halles market which it once served is long gone: there'll be no butcher standing next to you at the bar in his bloody overalls. Nevertheless, it's handy to have a place in central Paris where you can get something decent to eat at 3 a.m. Back in the days when I was regularly driving south through France, I sometimes came straight through Paris in the middle of the night, knowing that whatever the hour I could dine in a civilized fashion.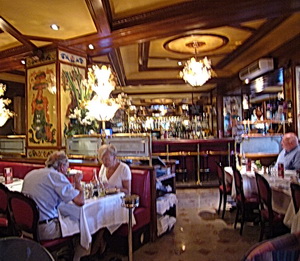 Earlier this month, wanting a last good Sunday evening meal before catching the 11:30 p.m. Eurobus back to London (I'm not proud), I did a deja-vu to the old pig's foot. Even though they've carried out an over-the-top Grand-Vefour-style redecoration, they still serve up pig's offal in the time-honored fashion. Going unflinchingly down market, I started with Gratinée Oignons [below left] and went on to La Tentation de Saint-Antoine [below right], a caloriferous feast of pig's tail, ear, snout and foot surrounding a pile of huge fries stacked up in the middle of the platter like lumber in a wood yard.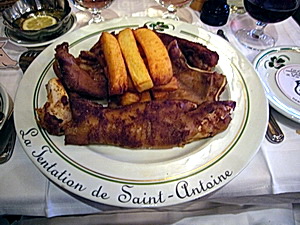 The onion soup was topped with a satisfying layer of dribble-down-the-chin Gruyere, but the broth within was thin and tasteless – I've had better at more than one Routier truck stop. But the the pig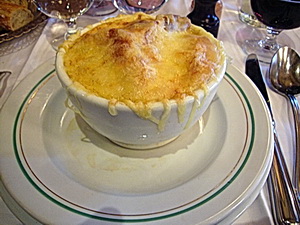 's offal, which is what I really came for, was superb – every wicked morsel had been deep fried into total submission. It came with a finger bowl which, by the time I had finished with it, would have made a tasty starter for the next punter. With a couple of glasses of Beaujolais and a coffee, it came to 39.50€ – not bad for a major tourist attraction.
Au Pied de Cochon 6, rue Coquilière, 1st Arr, Tel: 01 40 13 77 09,
Mº Châtelet-Les Halles
©2008 John Whiting
Back to the beginning of this review
---