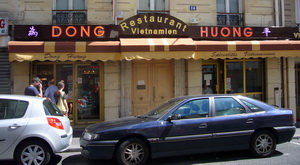 Rue Louis Bonnet, running south from the Belleville Metro station, is lined cheek by [hog] jowl with Vietnamese and Chinese restaurants, but at Pho Dong-Huong you can wait for a table when some of the other establishments are virtually empty. At lunch time, Frank and I were sent back through a rabb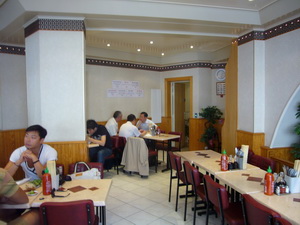 it warren of passages to the last of three big dining rooms, where there was an empty table for two against the far wall. Next to us were what looked like three generations on a family outing. While we examined the long illustrated carte, we were treated to the sight and smell of a progression of dishes that made us wish that we could settle in for a menu degustation lasting well into the night.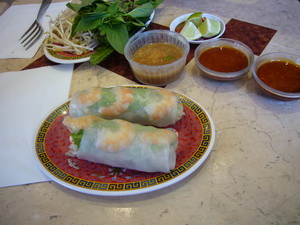 Setting our sights more modestly, we chose a starter followed inevitably by a bowl of pho. The spring rolls with three large prawns [left] got my vote, and Time Out's recommendation of the pho sate with its peanut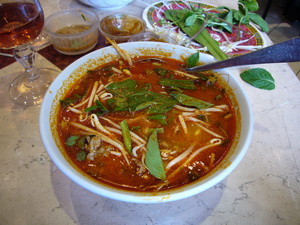 ty flavor solved my dilemma of which appetizing version to go for. The spring rolls were huge and prompted us to polish off the two bowls of sauce—one hoi-sin based, the other lemon grass—well before the soup they were meant to flavor had arrived at the table. But the pho was so tasty in itself, and the coriander-like rau ram leaves on the side so generously supplied, that we didn't ask for more.
Our little feast and a half-litre of rosé came to a mere 29.40€. Frank has put Pho Dong-Hwong on his list of places to bring his and Barbara's Paris visitors. The bilingual carte was so varied and so informative that I took time to photograph it all—be grateful!
Pho Dong-Huong 14, rue Louis Bonnet, 11th Arr, Tel: 01 43 57 42 81, Mº Belleville
©2008 John Whiting
Back to the beginning of this review
---